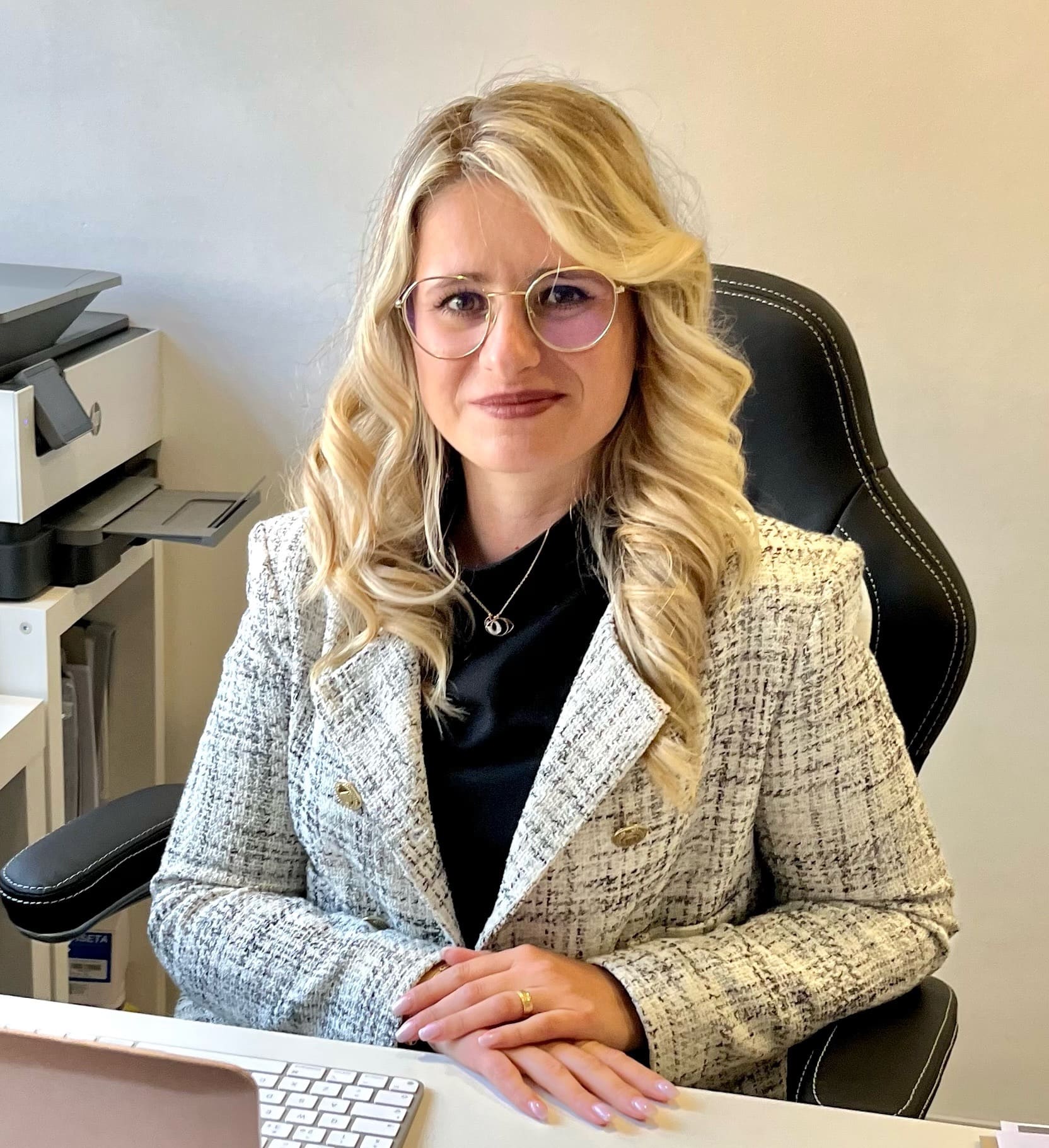 Immigration to Portugal
Individual consultations
Oksana Sokolova-Maya
Official licensed notary lawyer in Portugal
Residency permit for entrepreneurs and freelancers
Residency permit for retirees and those with passive income
Residency permit for family reunification
Golden visa
Work visa
Student visa
Звертався з приводу юридичного супроводження процесу отримання резиденції. Результатом співпраці дуже задоволений. Консультації професійні і, що головне для Португалії, вчасні та оперативні. Завдяки пані Оксані процес пройшов "без зайвих нервів". Дуже професійний сервіс. Однозначно буду і надалі звертатись по профільним питанням.
Щиро вдячні за консультацію! Все чітко і зрозуміло ))) дякуємо!
Excelente profissional! Recomendo os serviços para empresa e para nível pessoal
Filipe Palhau 9 months ago
Оксана - профессионал своего дела! Огромное спасибо за помощь👏🏼
Alina Zotkina 9 months ago
Велике дякую за якісну і швидку роботу.Ви вирішили те питання,яке 5 років не міг вирішити ніхто.Щиро Вам дякуєм!!!!!
Досвідчений нотаріальний юрист,професіонал своєї справи.Надасть допомогу у різних питаннях та проконсультує. Неодноразово зверталася до неї,задоволена її роботою. В спілкуванні спокійна і доброзичлива, що дуже важливо у наш час. Підготовка документів-все вчасно і чітко. Рекомендую.
Excellent professional. Always available
Дуже хороший професіонал .
П. Оксана щиро вам вдячні за всю допомогу! Ви професіонал своєї справи.
Огромное вам спасибо Оксана Майя. Наш ребёнок родился в Португалии и на то время не давали гражданство так как у нас с мужем не было документов, в консерватории каждый раз просили что то новое и никак не могли сделать документы . Благодаря вам ребенок через пару дней получил гражданство и мы резиденцию. Спасибо большое !
Дякую Оксані за професійну роботу. Мав багато штрафів у фінансах по машинам які відправив в Україну і не зняв з обліку. На сьогоднішній день жодного штрафу всі анульовані. Дякую.
Your request was successfully submitted!
We'll get back to you soon!
FAQ | Frequently Asked Question
If your plans include emigration from your native country to Portugal, we advise you to decide in advance the ways of legalization in a new place. Why? Because many visa processes should and can only start at your place of registration. For example, to obtain a residence permit, a person with passive income needs to get a special type D visa, which must be prepared at the Portuguese embassy in the country of current residence.
It is imperative to think through all the steps in advance so that you do not become a captive of unobvious difficulties later. For example, after obtaining a residence permit in Lisbon for yourself and a minor child for family reunification or in the presence of a resident guardian, you will only have to live in Lisbon until the child receives a residence (the school depends on the place of residence of the guardian).
There are a lot of such subtleties and cases, and it is better to know about them in advance. You need to understand that there are certain features, difficulties, and even risks in obtaining a particular type of residence permit. And if you feel that you have insufficient understanding, we are ready to help you calculate, predict and help reduce all kinds of risks.
Immigration to Portugal has become our specialization after personal legalization - we are not friends or friends of friends who have heard something about the residence here, we have become residents ourselves, and we want you to be able to do the same. Therefore, only skilled specialists provide consultations on the WithPortugal website: our team includes an accountant, a lawyer, an immigration consultant, a translator, a Portuguese language teacher, a family doctor, and other specialists, each of whom specializes only in their area, and not all at once.
There are many clients from all over the world and cases of moving people from different countries in their portfolios over the past 10 years. Some of them seemed just impossible at first, so order a consultation from them in any incomprehensible situation. They will ask about everything, from the period of a valid passport to medical records (we are not joking, sometimes this is important!), they will tell you the options for obtaining a residence permit specifically in your case, and they will tell you where to start and how to continue, they will hand you a road map (action plan and a list of necessary documents for collection).
Before you order an immigration consultation, we will give you valuable advice - you can get the most out of even an hour of conversation if you read the relevant articles on our website in advance and prepare specific questions and comprehensive information about yourself.
We wish you good luck and an easy move. And if you have any questions - we are always in touch!
You can read about how to move to Portugal in our articles on the WithPortugal website, which contains helpful information concerning immigration and life in this beautiful and sunny country.