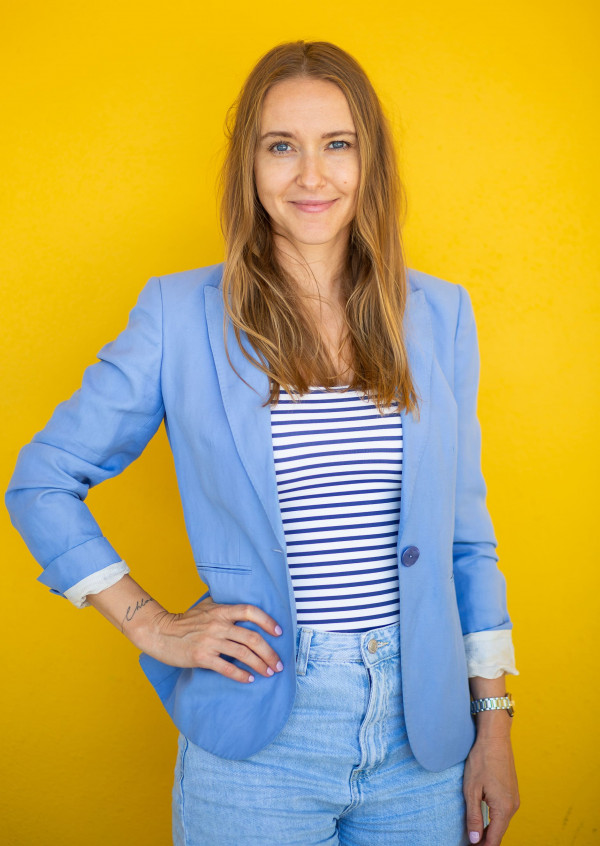 Personal Assistant in Portugal
Hi, my name is Luda, and I will gladly help you to solve any organizational problem related to moving to Portugal and starting your life here.
The most important criterion in my job for me is getting a positive result within the shortest period of time: in the end, the outcome is what really matters. I believe your first months here should be spent enjoying what Portugal offers and maintaining your best mood.
I provide a range of services and solutions for individual tasks that arise, as well as the services of a personal assistant.
Perhaps, in the process of moving, you have a certain situation that needs to be addressed.
Or you are a busy person who simply needs to focus on business matters.
For example, you need to make a plan for moving and you do not know whom to contact and where to start.
Людмила помогла с поиском первой квартиры, организовывала просмотры, сопровождала заключение договора. Квартиру нашли за неделю, это был отличный опыт. Видно, что человек не просто выполняет свою работу, а ему реально не все равно. Теперь по всем вопросам будем обращаться к ней за помощью:)
Людмила прекрасно выполнила свою работу. Рекомендую.
Спасибо за консультацию, получила исчерпывающие ответы на все интересующие меня вопросы
I employed Luda's expertise after a friend recommend her to me. It was a pleasure working with Luda. She gave helpful advise that helped me open a bank account and followed up throughout the process.
Спасибо что помогли определиться стоит лететь или нет, т.к. по документам не очень были понятны моменты "что делать дальше". Буду обращаться по дальнейшим вопросам
Провели с Людой консультацию по процессу релокации в Португалию. За час многое обсудили, всё по делу. Предложила несколько вариантов оснований, которые могут именно нам подойти для легализации. В процессе спланировали первые шаги, которые нужно сделать, чтобы всё получилось. Люда помогла посмотреть на нашу ситуацию с разных сторон, в итоге нарисовался план, о котором мы не думали с самого начала. Так же после консультации Люда скинула доп. материалы и информацию. Будем двигаться в намеченном направлении )) Спасибо!
Мне нужно было определиться подходит ли Португалия нашей семье для иммиграции, так как у нас есть и другие варианты. Я составила список вопросов, переслала их Людмиле и в удобное для меня время получила он-лайн консультацию с ответами на все вопросы, которые меня интересовали. Есть теперь над чем подумать. :-) Люда - грамотный и вежливый консультант. Я получила от нее больше информации, чем от просмотра нескольких десятков видео на ютубе. Особенно потому, что меня интересовал город, о котором пишут и снимают ролики о туризме, а не о жизни там с детьми. Если мы решимся на переезд, обращусь к Люде снова за помощью в поиске жилья и записи детей в школу.
Посчастливилось поработать с Людой по вопросам аренды квартиры в Лиссабоне. Изначально искали человека, который сможет порекомендовать районы для комфортной жизни, посмотреть квартиры и договориться с хозяевами (сделать оффер). Нам было важно найти квартиру быстро, так как запись в sef была поставлена рано. Люда все выслушала и дала консультацию по нашему кейсу. Квартиру нашли быстро и очень быстро подписали контракт, благодаря Люде. Все вопросы решались оперативно. Более того, после подписания договора Люда помогла нам еще с заключением договоров на коммунальные услуги. Мне было очень приятно и комфортно работать. Самое главное, что человек после выполненной работы не перестаёт отвечать на вопросы, если они ещё возникают. Спасибо большое! Буду рекомендовать обязательно.
Люда - это супер помощник по всем вопросам (от "где купить одежду" и "перевести документы на португальский" до "найти квартиру за 2 недели"). Все супер быстро, понятно, "по полочкам", с максимальной поддержкой. А ещё Люда очень добрый и открытый человек, с которым просто приятно общаться. Помогла мне в огромном кол-ве вопросов, к которым я даже не представляла с какой стороны подходить😊. Однозначно рекомендую обращаться))))
She was very supportive and helpful. Handled house hunting and other important processes with clear communication and timely feedback(we closed out most of it in 2 weeks- I'm pleasantly surprised). I highly recommend her services and highly recommend working with Luda if you're relocating to Portugal.
Olamide Akomolafe 3 months ago
Достоинства: 1) Максимальная клиенториентированность 2) Быстрое решение вопросов 3) Надёжность 4) Тактичность 5) Комфортность в общении 6) Лояльность Обращусь ли снова? - Да.
Спасибо большое Людмиле за помощь в вопросах иммиграции! Все ответы и решения мы получили очень быстро. Всегда была на связи и оперативно реагировала на все вопросы. Полезными оказались все советы и предложения! Спасибо!
Спасибо большое Людмиле. Ответила подробно на все интересующие вопросы. Очень приятный и открытый человек. Рекомендую!
Общался с Людмилой по вопросам переезда в Португалии. Все предельно понятно и ясно было объяснено. Ответы исчерпывающие. Спасибо за уделенное время.
Все прекрасно . Люда оперативно предложила время для консультации , ответила на интересующие вопросы . Надеемся на дальнейшее сотрудничество .
Людмила дала много полезной информации - разложила по полочкам все имеющиеся варианты легализации в Португалии, помогла оценить все за и против для моей ситуации, ответила на вопросы. В целом очень приятное общение, консультация оправдала себя на все 100. Обращусь для дальнейшего сопровождения по процессу. Спасибо!
Людмила дала качественные ответы по всем моим вопросам. Общение было приятным, четким и по полочкам. меня интересовали вопросы по поводу переезда, аренды жилья, поиска грузчиков, поиска няни и уборщицы. Той информацией, которую я получил - вполне удовлетворен. Консультация стоила своих денег. Готов рекомендовать Людмилу как хорошего помощника по выше указанным вопросам
Сложилось ощущение, что Людмила знает просто все и может помочь с любыми вопросами - найти квартиру, разобраться с сопутствующими контрактами, посоветовать страховщика и т.д. И все это максимально оперативно и без лишних напоминаний. К тому же она - просто приятный по общению открытый человек, который явно старается все сделать в лучшем виде. Опыт исключительно глубоко положительный! Большое человеческое спасибо Людмиле - с таким помощником жизнь в Португалии стала намного проще.
Рад знакомству с Людмилой. Она помогла расставить приоритеты для начала релокации в Португалию. Так сказать, помогла заложить фундамент в этот новый и глобальный проект для меня и моей семьи - жить, учиться и работать в Португалии. Спасибо.
Людмила провела очень полезную консультацию по возможным вариантам получения ВНЖ в Португалии конкретно для нас. Сначала я описала нашу ситуацию, потом мы подробно обсудили возможные сценарии. Помимо этого, походу консультации делилась полезной информацией о жизни в Португалии. Для нас на данном этапе это было именно то, что нужно.
Решили рассмотреть возможность релокация в Португалию, обратись к Люде. Получили консультацию по всем вариантом релокации и еще много другой полезной информации. Теперь мы определись с подходящим для нас планом. Людмила, спасибо большое 🙏 вы помогли нам сократить бесконечные часы, которые можно провести за чтением статей о релокации!
Спасибо Людмиле за консультацию по внж) все доступно и четко по делу. Сразу чувствуется, что человек этим занимается не первый день!)
Очень рады сотрудничеству с Людой. Было очень легко и приятно открывать для себя Португалию под ее руководством. Люда помогла сделать самые трудные первые шаги. Мы сразу задали высокий темп и не сбавляли его на всем пути. Все было организовано, четко и без проволочек. Большое спасибо за такую отдачу и позитивный настрой!
Людмила смогла ответить на все наши вопросы по ВНЖ и даже больше. Сразу стал понятен план действий и необходимых документов. Оперативно назначили консультацию, очень рекомендую!
Отличный специалист! Людмила предложила мне разные опции переезда, дала развёрнутые ответы на вопросы, также помогла с полезными контактами.
Людмила быстро среагировала, связались, пообщались, было полезно
Очень большая благодарность Людмиле за помощь!!! Мы приехали, ничего не зная, с минимальным представлением о том, что нам нужно сделать, но с большими амбициями)). Очень круто, что есть люди, которые без слов поймут что тебе нужно, проведут, как слепого за ручку и поддержут морально, потому что интеграция это тяжело!) Спасибо огромное!!!
Звернулися до Люди по допомогу у пошуку житла на довгий строк в Португалії віддалено, бо знайти за адекватні гроші тимчасове в сезон і розбиратися на місці виявилось не варіантом (занадто дорого). Достатньо швидко ми знайшли варіант, що нам підходить. За допомогою Люди провели переговори з власником і оформили договір на адекватних умовах, не зважаючи на те, що досі не мали оформленого тимчасового захисту. Все пройшло смуслі :) Рекомендую
Люда знає свою справу. Особисто нам допомогла з пошуком житла і школи для дитини. Відкрити рахунок в місцевому банку, оформити всі комунальні контракти, навіть такі дрібниці - де краще купити дитяче взуття - все, щоб полегшити нам життя. Побачивши Люду тут на сайті, дуже захотілося залишити щирий відгук.
Людмила - отзывчивая, системная и позитивная. Помогла с уймой вопросов в рамках релокации в Португалию. На старте очень сложно самим разобраться в местной специфике, вот и решили доверить решение специалисту. По итогу очень довольны, рекомендую!
После нашей беседы и консультации, Людмила оставила положительные впечатления и оставила след как специалист с выскоми уровнем экспертизы в своем деле.
Людмила, тот человек, который вас проведёт как ребёнка в страну океана и вечной зелени, поможет, расскажет, договориться и создаст реальную иллюзию того, что вы дома и все вопросы решаются легко, а точнее, у вас их как будто и нет :-) Вы можете смело доверить своё самое сложное дело, личный вопрос и быть уверены что он будет решён. Людмила - тот человечек, который сэкономит кучу денег. Будьте уверены - вы бы их просто потеряли приехав страну и не понимая в какую сторону идти или бежать. Доверьтесь профессионалу и знайте, это лучшая ваша инвестиция. Поэтому решите для себя - хотите набивать шишки самостоятельно или попасть сразу в «десяточку». Да, и это не «липовый»отзыв, а отзыв реального клиента :-) Что делали: 1. Планирование встреч 2. Осмотр и подбор объектов недвижимости - вычеркнул половину как минимум за счёт информации от Людмилы и нашёл самое лучшее. 3. Услуги переводчика 4. Осмотр достопримечательностей
Contact Personal Assistant in Portugal
Your request was successfully submitted!
We'll get back to you soon!
Examples of the most requested services:
Assistance in searching for real estate: rent or purchase
Utilities contracts: connecting water, electricity, internet, telephone, security systems, etc.
Choosing a bank for a loan, communication with banks to obtain the most favourable loan conditions
Organization of moving with transportation of furniture, ordering and meeting furniture, control of logistics and cargo condition
Solving various problems related to repairs of any complexity, communication with the condominium
Appointment to the doctor, consultations, check-ups, visit to the doctor
Payment of bills, taxes when you are out of the country
Solving issues and communicating with the insurance services
Home maintenance: cleaning services, taking care of plants and animals, purchasing the necessary accessories, etc.
Virtual business calendar, flight booking, logistics, business travel organization, accommodation booking, and much more.
My mission is to help you focus on your personal projects and enjoy your new country without going into bureaucratic details or getting stuck in your daily routine.
Benefits of working with me:
Comprehensive moving services, solving challenges and individual tasks

Just drop me your request
I studied Economics at the Faculty of International Economics in Kyiv, then continued my career as an account manager in the advertising market. As a result of ten years of experience in leading international agencies (Havas Group, Saatchi & Saatchi), organizing advertising campaigns and events, I have gained solid practice, working with clients and partners, under tight deadlines and unforeseen situations.
I have been living in Lisbon since 2011. Here I studied Portuguese at the Faculdade de Letras at the Universidade de Lisboa, and worked for the Portuguese company Sonae Sierra. For the past five years, I have been working as an executive assistant at Bacardi-Martini Portugal, where my main responsibilities included helping my management from around the world, including relocating their families and settling in Portugal.
At the moment, having accumulated knowledge and skills, fluent spoken and written Portuguese, English, native Ukrainian and Russian, I assist people in moving to Portugal.
Based in Lisbon and happy to help with any questions you may have.
Write your request to me, and I will get in touch with you with an offer for your situation.