It is not only immigrants who have lived in Portugal for a long time thinking about obtaining Portuguese citizenship but also people who are just arranging their movement. Portugal is one of the European Union's countries, meaning that Portuguese citizenship can open doors to all European countries. In addition, the Portuguese passport is famous for its benefits, as well as a reasonably fast (compared to other European countries) obtaining time. You can become an owner of the coveted Portuguese citizenship in 5 years. Probably that is why Portugal is such a popular destination for immigrants from all over the world. Today in our article, we will tell you more about the basis for obtaining Portuguese citizenship, what papers you will need to prepare and how exactly to apply for it.
One of the most familiar ways to obtain citizenship is Portugal Golden Visa
Within the framework of this article, we will consider precisely the issue of citizenship, which is often called permanent residence. First, do not confuse the concept of a residence permit with citizenship. A residence permit can be both temporary and permanent. A permanent residence permit can be obtained after 5 years of legal residence in the country and in case of confirmation of knowledge of the Portuguese language at a basic level (A1-A2); this residence permit does not have an expiration date; the only condition is the renewal of the resident card every five years. According to the Portuguese Constitution, foreigners legally residing in the country have the same rights as Portuguese citizens. The only difference between citizenship and a residence permit is the existence of certain political rights: for example, the right to participate in elections.
Is dual citizenship possible in Portugal?
In Portugal, 2 primary laws regulate the issues of citizenship and its acquisition. First, it's the Citizenship Law "Lei da Nacionalidade" and the Regulations on Portuguese Citizenship Regulamento da Nacionalidadade Portuguesa. According to these documents, Portuguese citizens are allowed to hold the citizenship of other countries simultaneously, but you must remember that your home country may prohibit dual citizenship.
That is why, if you are seriously thinking about obtaining Portuguese citizenship, first check the current laws of your country to understand whether it is possible in your case to obtain dual citizenship and, if not, are you ready to stop being a citizen of your home country. Many people are not ready for this, and that is why we advise you to check this point before you plan to immigrate or start the process of obtaining permanent residence.
How to obtain citizenship in Portugal
Let's check the main situations and ways where you can obtain Portuguese citizenship:
Marriage to a Portuguese citizen.
In this case, people who have been in a confirmed or civil marriage (recognized by the court) for more than 3 years can apply for citizenship.
Next, we will take a closer look at the general list of documents and conditions that must be met to apply for citizenship, but the specific papers for this situation will be the following:
If you are married - marriage certificate;

If you live together in a civil marriage (port. união de facto), then you need a certificate of a court decision, which acknowledges that you have lived together for more than 3 years.
You also need a statement made no more than 3 months ago, where the Portuguese citizen confirms that he continues living with you in a civil marriage.
Residence in Portugal for 5 years.
This is probably one of Portugal's most popular and natural ways to get citizenship. This means that if you have legally resided in the country for the past 5 years for various reasons (study, work, investment, real estate, etc.), you have the right to apply for Portuguese citizenship after this period. In this case, it is necessary to comply with some conditions (one of them is knowledge of the Portuguese language), which we will discuss later.
For children born in Portugal.
This method works only if the child's parents are foreigners and at the time of the child's birth, one of them has legally resided in the country for at least 2 years (previously, it was 5 years). So it is a mistake to believe that it is just enough to come to Portugal and give birth to a child here to obtain citizenship.
For those born in Portugal and permanently residing on its territory for 10 years.
In this case, you must be over 18 years old, born in Portugal, and have lived here for at least 10 years. In this case, it is necessary to comply with some conditions (one of them is knowledge of the Portuguese language), which we will discuss later.
For children under 18 adopted by Portuguese citizens.
For this situation, the law selects groups of adopted children before October 8, 1981, and after this date. For each group, the list of required documents and conditions is slightly different. You can read more about this on this official website.
For children of Portuguese citizens born abroad.
In this case, the law again defines 2 groups according to conditions for obtaining citizenship. The first group includes children born abroad, and one of the parents has Portuguese citizenship. The second group includes children whose grandparents are Portuguese citizens. You can read about the differences and conditions for each group here.
For citizens who already had Portuguese citizenship but lost it for various reasons.
For more information about the categories and conditions for this situation, visit this link.
For children under 18 years old or incapacitated children, at the time of their birth, the parents did not have Portuguese citizenship but received it after the child's birth (at least one of the parents).
For members of Portuguese communities abroad.
For the descendants of Portuguese Sephardic Jews.
For citizens who have contributed to the development of Portugal or for citizens who are in the service of the Portuguese community.
As you can see in the list of conditions for obtaining citizenship, there is no article on the purchase of real estate or investment. However, these actions will help you get a residence permit, and after 5 years, you can apply for citizenship.
Furthermore, it should be noted that the legislation is constantly changing, and information on the Internet is not always valid, and that is why it is very important to monitor updates continually, check the latest versions of laws, or contact a lawyer for detailed advice on your case, that will be the most simple and efficient way.
Requirements and documents needed to obtain citizenship
Of course, the conditions and documents for each specific situation are relatively different, but we can highlight the main ones, which stay unchanged from year to year, according to our practice.
We note the main requirements following:
you cannot have a criminal record in Portugal (or in another country) of 3 years in prison or more or be seen in terrorist activities (reasonable for all cases);

you cannot hold a public service position in other countries (except for technical positions);

you cannot perform optional military service in another country;
The documents will differ according to the basis for applying for citizenship (you can always check papers for your specific situation on this portal), but we advise you to pay attention to the following points:
Almost always, if you were not born in Portugal, the list of documents will include a birth certificate with apostille, so we advise you to prepare this document in your home country when you arrange to immigrate. This will make your life much easier in the future, so it's best always to have an apostilled birth certificate on hand.

Depending on your reason for obtaining citizenship, you may also be asked for one document, which will take some time and effort to obtain. We talk about the confirmation of your knowledge of the Portuguese language. This

resolution

describes how you can prove language proficiency in Portugal, but we will look at the most common method used by immigrants, namely obtaining a language certificate.
It can be obtained in Portugal absolutely free of charge by completing the state course of the Portuguese language PFOL (we wrote about it in detail here in this article). Furthermore, if you already know the language and do not want to take courses, you can always take the CIPLE exam (we wrote about it here in this article). The exam can be taken not only in Portugal but also abroad.
All other papers are pretty standard (such as police clearance certificates, identity documents, your permanent address, and others), and it will not be difficult to collect them quickly in Portugal.
Where can I apply for citizenship
Depending on the city, there are several types of organizations in Portugal where you can apply for citizenship, but most often, immigrants apply to local organizations called IRN.
For this article, I recommend using the tool Eportugal to select your region and area of ​​​​residence, and the website will immediately show you the nearest organizations, which you can contact with an application or request additional information.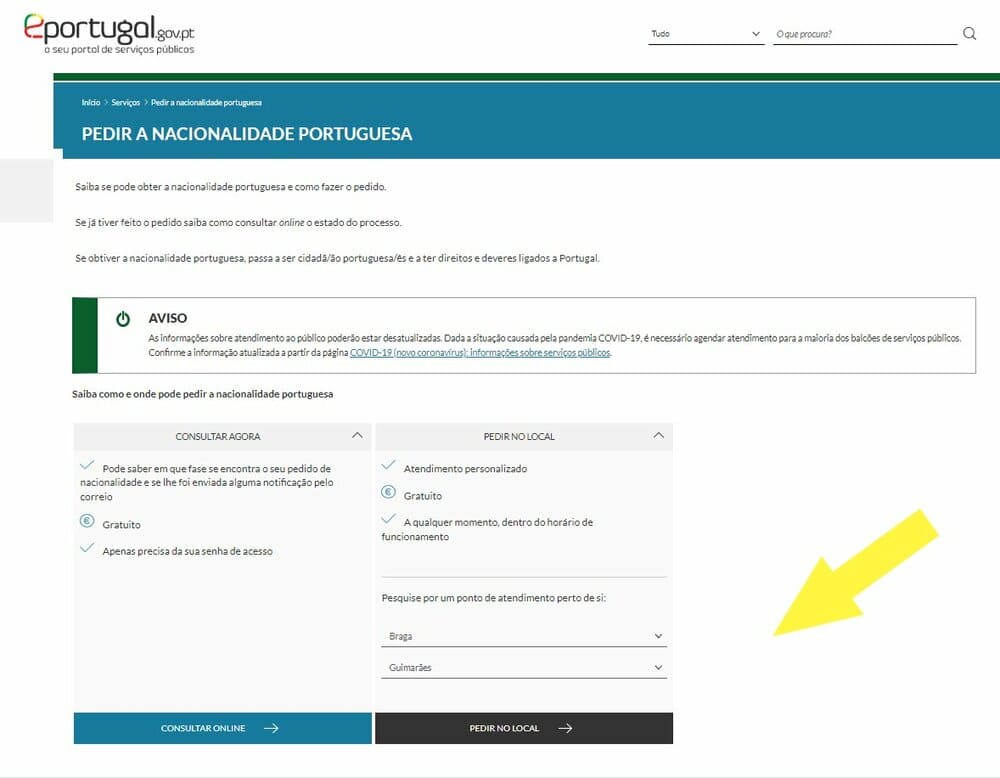 You can also send documents by post to the address of the Central Conservatory in Lisbon.
The application process usually never takes less than 1 year, and sometimes it takes even more, so prepare mentally for the fact that this is not a quick process.
The advantages of this process are that if we are talking about naturalization (that is, the process when you have emigrated to Portugal from another country and live here permanently), then it happens almost automatically. You are unlikely to be asked for any other non-standard documents except a language certificate and will not be asked to pass particular tests on the history and culture of the country, as it happens in some other countries.
Obtaining citizenship in Portugal is a simple and transparent process
Nevertheless, we recommend that you prepare in advance and thoroughly to receive it, having studied all the backgrounds, necessary documents, and requirements. This process will be natural and uncomplicated if you already live in Portugal. However, if you are arranging to immigrate to Portugal, it will be helpful to learn about the prospects and deadlines that separate you from cherished Portuguese citizenship, which is not considered the easiest and fastest in Europe.
Be careful because laws, the list of documents, and the deadlines for obtaining Portuguese citizenship are constantly changing, so if you are just planning your movement, we advise consulting with a specialist for your specific situation or unassisted finding the latest versions of laws on the Internet or within the framework of this article. This is the only way to guarantee a simple and transparent process of obtaining citizenship in Portugal.
Frequently asked Questions (FAQ)