Portuguese pharmacies - fight against self-medication! Or not? Health in Portugal is one of the priorities, so you can be sure that you will have access to only high-quality drugs. Portugal occupies one of the leading positions in Europe in terms of consumption of drugs per capita, and the volume of the national pharmaceutical market is growing every year. The country has state programs for drug provision that increase the availability of modern drugs for the most vulnerable patient groups, and there is a network of charitable pharmacies that provide free medicines for the poorest segments of the population. In this article, we will tell you everything you need to know about pharmacies in Portugal: how to find the necessary medications, how to continue taking medications prescribed before arriving in Portugal, and understand if a prescription is needed and how to obtain it.
So, pharmacies in Portugal are divided into two types: in addition to "standard" pharmacies, there are many pharmacy stores in Portugal. One of the most well-known examples of pharmacy stores is the Wells chain, whose kiosks can always be found next to Continente hypermarkets. Pharmacy stores serve a useful function on the way to the store and sell simple medicines, such as painkillers and antacids, but they cannot sell prescription drugs. However, they offer various lines of pharmacy cosmetics, vitamins, bandages, weight loss products, sun protection creams, and time-tested sunglasses brands. Small enclosed showcases with everyday pharmacy products (nasal drops, laxatives, fever reducers, etc.) can also be found in front of the cash registers at Pingo Doce supermarkets; you need to ask the cashier to give you the necessary medication. Traditional pharmacies, marked with a green cross, do not offer such a wide selection of commercial related products - but they have the right to sell prescription drugs, and if we're talking specifically about medicinal products, the selection is certainly much wider.
Interestingly, the location of pharmacies is strictly regulated. The maximum allowable number of pharmacies is established for each settlement, and whether a new pharmacy is needed in a particular settlement is determined by the Ministry of Health (Direção Geral de Saúde).
The service in Portuguese pharmacies is always friendly: pharmacists (often speaking English) are attentive and ready to offer remedies for simple symptoms such as colds, headaches, etc. It is worth noting that the vast majority of medicines, no matter how simple and harmless they may seem, are not within reach of the consumer: everything must be asked from the pharmacy staff. You don't need to have deep knowledge of the Portuguese language to communicate with the pharmacist - it is enough to find a photo of the necessary medicine or active substance. Alternatively, you can simply point to the affected area or use facial expressions and gestures to indicate your condition. Portuguese pharmacists are very responsive and patient, and they will definitely understand you and help you choose the right medicine. If the required medicine is prescription-only, they will offer some kind of "analog" to temporarily alleviate your condition until you get a prescription. There is an unwritten list of conditions that a patient can self-treat, and then the pharmacist can recommend something (such as colds, uncomplicated flu, diarrhea, constipation, allergies, etc.). Portuguese people like to self-medicate, so it is not uncommon to wait in line for a decent amount of time while the buyer consults with the pharmacist on what would be best to prescribe. By the way, in many pharmacies, understanding that you are a foreigner and have poor Portuguese language skills, they print and attach stickers to boxes with purchased medicines with a dosing schedule in English.
Another factor that newcomers to Portugal face is the operating hours of pharmacies. Most of them open at 9 am and close at 9 pm. 24-hour pharmacies are rare, but if necessary, you can check the information here (usually, search results match reality, and there is an "open now" filter - "aberta agora"). In small cities, such as Figueira da Foz, there is a limited number of pharmacies, and they take turns being on duty. Pharmacy stores near hypermarkets usually have the same working hours as them and are open until 10 pm-11 pm. There are no pharmacies in Portugal that operate 24/7, as well as 24/7 grocery stores.
The prices of medicines are relatively affordable in Portugal because the only tax that consumers pay on medicines is VAT. In addition, for those who are registered in Portugal's healthcare system (SNS24) and have a número de utente, there is an opportunity to save money because of the so-called state comparticipação system, which reimburses a significant portion of the cost of medicines directly to pharmacies, making the price for the population symbolic. Portuguese citizens receive most medicines for free, and for some prescriptions, they pay around 10% (by the way, prescription medicines are produced with the price indicated on the package). The cost of over-the-counter medicines is not regulated, but the commercial markup on them should not exceed 30%. The list of reimbursable medicines is approved by the National Health Service, and within this list, medicines are divided into four categories, corresponding to the percentage of reimbursement. Recently, there was news that the prices of medicines costing up to 10 euros have been raised by 5%, meaning the largest price increase was 50 cents per package. The maximum prices of prescription medicines are set by Portugal's Ministry of Health based on reference prices in four countries: Spain, France, Italy, and Greece.
Names of medications in Portugal. Online, it's always possible to find the active ingredient of the medication you need. Once you have found it, we recommend using a medication equivalents search engine. To do the search, just enter the country of origin of the medication, as well as the equivalent country (in this case, Portugal) and the commercial name here. If the list does not include the country of the manufacturer, don't worry, just choose another and find the necessary medication by the active ingredient. The search results look like this (even a generic is indicated, which we will talk about later).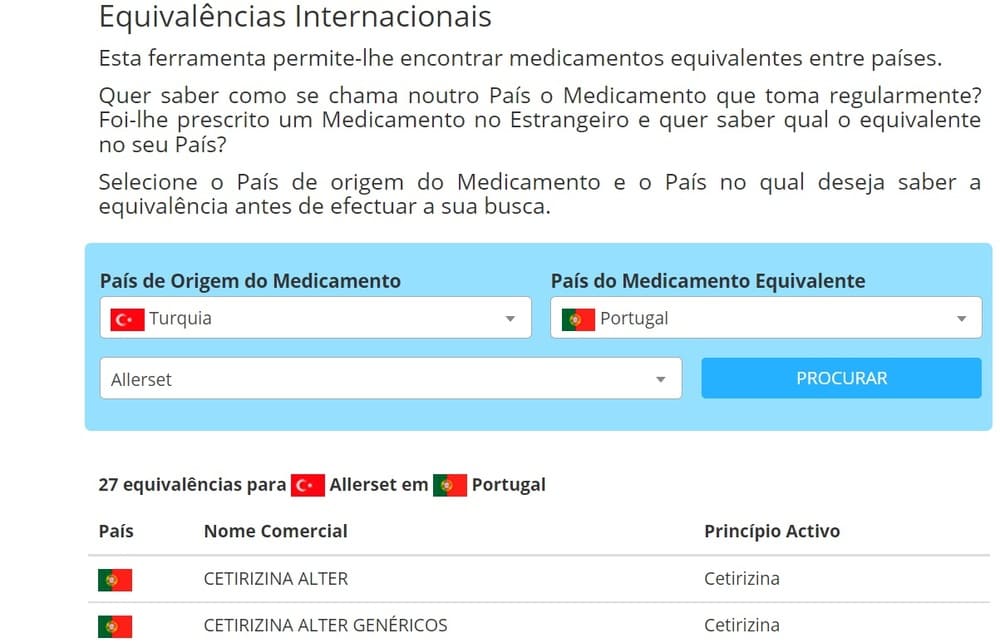 Which medicines require a prescription in Portugal?
Contraceptives (which, by the way, are provided to Portuguese women for free with a prescription from their doctor), painkillers, stomach remedies, creams for muscle and back pain, nose and eyes drops, in general, do not require a prescription. Antibiotics are under control, and you definitely need a prescription to buy them. Regarding antibiotics, Portuguese doctors prescribe them very rarely and reluctantly, the European treatment protocol involves very moderate use. By the way, a "cold" is not considered a disease here: a week of rest, abundant drinking, and a fever-reducing medication in adequate dosage if necessary - and it will solve on its own. The option of buying a magic antibiotic pill and getting healthy in Portugal is not considered.
What to do if you have some chronic conditions and you need to take prescription drugs on a regular basis? Well, there are three obvious ways to continue taking medication:
Bring them with you in your suitcase for the first period. However, it would be good to check in advance the list of medications allowed to be imported into the European Union (the list of controlled substances is

here

), and in any case, have a prescription with you and a translation of it at least into English (if possible, it is better to attach the purchase receipt).

Bring a prescription from your doctor with you and try to buy the medication in Portugal using it. The prescription should be properly formatted, including the active ingredient, dosage, duration of treatment (indicating the amount of medication you can purchase with the prescription), and expiration date. Ideally, the prescription should be translated into Portuguese, but at least into English to start with.




Get a consultation and a prescription from a doctor in Portugal (with a número de utente, you can do this at a centro de saúde with your family doctor or with the duty doctor in the absence of a family one; without a número de utente, you can do this at any private clinic or with a doctor in private practice (including online)). At this consultation, talk to the doctor and explain your symptoms and the medications you are taking. Ask for a prescription, and then you will be able to purchase the necessary medication at any pharmacy. The cost of this service in a private setting is about 15 euros. When making the request, you need to specify the active ingredient, dosage, and regimen of the medication; if available, provide the old prescription.
Note that Portuguese pharmacies do not have many familiar antiviral, immunomodulatory, and homeopathic remedies, and the number of generics is limited. The generics that are available are often manufactured in Portugal on the same production line as the original drug, indicating their high quality. As a reminder, a generic drug is a pharmaceutical product that contains the same active ingredient as the brand-name drug, which has been patented by the original developer of the drug. Generics are produced and sold after the patent of the original drug has expired under the international non-proprietary name or a commercial name that is different from the brand name of the drug developer. One of the main goals of SNS24 in the field of pharmaceutical supply is to increase the consumption of generics. By law, the maximum price of a generic drug must not exceed 60% of the price of the original drug. Since 2012, pharmacists have been allowed to replace original prescription drugs with generics on their own. In addition, by law, pharmacists are required to offer each patient a choice of at least three out of the five generics that should be available in the pharmacy as an analog for each original drug.
By the way, about the notorious número de utente: its presence does not automatically make you a lucky owner of a pass to the world of free medicine. Médico de família (family doctor) at health centers (centro de saúde) can make prescriptions for their patients for regularly taken medications even without their presence. You can request a prescription by phone, email or by coming in person and leaving an application. However, according to statistics, more than half of the population of Portugal do not have access to a family doctor due to their extreme shortage, so to obtain a prescription, you will have to stand in line for the duty doctor and use all possible means (such as online translator) to try to obtain a prescription. But the duty doctor is usually heavily overloaded and has a very limited time for appointments - about 5-7 minutes per patient, so it's better to prepare the text of your "petition" in advance, as the bulk of the doctor's appointment time will be spent on filling out your card.
Online pharmacies are also common in Portugal, but this category of pharmacies is more like pharmacy stores. However, if you add a prescription to your personal account, you can purchase the necessary medication based on it. A large network, for example, is Farmácias Portuguesas. After conducting a small investigation, I came to the following conclusions:
prescription drugs do not appear in the search results without adding a prescription to your personal account, so you will be able to immediately find out if it is worth hunting for a prescription or if the drug is in free access;

the prescription can be added to your personal account, but the system only accepts prescriptions issued with your número de utente: it is displayed in your personal account on the SNS24 website or in the app - in addition to the barcode and prescription number (№ receita), it is assigned a PIN de acesso and PIN de Opção, which allow the online pharmacy to verify its validity (it is not possible to upload an expired or already used prescription, it has been tested). In the case of a prescription issued without a número de utente, the prescription does not have these access codes and it may not be possible to upload it to the online pharmacy website;

from your personal account in the online pharmacy, you can also add your Saude discount card, which, in case of purchasing non-prescription drugs, will give you access to a range of special offers and discounts, as well as a closed club of sales, as promised in the colorful offer (discount cards are available not only in virtual pharmacies, but also can be issued in any preferred and convenient pharmacy during your next visit).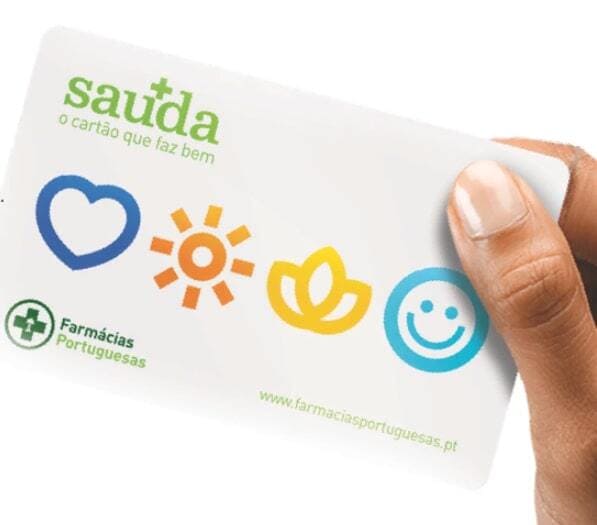 For example, after visiting the on-duty doctor with a sore elbow, a prescription drug was prescribed with a maximum cost specified in the notes, while a patch (a commercial drug that does not require a prescription) did not have such a label. This prescription is also available in the mobile app for convenience, so there is no need to carry a paper copy.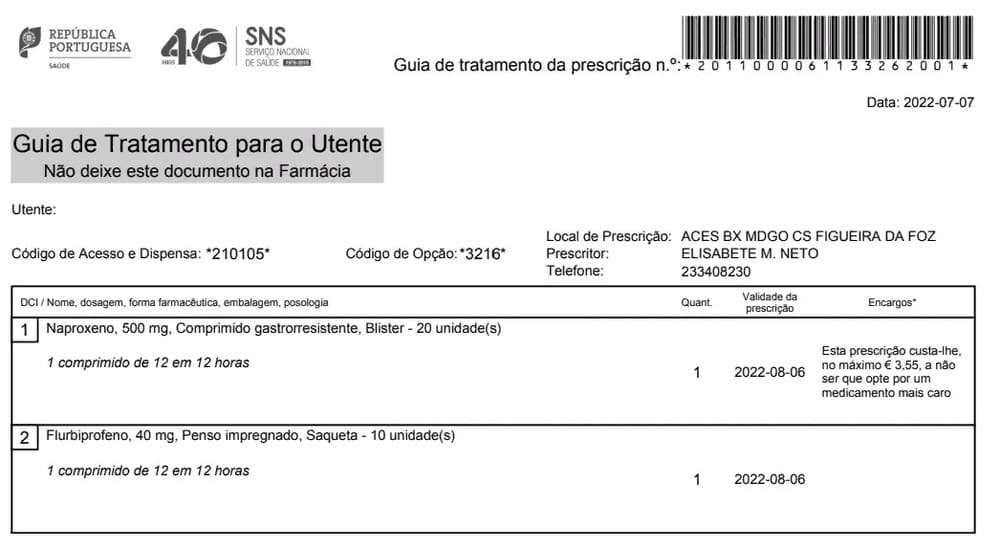 Here's something interesting we missed about Portuguese pharmacies:
many large pharmacies in Portugal offer tests such as blood sugar or cholesterol level measurements, as well as blood pressure tests. Sometimes these tests are free, sometimes for a symbolic price. Therefore, if you have doubts about whether to go to a doctor or if it will solve on its own, you can use such services;

in some pharmacies, you can buy a vaccine and get vaccinated right there if needed.
Even in the pharmacy sphere, sometimes, there is the human reliability - if someone suffers from migraines, they know that no ibuprofens, aspirins, or other mass-market remedies for headaches help with migraines. So, in one pharmacy, a triptan-based drug (a potent substance for relieving acute headaches) was sold without any prescription, while in another, despite the moaning, which sometimes helps - the pharmacist categorically refused. This is another reason to explore all the pharmacies in your area and preferably make friends with a staff member.
I wish everyone good health and good luck. See you again!