In the humble opinion of the author, who is a resident of this town, Figueira da Foz is the most beautiful gem of Portugal's central region. This is how the tourist section of the municipality of the Figueira da Foz website describes it: Figueira da Foz is located on the coast of the Centro region and belongs to the county of Coimbra. It has a unique natural beauty, historical and cultural heritage, taste and gastronomic richness, people with human warmth, and an inviting quality of life. But, as it said, beauty is in the eyes of the beholder, so let's figure out how things work there together.
In this article, we will focus on 10 facts that are essential to know before moving to Figueira da Foz.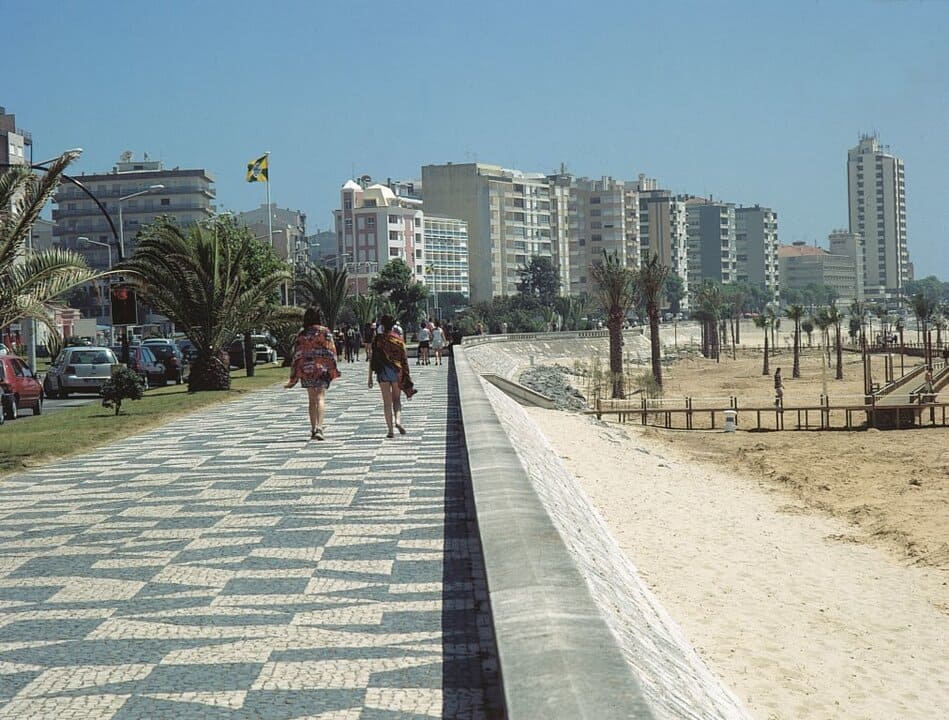 Fact №1: Figueira da Foz is an urbanized village
It is certainly not rural (what people commonly call traditional historical villages here), but still, it is not devoid of the sincere charm of provincial Portugal. If you are a little bit social, you will definitely know where your child's teacher lives or where your neighbor works. You will see familiar faces every day. You'll be surprised how many people you don't know will wave their hands, even while jogging, and greet you panting. The postman will always specify where he can put a package in case you are away from home, not to carry it around for days, or greet you with a shout from across the street to hand it over. It's not a big deal if you forget the money to pay at a hairdresser or other places that provide minor household services, you will be asked to bring it later.
The town's population primarily consists of older people who are not in a hurry, have an amiable temper, and a lot of curiosity, which can look like a faux pas for a newcomer. They may hug you, kiss your children, and ask how you are doing at work or school, thus significantly enhancing your skills in Portuguese, whether you want it or not. The town is ruled by silence and peace most of the year, sometimes, you can't encounter a single person during the morning or evening strolls, and at 18.00-19.00, almost everything is closed (except grocery stores and restaurants). The Portuguese here maintain a balance between work and rest.
Despite this township, you won't be left without basic needs: the town has almost all the necessary state authorities, a sufficient number of schools and kindergartens, all major grocery store chains, along with Chinese stores, and even a pretty decent shopping center, Foz Plaza with a cinema attached to it. So, fortunately, the residents of Figueira da Foz are not deprived of the benefits of civilization. And even if there isn't something you need, you may go to Coimbra. An hour's drive, and you're in a real civilization.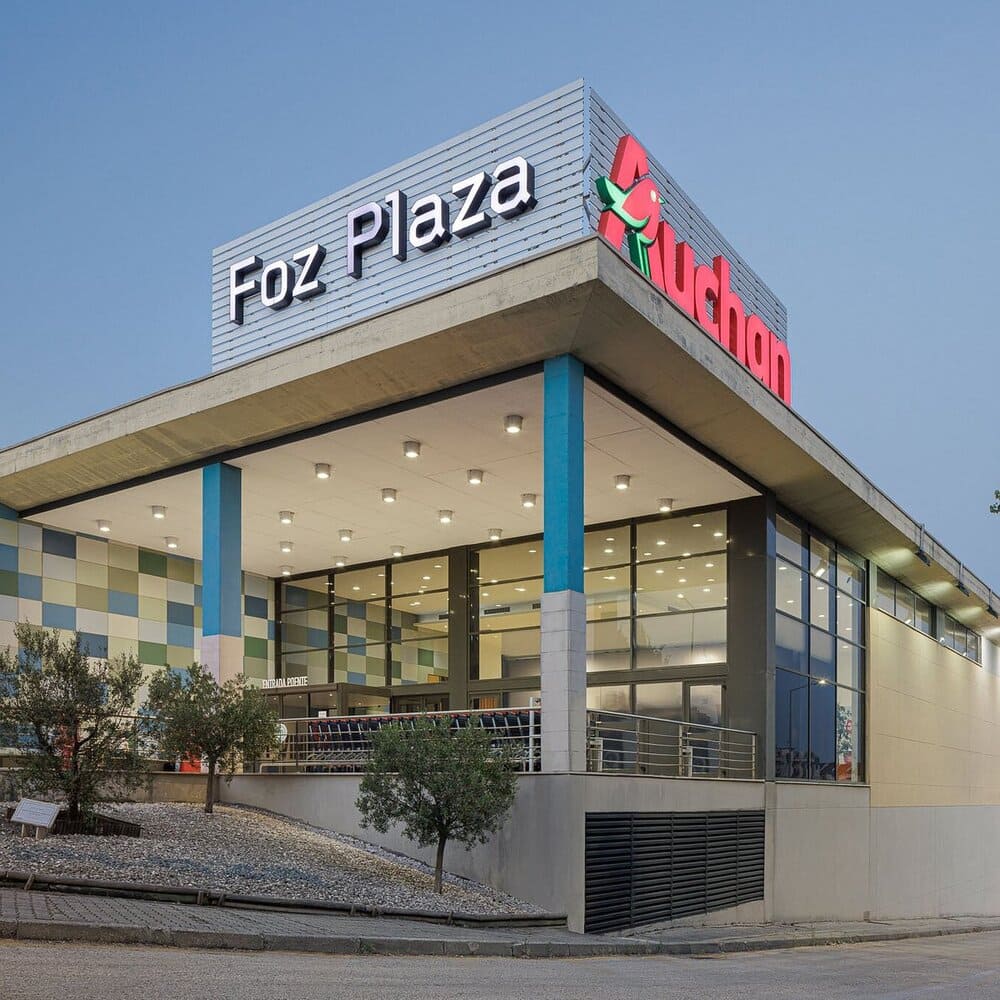 It is also unlikely to go hungry - the town has a wide range of food services - from padarias and pastelarias to restaurants with a particular cuisine and Chinese buffets, beloved by all for their low cost and variety of choice. Everything works strictly on schedule: dinner time 13.00-15.00, supper time 19.00-22.00. In the meantime, you can only have a snack at McDonald's (yes, they have it here) or at local fast food. Everything is very simple and homely in Figueira da Foz.
Last but not least, if you have school-age children: there are neither private nor international schools that teach in English. Only public schools are represented, where general subjects are given in Portuguese. Therefore, all immigrant children in Figueira da Foz receive the necessary additional Portuguese language course right in school, ensuring a smooth adjustment in most cases. All schools and pre-schools are grouped into 3 agrupamento, the lists are available here: Agrupamento de Escolas da Zona Urbana da Figueira da Foz, Agrupamento de Escolas Figueira Mar, and Agrupamento de Escolas Figueira Norte.
Fact №2: it will be quite difficult "without wheels" in Figueira da Foz
There is no public transport in the town, apart from the only bus route in three variations from the Avic company. There are no online taxi services that are familiar to the residents of the metropolis, neither Uber nor Bolt work there. There are only 3-4 taxi operators (to order you should make a call, more or less they can speak English) and, obviously, a small car park. Therefore, you may wait a long time for a car if there is bad weather or rush hour, and the price for this service is higher than in aggregators. The lack of taxi aggregators also results in the absence of food delivery services, only Glovo works here.
There is a connection with other cities, but it's not the most convenient. For instance, you can get to the regional capital Coimbra (about 45 km from the town) by train (1 hour to go) because the bus goes one way and only once a day, making a detour through Leiria. Therefore, if there is a strike on the railway, you will get to Coimbra only by taxi. At least the city is located between Porto and Lisbon, which is why the national interregional buses like Rede Expressos and FlixBus pass through it several times a day, making a trip to the capital cities quite affordable. For getting around town, citizens without cars mostly use their legs (no wonder why they are running in the mornings) or bicycles/scooters.
In general, there are few personal vehicles in the town, at least compared to Coimbra, not to mention Lisbon and Porto. The traffic jam in Figueira da Foz presents a cluster of 5 cars on the street when parents bring or pick up kids from school. The town has practically no fumes, and nothing prevents citizens from enjoying the fresh air.
You have the possibility to rent a car, for example, in Hertz or Europcar. There is also a rental of city bicycles on subscription called Figas. You need to download their app and tie a card from a European bank to use it.
Fact №3: do not forget that Figueira da Foz is a resort town
It implies that in all months off-season, you will enjoy plenty of silence and peace, but from July to September, the town will be filled with crowds of tourists from all over the world. Mostly, it will be lovers of caravans from Spain, France, and the Netherlands, so all the parking spaces in town will be full, restaurants will have lines, and cheerful tourists will have a pretty loud party in their temporary accommodation. The owners will carefully prepare every spare room, attic, and cellar to welcome dear guests during the season. Nobody will remain indifferent after a strip of 34 kilometers of wide ocean beaches and a mild climate. As the town was founded at the mouth of the Mondego River, near the breakwaters, ensuring the safe entry of ships into the river, special "children's" beaches are equipped: there is shallow water with almost no waves, due to which the water is better heated.
Also, during the summer, an incredible number of parades, festivals, marathons, races, and other entertainment events are organized. They take place on a large scale, with good acoustics, and mostly when you want to go to bed. In early July, the town turns into a massive nightclub as there is a DJ festival, RFM Somnii - one of Europe's largest open-air events, for which only about 60 thousand official tickets are sold, but also a lot of young people come here to dance "outside the fence" because it takes place on a beach and even has a slogan - "The greatest sunset ever."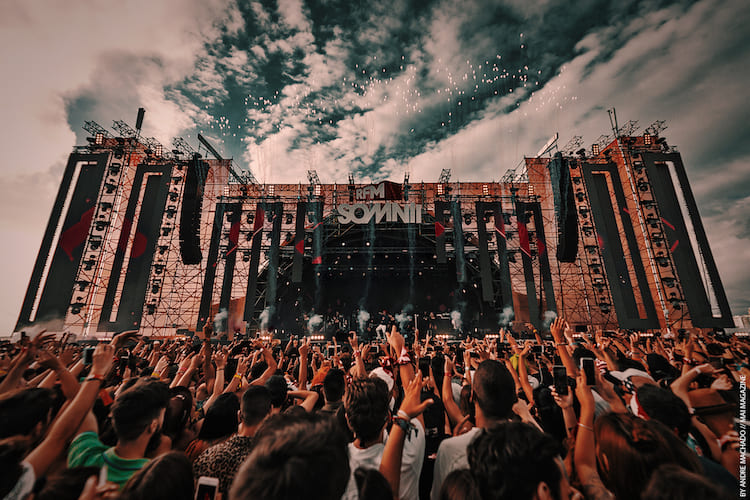 So, if you are a proponent of silence and peace, and you are close to the Portuguese saudade under the sound of the ocean, you need to be prepared for the fact that in summer, you can hardly hide from the noise and din that tourists bring with them.
A wide variety of concerts also occurs during the summer, from folklore festivals and street music to philharmonic groups and symphony orchestras from around the country. A consolidated program of events can usually be found at Figueira na hora website. Part of the events takes place in the cultural space Centro de Artes e Espectáculos da Figueira da Foz (by the way, there are also sections for children on music, dance, and fine arts).
The nice thing about all of this is that the summer months also involve a series of culinary festivals, not only in Figueira da Foz but in the area, so every weekend, you can gratify your gastronomic taste by visiting flea markets and local attractions.
Fact №4: the local climate has some specifics
The dry language of the weather data can show us that summers in Figueira da Foz are comfortable, dry, and mostly clear, while winters are cold, wet, and partly cloudy. Throughout the year, the temperature usually fluctuates from +7°C to +25°C and is rarely below +2°C or above +31°C. But the important element here is the impact of the ocean. In summer, it acts like a natural air conditioner and sometimes as a heater in winter. Compared with Coimbra (45 km), night air temperatures in winter are higher by 5°C, and in summer, the temperature gap is up to +15°C. So, for example, if we are cold at +5°C in the morning in Figueira da Foz, when arriving at 08.00 in Coimbra, we can easily see the frost on the windows of parked cars, it will make us shiver and turn on the heater in the car. And while in July in Coimbra, it is impossible to go outdoors because daytime temperatures sometimes reach +40°C, in Figueira da Foz you can walk carefree at +25°C, blown by the gentle ocean breeze.
When it comes to thermoregulation and the individual's feelings, everything is relative, but one thing is sure - the climate of Figueira da Foz is mild, without sudden temperature changes, although this winter allowed us to experience a wide variety of cyclones in all its glory. The increased humidity the ocean brings is practically a year-round companion of town residents, but, in general, you quickly get used to it, and nowadays, there are plenty of devices to combat it at home. And yes, in Figueira da Foz the wind blows nearly always, so the jacket (preferably for yachting, to be waterproof) is an indispensable accessory in your closet. Despite all of the weather conditions in the air, the temperature of the ocean usually doesn't fall below +16, even in winter, but it also doesn't rise above +19 in summer. It allows surfers (even children in a surf school) to practice year-round and hardened Figueira citizens to refrain from interrupting their water procedures.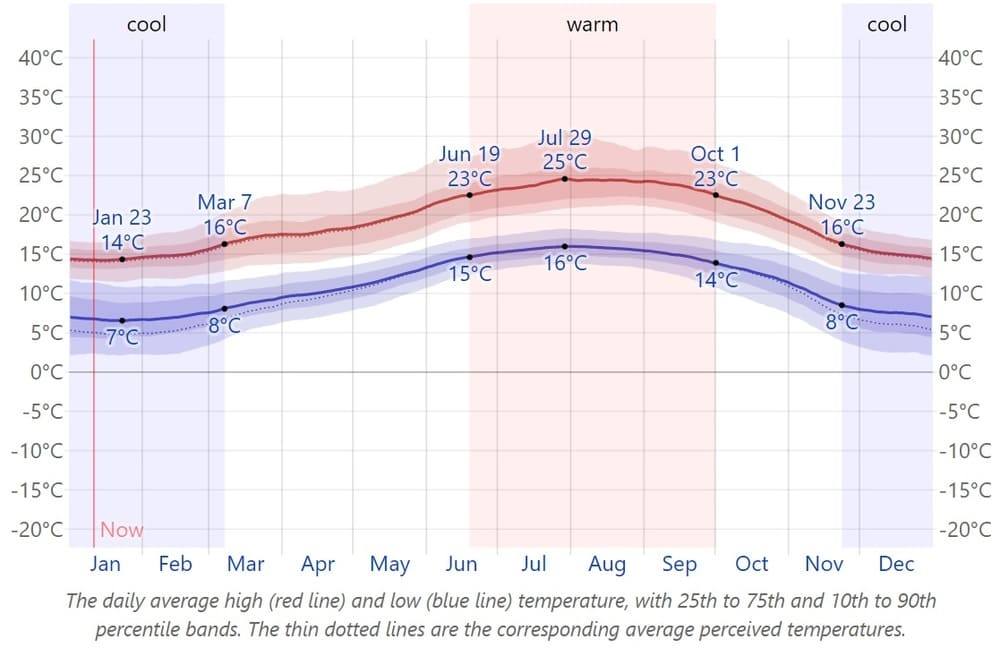 Fact №5: a specific real estate market both for renting and buying
The town is relatively small, so you can expect a limited range of offers. For example, at the time of writing, only 34 ads are available for rent on Idealista, the most popular site for finding housing in Portugal. Some are "dead", some are completely broken, and some are unsuitable for long-term rent. Mostly, local landlords do not indicate the period of possible rent. An urgent problem confronting newcomers is that Figueira da Foz is a seller's (landlord) market but not a buyer's (tenant), meaning you don't choose the accommodation and the landlord, but vice versa. So finding a suitable long-term rental apartment often becomes a long quest. Moreover, it's worth mentioning that Figueira da Foz is not only the name of the town but also the name of the region, which includes all kinds of suburbs. They seem to be close, but at the same time, without a car, they are difficult to reach, so you need to pay close attention to the location.
All additional methods are suitable for finding an apartment for long-term rental: from surfing on Facebook and asking bartenders at nearby cafes to requesting friends who already have a contract to talk with their landlord. Believe me, everything works.
The housing stock in Figueira da Foz consists mainly of private 2-4 storey houses, some of which are pretty dilapidated, although you can find renovated, often built up in a hurry. There are some multifamily high-rises and residential complexes in a modern manner, but mostly without heating. Few have heard about energy efficiency classes A and B, so you'll need to get used to the "air dryer + heater" system. In places where heating is declared, the bill is appalling at current energy prices. Many houses and even flats have fireplaces that are also very helpful during humid and chilly winter evenings.
The market is more adaptive and variable if you want to buy housing in Figueira da Foz. There are new complexes under construction, and you can find a dream apartment for a more or less digestible price at the secondary market. But, again, it's better to consult with a local realtor familiar with the topography to avoid getting in trouble with the house, neighborhood, social environment, etc.
Real estate prices in the province, and in Figueira da Foz in particular, are much lower than in the capital, although they have recently increased as well. But the level of housing is totally different here, so you have to pay very close attention.
Fact №6: you may have trouble finding traditional work in Figueira da Foz if you are not a freelancer
Figueira da Foz is a small settlement, especially in contrast with megapolises, and the labor market is quite narrow here. Mainly, low and medium-skilled jobs are presented: salesmen, home and elderly care assistants, cleaners, builders, handymen, etc. There are a few factories that are constantly in need of personnel, but these are all low-wage and low-skilled jobs. If you want to be highly qualified and work in an office, keep in mind that the nearest possible location to work in an office is Coimbra at best. Calculate travel time, logistics ease, and the road's cost.
For those who work remotely with a computer but want to do it in an office, there is a coworking space on the second floor of Engineer Silva Market. When the weather allows, many people sit at their favorite cafes on the ocean and work outdoors.
Job hunting in Figueira da Foz is the same as in the rest of Portugal, LinkedIn and Facebook are the most popular networks for this. If you are legally in the country, you can also register at the labor exchange IEFP (they have an office in Figueira da Foz), there you can find free courses in Portuguese too.
It is essential to know that in Figueira da Foz, not everyone speaks English, unlike Lisbon and Porto, many know French, but in general, people use their mother tongue. That's why you won't get far even with perfect English.
Fact №7: there is no
healthcare
in Figueira da Foz
You must understand this, especially if you brought your elderly parents or infants, need constant visits to specialists, or are pregnant. Specifically, city health centers (there are only two), proudly called Centro de Saude - are already full. You may not dream of a family doctor, but you can only get a number for a general practitioner the same day, standing in a queue from 7 to 9 am, and that is if you are lucky enough to come first. The only rescue is a decent regional hospital - Hospital Distrital da Figueira da Foz. If there is no point in going to the general practitioner, everyone goes to the emergency room of that hospital. There is also a tiny department of the private clinic LUZ, but it seems that everything you can get there is a certificate for the school. Even if you have private insurance to see a specialist doctor, the company will still send you to Coimbra.
It is a totally different story in Coimbra: a giant central state hospital with an impressive pediatric department. Two huge hospitals of the medical majors CUF and LUZ, plus a bunch of private clinics (there are also small clinics in Figueira da Foz, but honestly, I have doubts about them).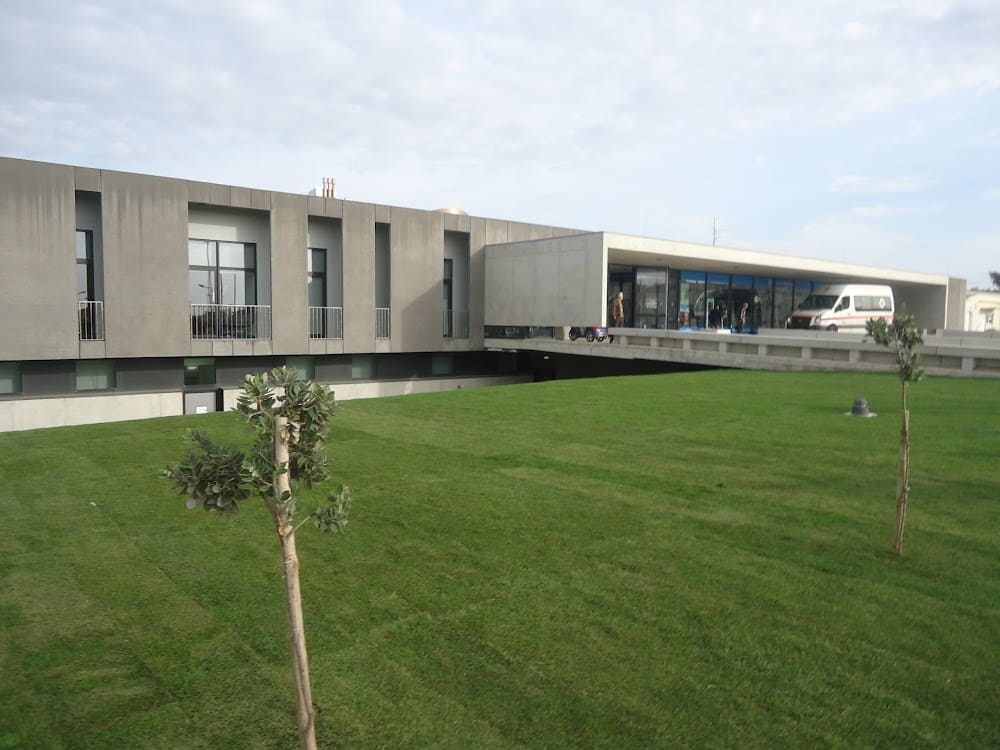 The only well-developed area of medicine in Figueira da Foz is dentistry, which is around every corner in the town, and the reviews are almost all good.
Fact №8: the absence of entertainment in the usual sense. Sports
Coming back to Fact №1, generally speaking, Figueira da Foz is a village. That is why the entertainment here corresponds: stroll on the beach and to the ocean (you can find all sorts of natural attractions at low tide) or promenades along the wonderful quay, surrounded by palm trees. Surprisingly, I found a website called Beachcam, where you can see photos of any beach in Portugal, the weather, temperature, etc. Running or a race walk, cycling, or going to your favorite coffee shop or bar, among other activities. You can also go to the cinema: in Portugal, all the movies are shown in original with Portuguese subtitles. So, if you speak English, you can get the point. On Saturdays (the number of Saturdays either increases or decreases depending on the season), you can go to the flea market along the town's marina.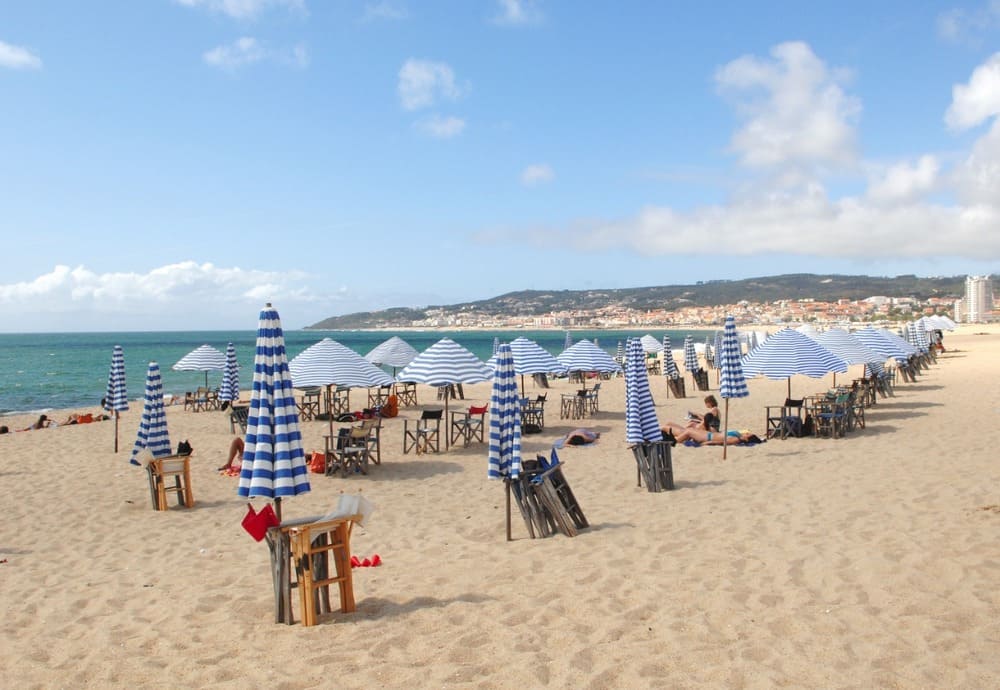 Walking around Sierra da Bom Viagem is another pleasant pastime, but you can't go there often, especially without a car. There are several trekking trails of low difficulty on the mountain, to which you can go even without equipment. They all start from Miradouro da Bandeira. You will be accompanied by the scents of pine, eucalyptus, juniper, and in the rainy season, you can admire the waterfall. In addition, you can enjoy wild blackberries, raspberries, or blackthorn fruits. There are also designated barbecue areas with grills, tables, and benches, so you can freely bring everything for a picnic. The temperature on the mountain is usually a few degrees cooler than in the town, and the daytime hours are often accompanied by fog, so be sure to take something to slip into.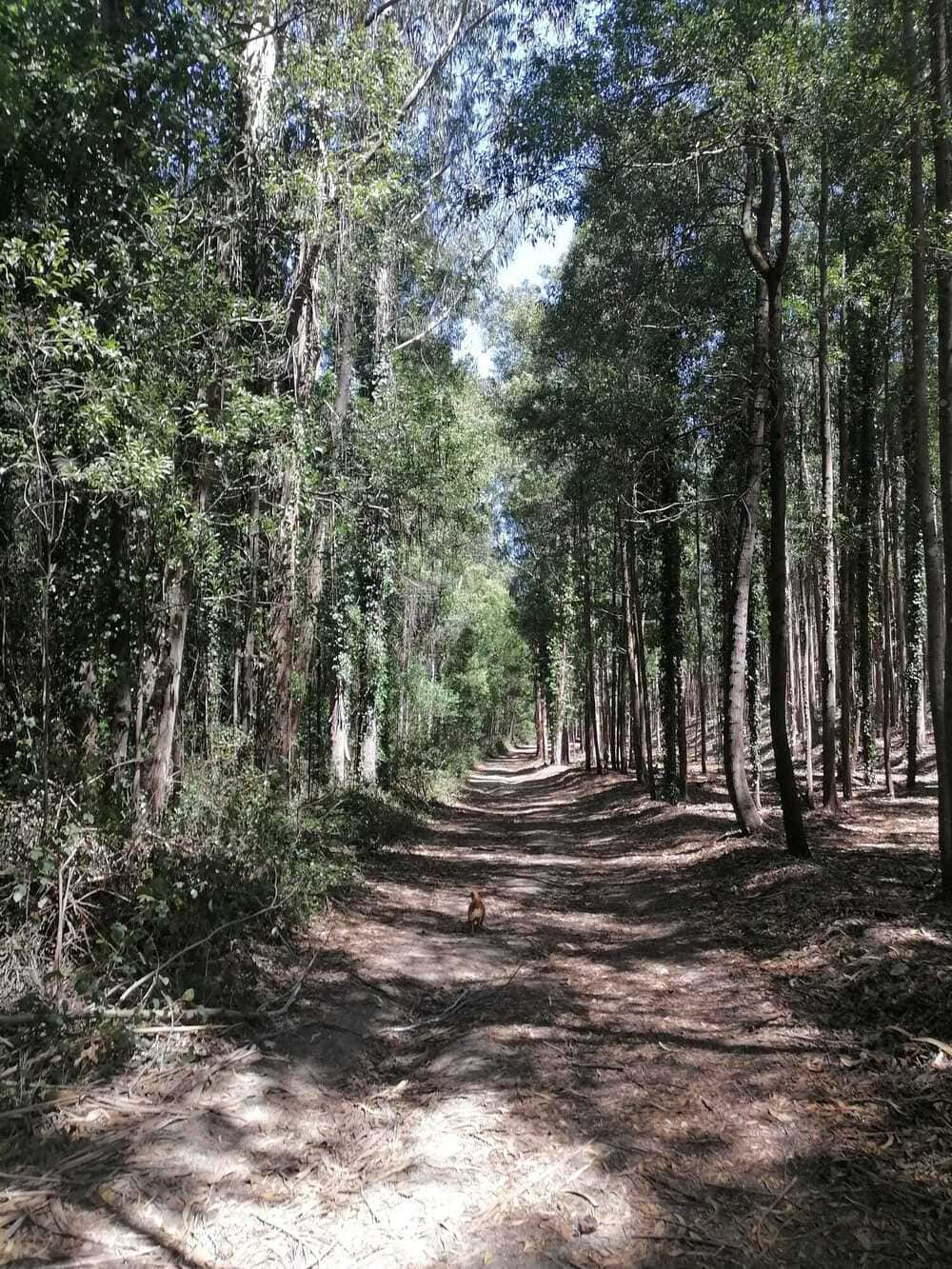 If you have a car, Figueira da Foz is an excellent starting point for local road trips: the medieval castle of Montemor-o-Velho is within 15 minutes drive, and there is also a zoo for children. Further down the road is Coimbra, a marvelous student town and one of the oldest universities in Europe. Going north along the coast is a straight shot to Aveiro, the local Venice, and then Porto.
Another way to entertain yourself is through sports. There's an abundance of it. You won't find a large selection of professional sections, but there's an expanse for the amateur. With the ocean right around the corner, it's clear that one of the most popular activities is surfing. There are several schools, both for children and adults. Or kayaking on the Mondegoo River (not only as a professional school but as entertainment). The whole Figueira da Foz runs somewhere on Sundays: children, people, dogs. I didn't see only the cats running around, but that seems to be an oversight. Why not run when you have all the conditions for it: the running track, which stretches along the ocean, more than 5 km in one direction. On the track alongside the runners, cycling enthusiasts pedal, and the owners of electric bicycles are especially hilarious.
There are also all the conditions to play tennis and paddle. In winter, you can even skate, in Figueira da Foz there is an indoor ice rink with natural ice and skate rental! Many places in the town have sites for individual workouts.
About children, there are playgrounds everywhere, all of them are comfortable and fenced, with drinking fountains and shade. In the summer, on the dune near the ocean, they set up a water park for children with free access. On Christmas and New Year, Camara Municipal allocated funds for an indoor entertainment center for kids: two trampolines, one trampoline slide, a merry-go-round, and a Santa Claus house. By the way, it is also free.
And there is also a casino in the town where you can play roulette with fortune and hang out at the disco.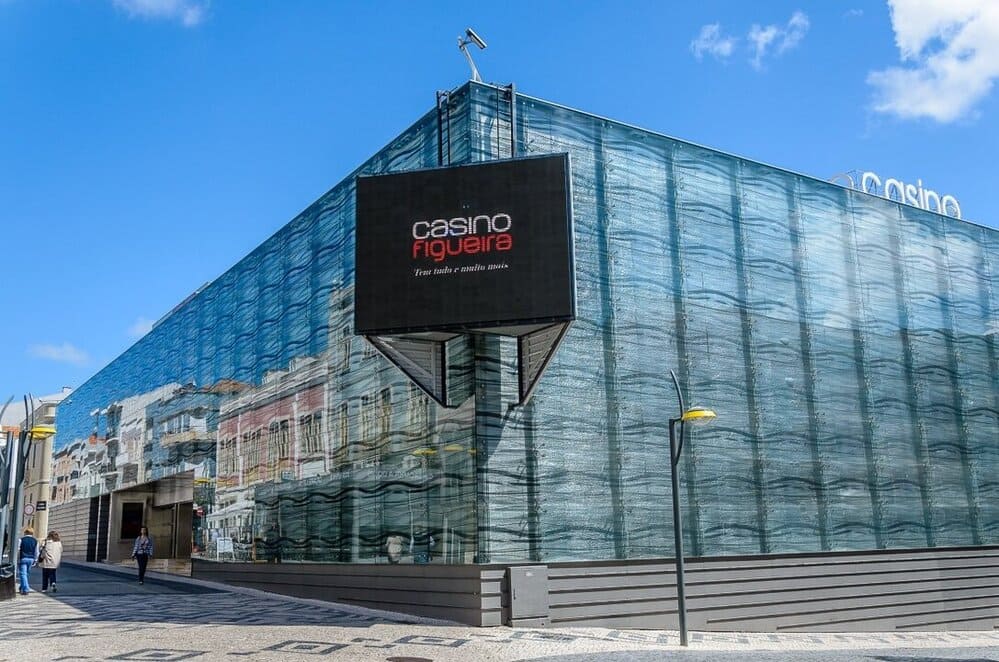 Fact №9: safety is one of the main criteria for choosing a city to live in with children
According to the World Population Review, Portugal is the sixth safest country in the world. Figueira da Foz is not the exception in terms of security. Indeed, there are a couple of marginalized people in the community, but even those are pretty harmless, they just smell bad and don't look good. In general, children can walk alone, take the dog in the evenings, and there are no thoughts of giving any warnings or other instructions. Even at night, when you encounter a drunken company that seems to be threatening, they meet you with a friendly smile wondering how you're doing. Incident reports are rare; if they do happen, it's quite a sensation in local groups. Car traffic is very quiet, drivers willingly give way to pedestrians, and even bikes ride at unusually low speeds. Life here is pleasantly monotonous. Of course, old-timers say that we should not relax: from time to time, someone will break into someone else's car or steal a bike, but it's all minor hooliganism and not something that brings horror to the average person when they hear the word "crime".
Locals do not always keep a standard distance, so you may stop glancing around if you hear footsteps directly behind you on the street or if a stranger is pushing you from behind at the checkout - they will not cause any harm, it's just a style of their behavior.
Fact №10: the ocean and the stunning nature
Without any "but" or "if", this is the greatest thing here. The ocean is a tremendous power, its roar can be heard a mile away, it can be seen between houses, it saturates the air with the scents of seaweed and fresh fish, and it brings a lot of interesting surprises to the shore during storms. It is a living being. When we moved here, I was initially planning to live in Coimbra and rented a home in Figueira da Foz on Airbnb temporarily while looking for a place on a long-term contract in Coimbra. But when our family, including our dog, saw the ocean in Figueira da Foz, we immediately decided we wouldn't go elsewhere.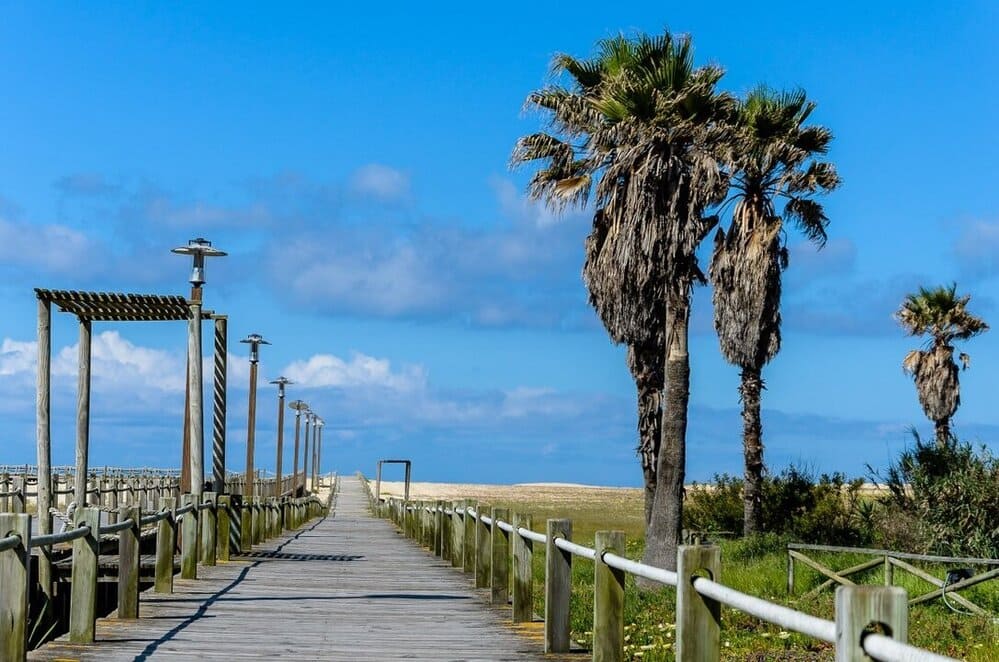 The ocean has a rather tangible tidal cycle, and I think it would be useful for every resident to download an app like My Tide Times. Even if you're not a surfer, it certainly comes in handy for swimming. The countless beaches in the area are very different. For example, Praia do Relógio or Praia Claridade have an even relief, hence, a constant wave, which sometimes hinders swimming and is not very good for surfing. On the contrary, the beaches of Buarcos have "bathtubs" among natural breakwaters and rocks, where swimming is very comfortable at high tide (in case you're willing to sacrifice the width of the beach). Pupils from one of the surf schools (and not only them) also train there.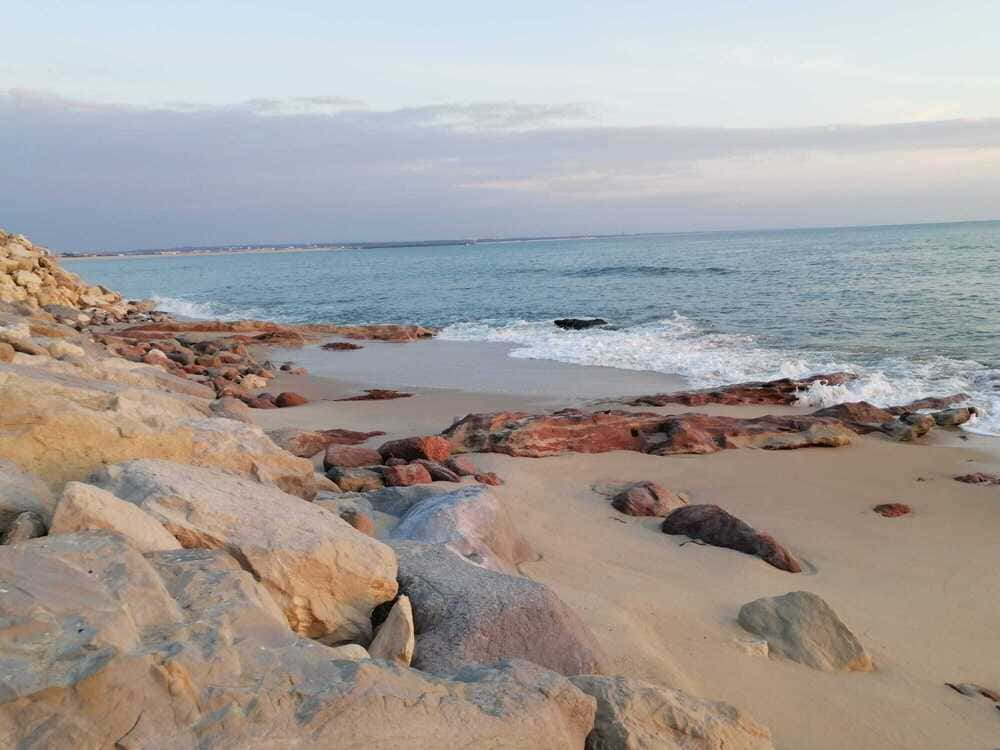 The Serra da Bom Viagem mountain, both a national natural park and an ocean observation point, hides the magnificently beautiful beachfront behind it from the curious visitor of Figueira da Foz. But if you get on one of the observation decks, you will see absolutely everything.
Along the ocean, there are many kilometers of running and biking tracks. The beaches are organized in summer, and guess where the most popular cafes are located? Everything is concentrated around the ocean.
As I mentioned before, the town was founded at the mouth of the Mondego River. So, there's a lot to see there, too. Colonies of flamingos crowd the shoals on the river at low tides. Sadly, they are not pink enough here (ornithologists say it's because of the climate and diet). Nonetheless, observing these elegant birds at sunset or dawn when driving across the bridge during work hours is amazing.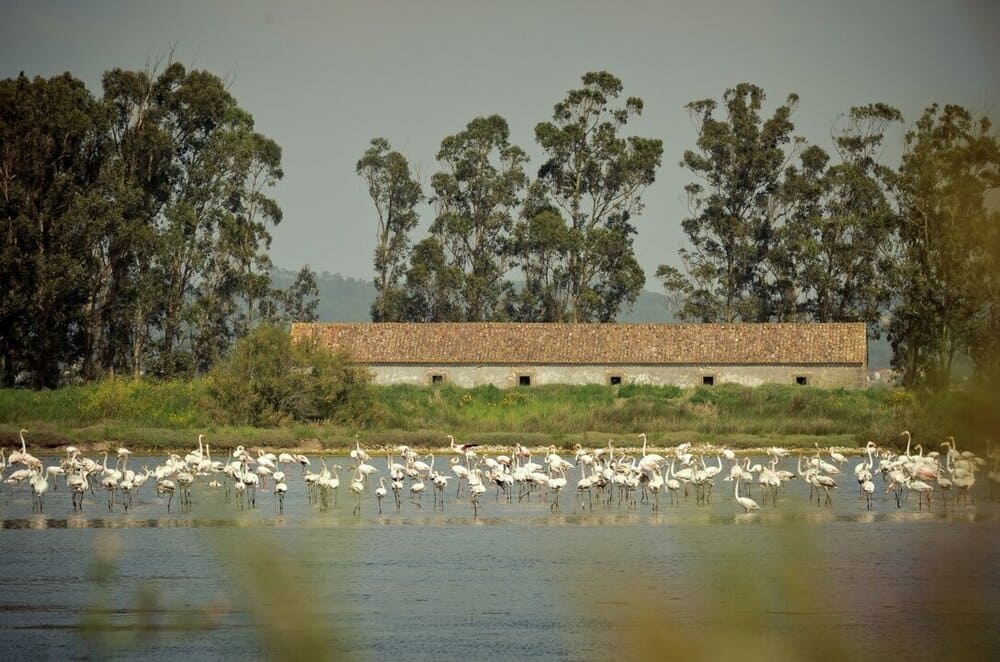 Montemor's rice paddies are home to a myriad of different birds: storks, all sorts of herons, cranes, etc. The views are fantastic when you go down the freeway from Figueira da Foz toward Montemor-o-Vello, on the way to Coimbra, and see all this beauty.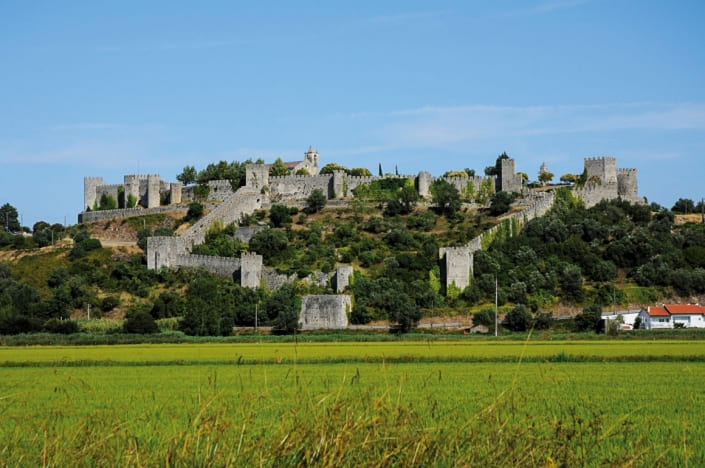 On the highway on the way to town, there is a poster saying: Figueira, tu és única (Figueira, you are unique). And I guess it reflects the whole essence of this town. It is truly unique - a mix of tradition, modernism, and stunning nature.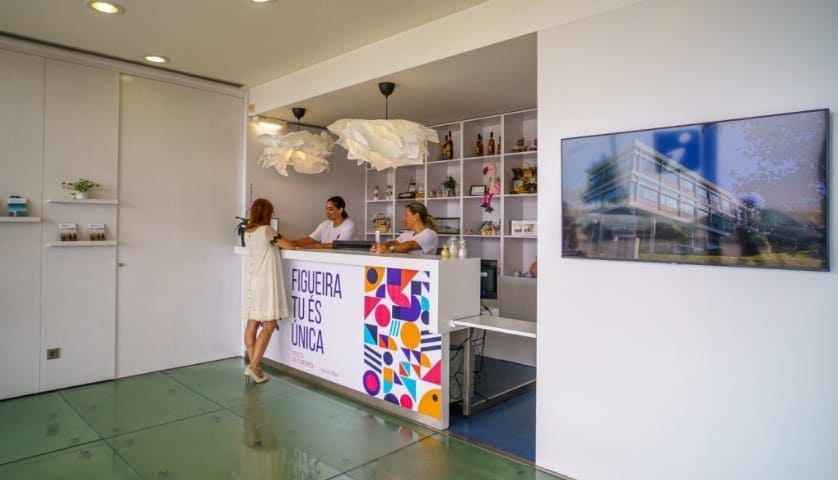 One thing is clear: this city is not for party lovers. Many, who come here once, leave soon due to one or more of the facts described in this article. That's why it is better to examine this article in detail before choosing to move to Figueira da Foz.