Recently, more and more people are looking for more comfortable countries for their work because, even though it has become harder to travel during the pandemic, many office workers have been able to work remotely. And this remote work can be not only from your apartment but also from anywhere in the world.
Such people are also named "Digital Nomads", these are people who want to work around the world without being tied to a specific place. With a few months in Asia, half a year in Europe, and then a flight to a new continent, the route of digital nomads and freelancers is determined only by themselves. What is essential for people who identify themselves as "Digital Nomads"?
First of all, they choose to work remotely for comfort and quality of life in the country. And Portugal, in this regard, will be just the perfect place for remote workers, freelancers, and digital nomads. The biggest amount of sunny days per year in all of Europe, a mild climate, beautiful landscapes, and many options for outdoor activities, surfing, etc. In addition, the low cost of living and cheapness in many areas, especially if you compare the level of prices and expenses with other European countries. It is unlikely that you can get the same high standard of living in Spain or Germany for the money for which you can do it in Portugal. We have written about this in sufficient detail. In an article about the cost of living in Portugal and this is precisely the factor that is extremely important for all digital nomads who certainly want to reduce their level of spending in a new country.
In one of our articles, we already wrote about how a freelancer can immigrate to Portugal in 2022. And in this article, we will slightly expand the options for immigration to Portugal for digital nomads and look into the future, anticipating the upcoming changes in legislation, for which there are already quite actual prerequisites and successful cases of moving to this sunny country on the edge of Europe.
Prerequisites for changing legislation and projects for Digital Nomads in Portugal
One of the prerequisites that the government of Portugal is likely to think seriously about a more affordable visa program or even a residence permit program for digital nomads and freelancers soon is the fact that local projects have begun to emerge in the country aimed at attracting "Digital Nomads" from all over the world.
"Digital Nomads Madeira Islands" project for freelancers in Madeira
For example, relatively recently, the government of the island of Madeira announced the launch of a new project for remote work called "Digital Nomads Madeira Islands". In the area of ​​Ponta do Sol, a whole village will be created with all the necessary infrastructure for remote work and life on the island.
How does it work? For example, you are a programmer, work remotely, and would like to live in another country for a couple of months. The Digital Nomads Madeira Islands program allows you to apply for free on the official site, and as a member of this program, you will have access to free office space (desk, chair, internet, and computer), as well as to a community of digital nomads like you. In addition, the program website has a selection of housing options, so if you would be interested in working for a couple of months on the island of eternal spring, then hurry up to register for participation in the program, the first stream of which ran from February 1 to June 30, 2021, and the project is still is functioning and recruiting continues.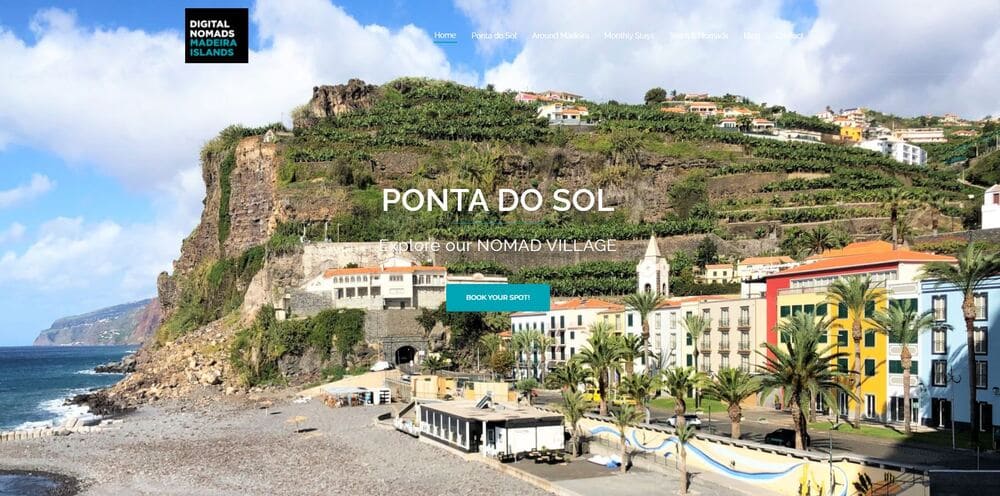 Project "Bragança. Liberdade para Recomeçar" for freelancers in Bragança
Although the selection for participation in the project "Braganca. Liberdade para Recomeçar" (which can be translated as "Braganca. Freedom to start again") ended in April 2021, we consider it essential to tell you about this initiative.
The municipality of the city of Bragança, which is located in the north of Portugal, conducted a selection of freelancers who were provided with free housing and working conditions (free internet) in the city during May 2021. What was required in exchange for digital nomads? They were only required to show their life and work in Braganca on their blogs and social networks and participate in a documentary about the life of freelancers in this Portuguese city. I think it will be clear to any attentive reader that this project was made precisely to attract digital nomads and freelancers to this city in the future. After all, now we can see how a freelancer lives and works in Braganza using the example of specific people, their social networks, and a film that will be released in the future. And if you want to see it, visit the project website. So, from Braganza, we can soon expect a larger project to attract freelancers to this particular Portuguese region.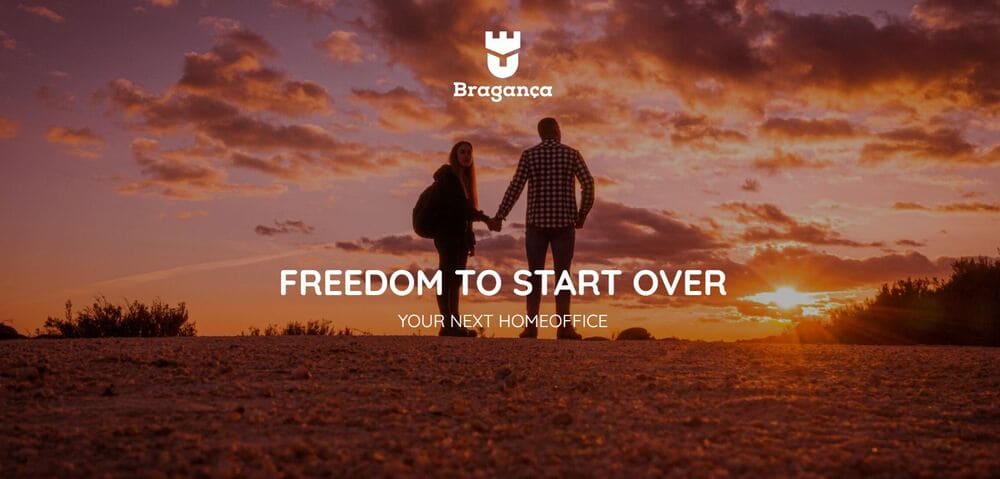 What to do with the documents, and is it possible to get a freelancer visa in Portugal?
Formally, as of May 2022, Portugal has no specific visa explicitly created for freelancers and Digital Nomads who have income from their remote activities. So how is it possible to live and work in Portugal for a few months or more as a freelancer?
Let's consider several options.
Disclaimer! Within the framework of this article, we do not call for illegal ways of immigration to Portugal in any way. Whatever decision you make, you take full responsibility for it.
Option 1. For citizens from the EU / EEA / Switzerland
If you are an EU/EEA/Swiss citizen, you have the right to freely come to Portugal without the need for paperwork. If you decide to stay for more than three months, you have 30 days to request a registration certificate: Certificado de Registo para cidadão da UE / EEE / SUÍÇA. It costs only 15 euros and can be issued at the nearest Câmara Municipal (City Council) where you live. You can read more about this here in this section of the SEF website.
Option 2. For non-EU/EEA/Switzerland citizens who do not plan to immigrate to Portugal but only want to work remotely in the country temporarily
In this case, you have several options at once.
Arrive as a tourist and then request an extension of your tourist visa from the SEF
Usually, if you entered Portugal from a country outside the EU, then you have either a Schengen visa or a permit for a visa-free stay in the country for no more than 90 days. After these 90 days, you can contact the SEF immigration office and request an extension of your stay in Portugal for another 90 days with an explanation of the reasons. You get 180 days in total, and this is already a six-month stay in the country. According to some people, it is possible to request a visa extension more than once, but because there is no exact indication of the number of renewals in the law, it is better to contact the nearest SEF or CNAIM. Thus, you can live in the country as a tourist for half a year and work remotely without having any tax or other obligations to Portugal, which is incredibly convenient if you plan to go to another country immediately after, as befits digital nomads. You can read more about the conditions for extending a visa here.
Try to get a temporary stay visa at the consulate of your country
Temporary stay visas allow entry and stay in Portugal for less than a year. Temporary visas are valid for the duration of the stay and allow multiple entries into the country. This official website contains detailed information in all languages ​​regarding this type of visa and the conditions for obtaining it (including work, research, work of an individual entrepreneur, etc.). As on this site, rather general information is given, sure, it would be best to contact the Portuguese consulate in your country, explain the situation to them and clarify the specific procedure in your case.
Option 3. For non-EU/EEA/Swiss citizens who are going to immigrate to Portugal as a remote worker or a freelancer
We have already written about this option in detail in one of our articles on how a freelancer can immigrate to Portugal in 2022. But let's summarize all the possible options again:
Obtaining a D2 resident visa at the consulate of your country
In the article about freelancers in Portugal, we talked about the fact that although this option is correct, the consulate refuses requests for this type of visa in most cases. Nevertheless, it is definitely worth trying, and in case of refusal, you need to file an appeal and communicate closely with the consular staff because they often provide critical advice that can play a vital role in a successful visa application. Learn more about the so-called "entrepreneurial" D2 visa in Portugal here.
Entry into Portugal and subsequent filing of documents under Article 89.2
We talked about this option in detail in the article about freelancers in Portugal, so if you are interested in this topic, check out the text of this article.
Applying for a D7 visa for people with passive income
Earlier, in one of our articles, we already wrote about the D7 residence visa for pensioners or rentiers. That is, the D7 visa in Portugal is issued not only to pensioners but also to people who can prove they have passive income (for example, if you rent out real estate in your country). You will need to prove at least 705 euros per person (the amount of the minimum salary in Portugal for 2021), and then you can legally come to Portugal without any problems by requesting a D7 residence visa from the consulate of your country. Then, upon arrival in Portugal, you can also get a residence permit, calmly working all this time remotely, like a freelancer.
Unofficial insider information. According to some subscribers of WithPortugal, who share their stories with us, freelancers who do not have passive income are recommended to apply for a D7 visa in the consulates of Portugal in some countries. Although there is still no official "freelancer visa" in the country, such behavior of consulates may be a prerequisite because such a visa will be available soon. In the meantime, it's definitely worth contacting your country's consulate and trying various options because there are already successful cases of freelancers who immigrated to Portugal in this way.
Freelance Visa or Digital Nomads Visa in Portugal - Background, and Reality of 2022
As part of this article, we looked at the prerequisites for creating a "freelancer visa" in Portugal. New projects and programs for digital nomads herald the Portuguese economy's focus on freelancers. Therefore, as part of this article, we looked at various options for legal immigration or temporary residence for freelancers and remote workers planning to immigrate to Portugal in 2022.