As in most countries in Europe and the world, the public transport picture in Portugal has changed over the past decade with the emergence of sharing services for the use of two-wheeled vehicles such as bicycles and e-scooters, as well as the development of infrastructure, gradually supplemented by a network of bike paths, etc. These changes have caused positive and negative reactions from society, but no matter which side of the barricades you are on, we can all agree on one thing: using these resources undoubtedly helps speed up independent movement from point A to point B.
In this article, we will look at vehicles designed mainly for independent use by one person and which do not require a driver's license. These vehicles include scooter motorcycles (with an engine capacity of up to 55 cubic centimeters), bicycles, and electric scooters. So, if you have already arrived/are planning a visit to Portugal and would like to use one of the listed modes of transportation, the material collected in this article will help you understand what services and rules there are to make this process as comfortable, legal, and safe as possible for you and others.
Scooter motorcycles
Among the listed modes of transportation, scooter motorcycles develop the highest speed and allow you to travel the most extended distances with minimal physical effort. In Portugal, there are services enabling you to rent a scooter (see below). Yet, you should consider the legal component.
Driving
If you want to use a scooter motorcycle in Portugal, available options will depend on your age and the engine capacity you expect.
You can drive any scooter motorcycle with an engine capacity of 125 cubic centimeters (cc) or more if you:
have a class A driver's license (mopeds & motorcycles) or

have a class B driver's license with 5 years of car driving experience

are over 25 years old
You can drive a scooter motorcycle with a capacity of 50-125cc if you:
have a category B driving license

are over 18 years old
You can drive a scooter motorcycle with a capacity of up to 50cc if you:
are over 18 years old (a driver's license is not required)
You can rent scooter motorcycles in places like:
Price
The cost of renting a scooter motorcycle depends on the engine capacity you choose, the location, and the number of days you plan to drive it, and it usually starts at €40/day.
Rules and safety measures
For scooters, there are the following requirements:
using a protective helmet

turning on daytime running lights

having reflectors

using roads intended only for car traffic
General traffic rules are regulated and prescribed in the Código da Estrada. You can read more about the specifics of the rules, fines, and restrictions in force in Portugal in this article.
It is worth adding that scooter motorcycles, as opposed to bicycles or e-scooters, are used mainly by those who plan to travel longer distances (for example, traveling in the Algarve region or leaving Lisbon) or expect faster and less tiring movement around the city due to how easy it is to maneuver such a compact mode of transport in heavy traffic. However, using a scooter motorcycle implies more requirements for the owner and fuel costs, distinguishing it from the two other types of vehicles that we will focus on today.
Bicycles
Bicycling is not a new phenomenon on Portuguese roads, but the attitude towards cyclists and the regulation of their movement in the city has moved to a new stage of development over the past ten years. It has been influenced, in particular, by popularizing such a service as bike-sharing.
Bike-sharing differs from conventional bike rental because you just need to download an app to use this service. All other processes take place online and do not require the involvement of third parties.
A bit of history: in 2008, the Lisbon City Council approved a proposal to create a third-generation bicycle-sharing system (sistema de bicicletas partilhadas), which was approved by the municipal assembly the same year. Since then, the system has been developing and improving in different cities of Portugal and, despite certain shortcomings, continues to be active and attracts millions of tourists and city residents to use it every year.
Driving
Lisbon now has 60 kilometers of bicycle routes and paths, and this network is expected to grow to 150 kilometers. Using this mode of transportation may seem particularly convenient along the coast, given the flat landscape, but it can also be accompanied by some discomfort if the area you are moving through is covered with the distinctive Portuguese tiles and does not have a designated place for this type of transportation, such as a bike path.
However, the Portuguese decided that hills are hills, but bicycles are gaining popularity too quickly as one of the fastest and most eco-friendly single modes of transportation, and they introduced a public bike-sharing system. In 2018, Green Gira was created, which currently has about 1,600 bikes in its arsenal, located in one of 130 operating docking stations, and the number continues to grow.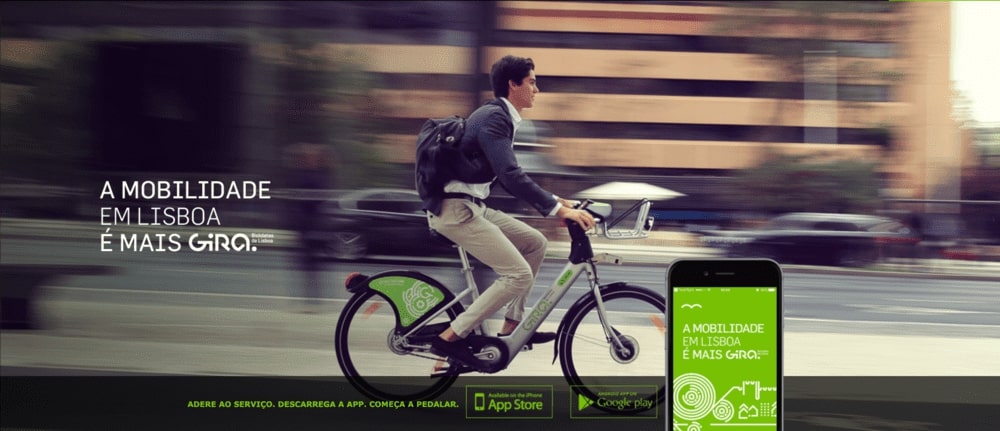 These green bicycles are slowly becoming a kind of city landmark and can now be used via the Gira app. The system includes both conventional and electric bikes that will help you overcome the seven hills of Lisbon, reaching speeds of up to 25 km/h.
Gira is designed primarily for city residents. However, tourists can also access the system in the app and purchase a day pass for €10/day for a 45-minute ride (exceeding this limit will result in an additional charge). In addition, the system operates through the withdrawal and return of a security deposit.
In 2022, Green Gira started cooperation with the Bird app, which now provides access to Gira bicycles and Bird e-scooters (see below).
In addition to Green Gira, there are also bike-sharing services such as Uber's Lime.
As for more traditional bike rental services, Baja Bikes, Bike a Wish, Go Cycling Portugal, and others are popular in Portugal, helping organize group tours and bike routes. In addition, there are regular bike rental services in the country that you can find locally.
As mentioned above, various bicycle path systems are being actively developed, so using bicycles in cities will become more deliberate and convenient over time. However, there is already a process of creating maps that you can use to check if there is a designated bike lane in the area you are interested in. For example, in the case of Lisbon, it is possible to purchase a map of the city's bike lanes at Lisbon bike map. Or you can simply plot a bike route using Google Maps.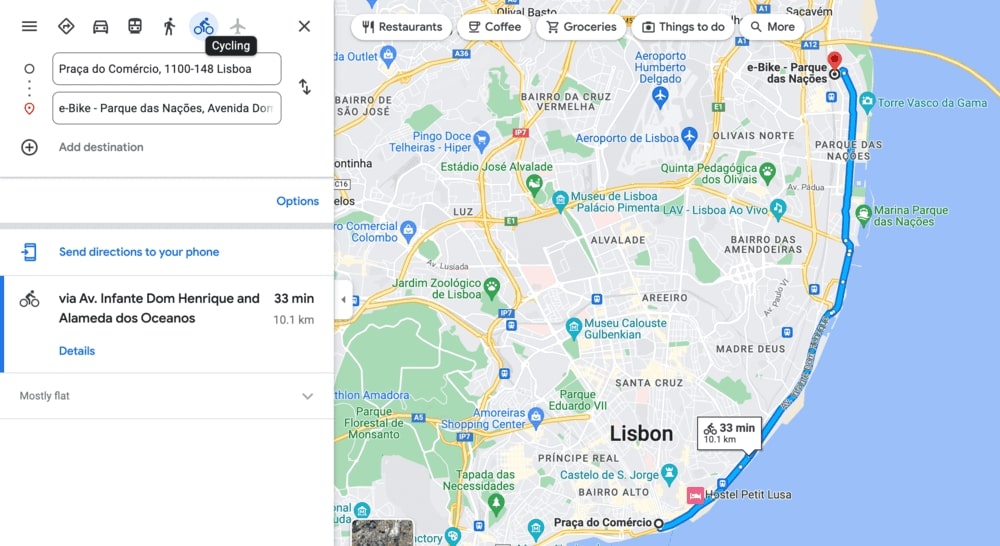 Price
Depending on the service, a traditional rental for independent use can start from €10/day for a bike, helmet, and lock or from €25/day if you organize tourist events through one of the above services.
Rules and safety measures
Remember that when you get on a bike, you become a full-fledged participant in traffic and must follow the relevant rules. We have created a selection of the most important ones that will help you move around and avoid fines.
First of all, pay attention to the route you have chosen to travel. If possible, check whether it runs through a flat area, or you may encounter hills and slopes on your way, as this can affect the duration of the trip. Also, while driving, be aware of gutters, potholes, pits, and artificial obstacles such as speed bumps. And, of course, be careful with tiles!
As for the rules:
You must ride with your hands on the handlebars and your feet on the pedals.

Cyclists on electric bicycles must wear helmets.

In some cases, you should give preference to bike lanes. Pedestrians are allowed on them only if there is no other place to move.

Cyclists are not allowed to ride in bus lanes. However, this is often a safer and more comfortable option than driving in parallel with motorists.

Cyclists should ride on the right side of the road and stay at the edge, keeping a safe distance from the roadside, curbs, and parked cars. Make sure that no one gets out of their car when you pass them: many accidents happen this way.

Vehicles overtaking cyclists should slow down, move into the adjacent lane, and keep a distance of 1.5 meters (5 feet) or more between themselves and cyclists.

Bicyclists have the right of way at any intersection without traffic signals.

When you are about to turn, start moving to the edge of the lane 100 meters before the turn. If you are afraid or unsure, you can get off your bike and cross the road with pedestrians.

When waiting to turn at an intersection, do not get next to another vehicle - stay in the middle of the lane.

At a roundabout, cyclists have the right of way over those who are about to enter the intersection. In this case, cyclists should move only in the outside lane and give way to those who want to leave the crossroad.

It is allowed for two cyclists to ride next to each other, provided that this does not interfere with other vehicles.

Traveling with children under 10: Children can move on sidewalks and pedestrian streets, provided they do not interfere with other road users.
And finally, remember to be polite on the road. Cyclists and scooter drivers are faster than pedestrians and slower than other road users. Thus, we advise you to make sure that you do not "cut off" pedestrians (if you are on the sidewalk) or prevent cars from overtaking you, and try to behave as carefully and cautiously as possible. After all, your safety depends primarily on your behavior on the road.
E-scooters
The use of e-scooters (also sometimes called motorized scooters, electric scooters, or simply scooters) has recently become easy and accessible to anyone. Mastering this type of transportation does not require lots of time, and it is often accessible geographically due to the expanded number of rental outlets (similar to bike-sharing), especially in large cities.
Driving
If you have your e-scooter, all you need to do is choose the best way to get around. Routes for cyclists often help with this, which are usually just as convenient as scooter travel. It is worth noting that the largest cities in Portugal, such as Lisbon or Porto, are not the best suited for scooter travel with their narrow streets and sidewalks, cobblestones, and many hills and stairs. However, some areas in these cities are particularly popular with e-scooter enthusiasts.
In particular, in Lisbon, these are:
In Porto, it is:
The promenade along

Matosinhos

beach

The

Ribeira

district promenade

Vila Nova de Gaia (the city located on the other side of the bridge from Ribeira)
Please also note that if you want to rent an e-scooter, the trip will require quick preparation, including downloading the app, and even for a beginner should take at most 5-10 minutes. There are several major distributors of electric scooters in large cities, including Lisbon: Bolt, Lime, Bird, Frog Scooters, and others.
If you decide to use an e-scooter rental when planning your trip, we advise you to make sure in advance that you do not encounter any of the so-called "dead zones" on your way - these are areas where the speed of e-scooters is limited, or their use is prohibited altogether. They are marked in red on the map, and before planning your route, especially in crowded places or near historical monuments, you should check that your way does not pass through such a zone so that you do not have to stop at some point and "carry" the scooter to the next green area, because you will not be able to park it in such a place either, and improper parking or lack of it is fraught with a fine.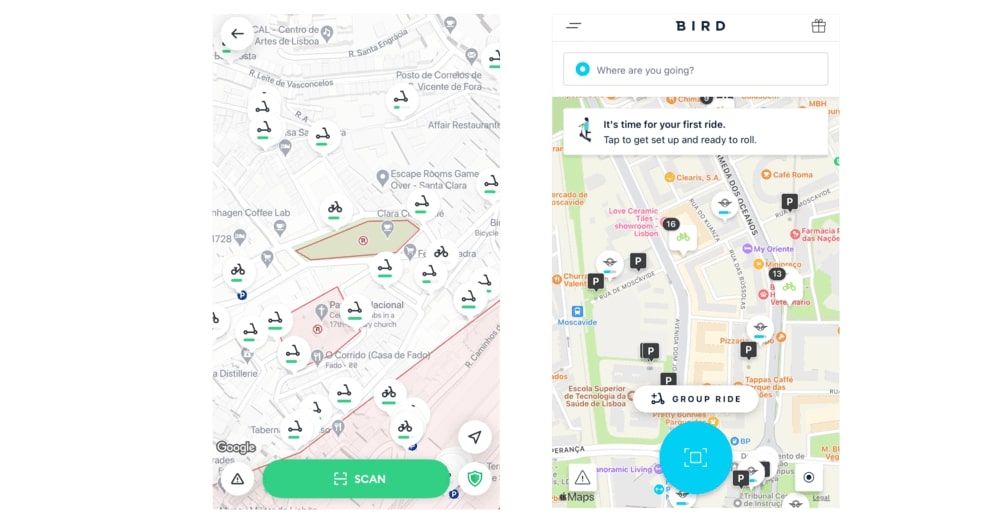 Unlike bicycles, e-scooters need not be turned to a certain point and hooked up to a docking station. When parking them, you should only consider their placement in areas that do not interfere with pedestrian traffic.
Price
The price of renting an e-scooter usually includes the amount for unlocking it, the cost of the ride itself, and, if you have just completed the registration process, the amount that the company holds on your account to verify the validity of the card, after which it returns this amount.
Usually, the cost for unlocking the e-scooter does not exceed €1, after which the price for use will be charged per minute, and on average is about €0.15 per trip.
Prices may vary depending on the company and even the city within the same country.
Rules and safety measures
Like with a bicycle, there are certain safety precautions to consider when using an e-scooter. Scooters in Lisbon, for example, can reach speeds of up to 28 km/h, so you should ensure your trip is safe.
So, to travel by an e-scooter, you must:
Be over 18 years old

Drive the e-scooter alone (one person on the scooter)

Wear a helmet (e-scooter rental companies do not include helmets, so anyone rarely follows this rule)

Follow the traffic rules, respect cyclists and pedestrians, and closely monitor the road.
Thus, you can choose the transport that best suits your taste and the purpose of your trip and enjoy this incredible country's scenery or architecture safely and with pleasure. We wish you a comfortable journey!