One of your first tasks after immigration to Portugal will be looking for an apartment for long-term rent. Today we will find out how much it will cost you to buy essential things and furniture when you move into an empty Portuguese apartment.
Portuguese apartments for long-term rent
Portuguese apartments for long-term rentals will most often look like the picture below: white walls, floors, windows, doors, and, if you're lucky, a minimally equipped kitchen with a refrigerator, although even this may not be.
This is a standard practice, the landlord wants to rent an apartment with minimal investment, so apart from bare walls and a gas water heater, there is nothing in the apartment.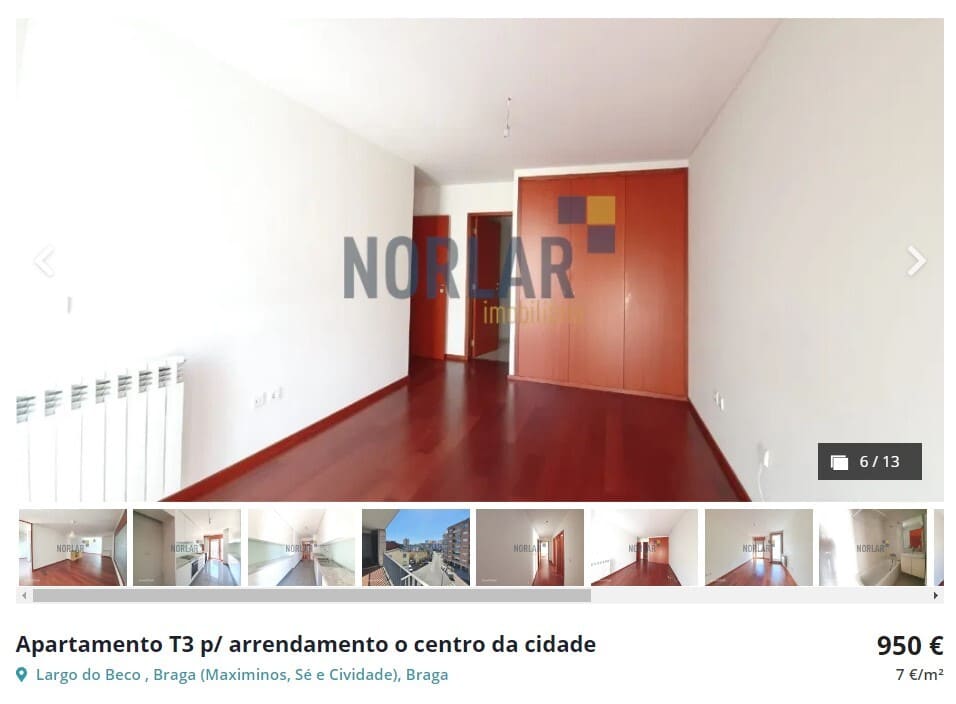 By the way, in fairness, it should be said that built-in wardrobes are trendy in Portugal (as in the picture above), so you might be lucky if there are such wardrobes in every room because the cost of such furniture for storing clothes may well be from 200 to 1000 euros.
Also, in the real estate market, there are ads with fully furnished apartments at a higher price; as in the picture below, there are very few of them, and usually, there is more competition for such objects. If you are a foreigner with no tax history in Portugal, it will be difficult for you to compete with the locals to rent such accommodation. However, it is worth trying because you may get lucky and become the owner of an apartment with beautiful and modern furniture.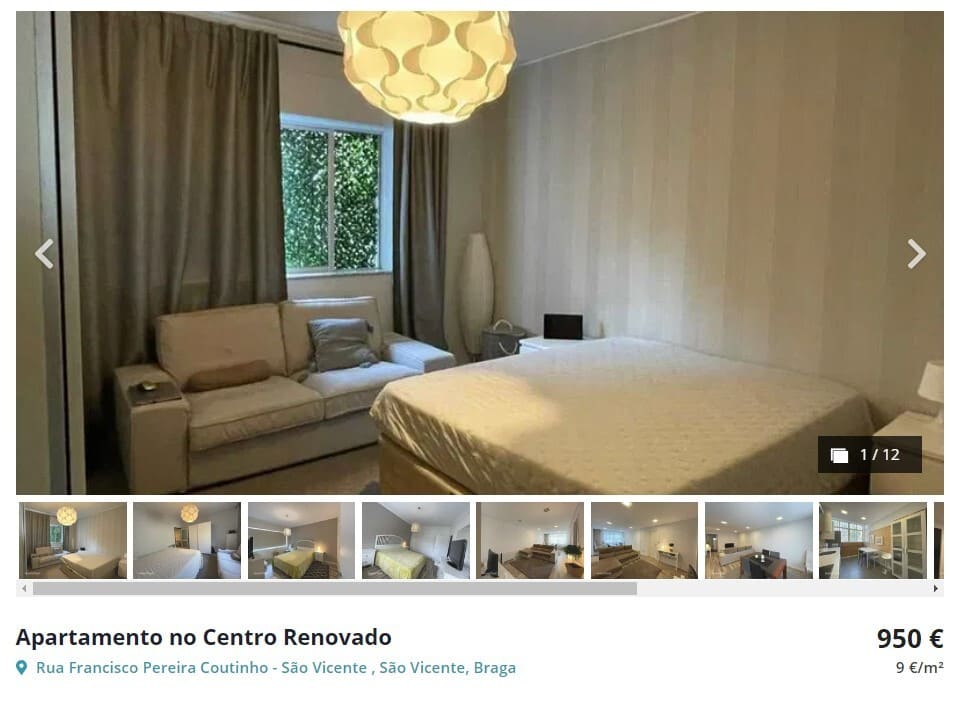 Let's say that your search for furnished apartments was unsuccessful, or you just decided to take the easier route and immediately started browsing empty flats. How much can it cost to buy furniture and necessary household appliances? Let's count together.
How to equip an apartment in Portugal?
Of course, everything will depend on your budget, time availability, and personal preferences. For example, I, the author of this article, mostly order furniture in the furniture capital of Portugal, the town of Paços de Ferreira. Still, I understand that this method is not suitable for everyone. Firstly, you must get to this town to communicate with factory employees. Secondly, for this, you certainly need to own Portuguese, and thirdly, after paying for furniture to order, most often you have to wait 1-2 months before it is made. So if this option is acceptable to me, it is unlikely to suit you.
Within the framework of this article, we will consider the average situation when, for example, a family of 2 adults and two children moved into an empty rented apartment in which there is nothing, and furniture and electrical appliances need to be bought as quickly and at an affordable price.
Therefore, we will not consider custom-made furniture, premium furniture, electrical appliances, etc. How many thousands of euros do you think the most necessary things for a family of 4 will cost us? Place your bets, and we'll start counting.
We calculate the cost of buying furniture.
Considering that we need to buy as quickly and inexpensively as possible, we will use store websites to search for furniture. IKEA and Leroy Merlin. The first store is suitable for buying a variety of large and small tables, and in Leroy Merlin will be cheaper to purchase various shelves, cabinets, lamps, light bulbs, or solid wood furniture.
Well, given the fact that in our example, we are furnishing an apartment for a family of 4, the list of necessary purchases in the furniture category will look like this:
Double bed for adults + mattress;
2 beds for children + 2 mattresses;
Wardrobe for shoes and outerwear in the hallway (otherwise, we will assume that the rooms already have built-in wardrobes);
Dining table and four chairs;
2 desks for children + 2 chairs;
2 computer tables and two chairs for spouses to work;
Small sofa;
Several lamps or table lamps.
Agree. A fairly minimalistic list, in which there are no bedside tables, no chests of drawers, no armchairs, no TV - only the most necessary for the first time.
Let's estimate the cost of the most inexpensive items from the list above.
We found the most inexpensive base for a bed here for 129 euros.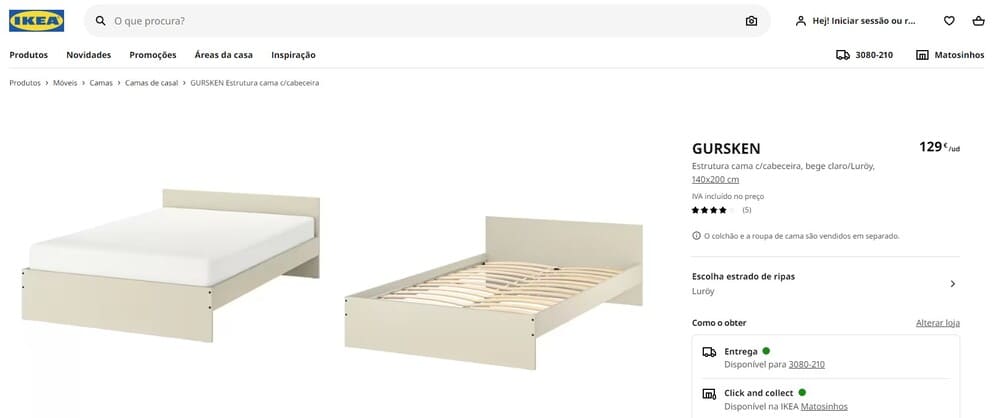 At the same time, a mattress for such a bed can be purchased for 69 euros. However, it is essential to note that, most likely, such a foam rubber mattress is not a good option for long-term use. Still, you don't want to wake up with back pain after a few months, so you might want to initially buy a quality mattress, the price of which in a specialized store will be around 400-1500 euros (for example, you can look at the options on this brand's website, which has stores throughout Portugal).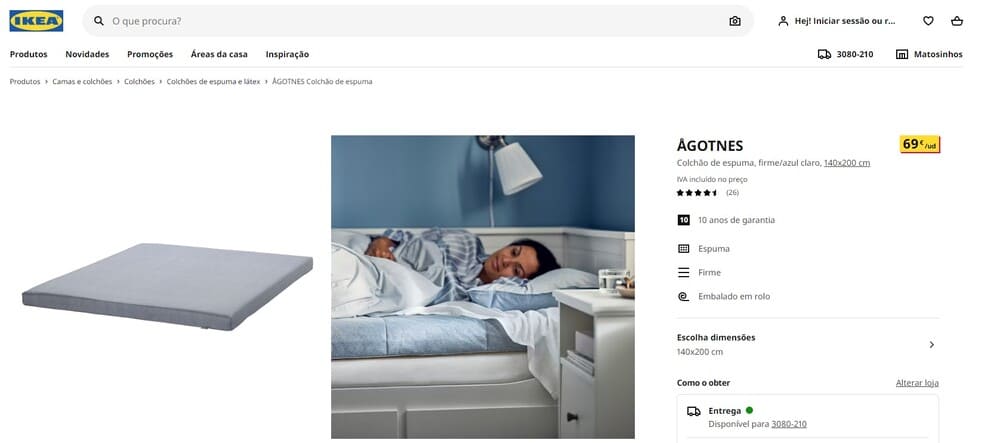 The cost of the most inexpensive bed for a child is 119 euros without a mattress.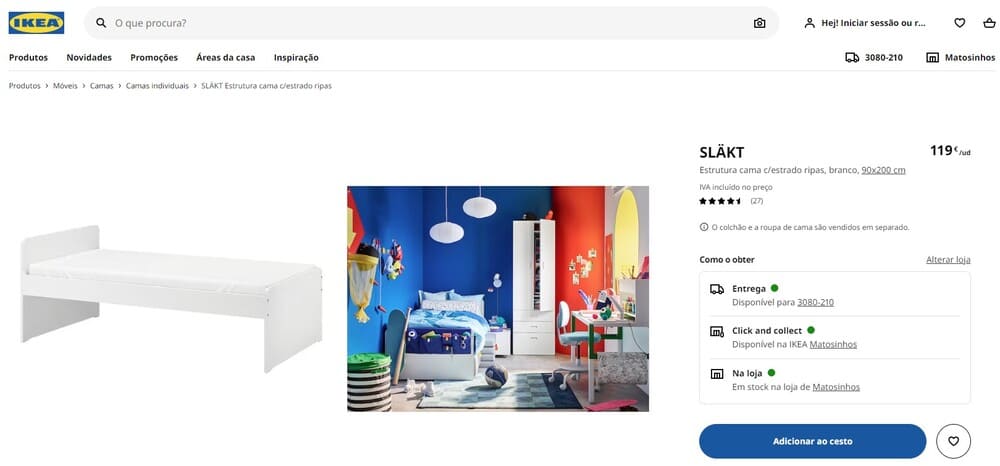 An inexpensive foam mattress, in this case, will cost 49 euros.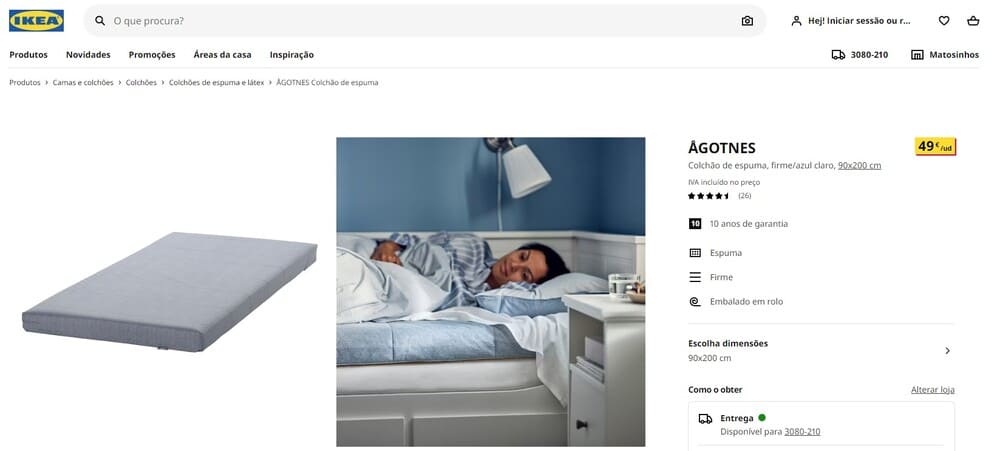 A wardrobe for shoes and outerwear in the hallway on the Leroy Merlin website can be bought for 139 euros. However, please note that this price does not include delivery or installation. For example, the picture below says that the structure of this cabinet will cost 100 euros, depending on your residence address, so take this into account and calculate your strength correctly (sometimes, collecting such furniture requires much time and physical strength).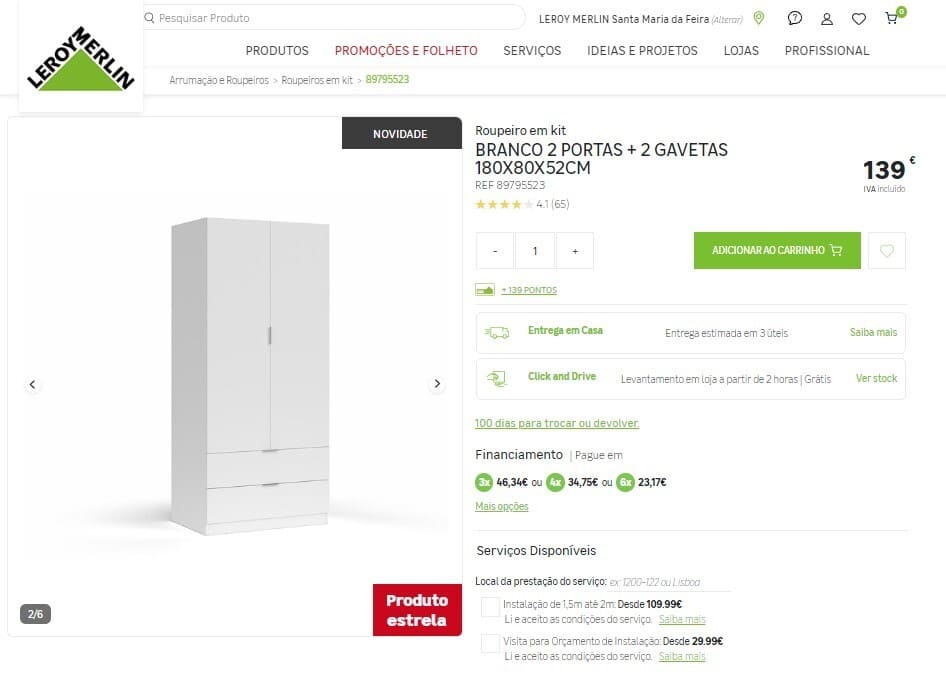 A dining table with four chairs can be purchased for 109 euros here.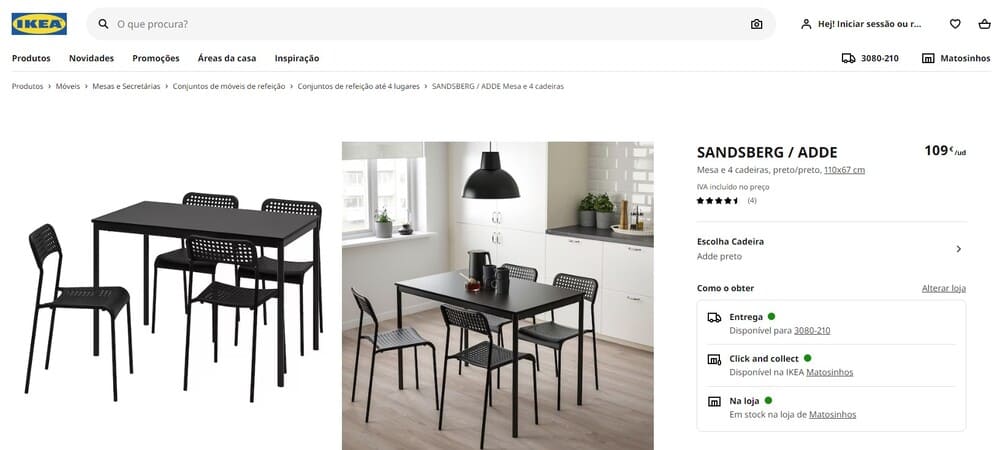 As a computer and writing desk for adults and children, you can purchase four compact tables as in the picture below, each of which costs 49 euros.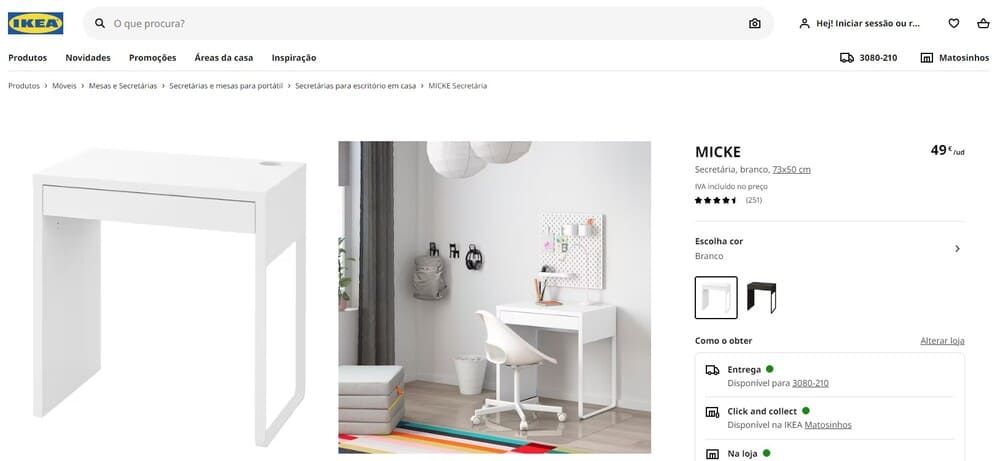 Chairs for children can be found for 22 euros.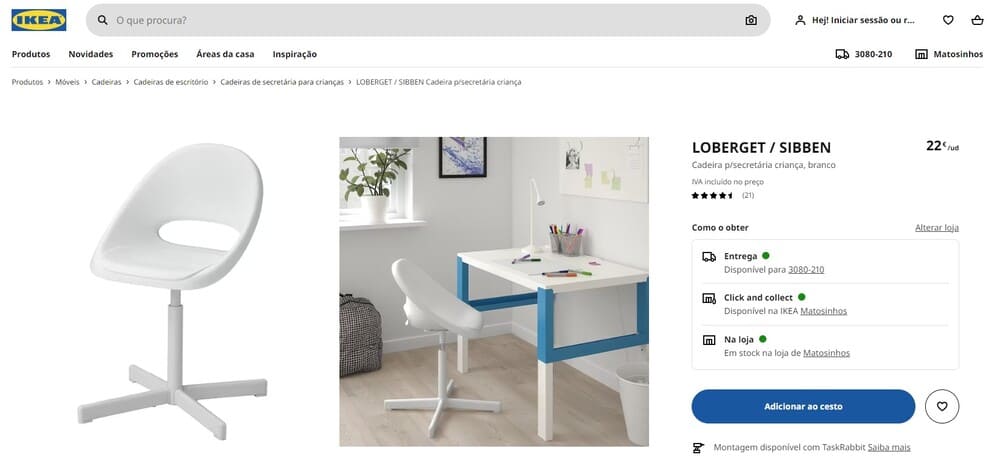 At the same time, computer chairs for adults will cost 69 euros each.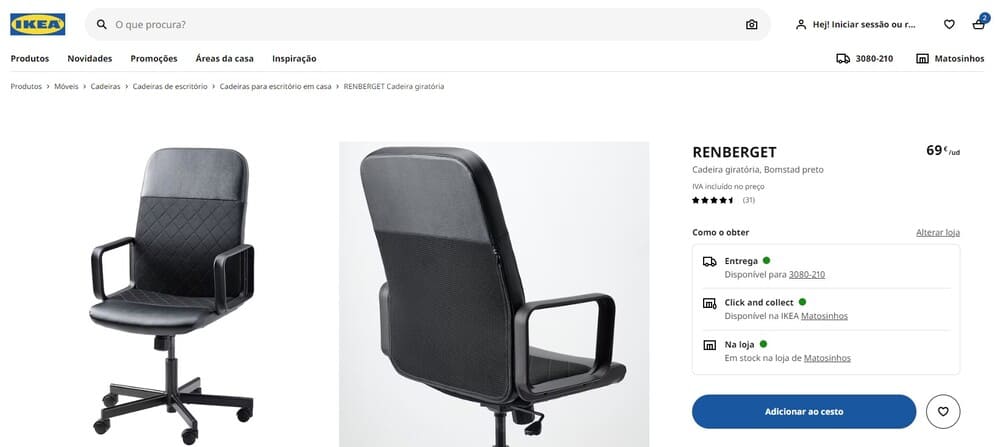 Although the sofa is not a mandatory element for the first time, let's add this modest sofa bed to our list for 109 euros, where you can read a book and sit and use it to accommodate guests for the night. Genuine sofas for three seats with upholstery will cost 300 euros and more, so it will be pretty expensive.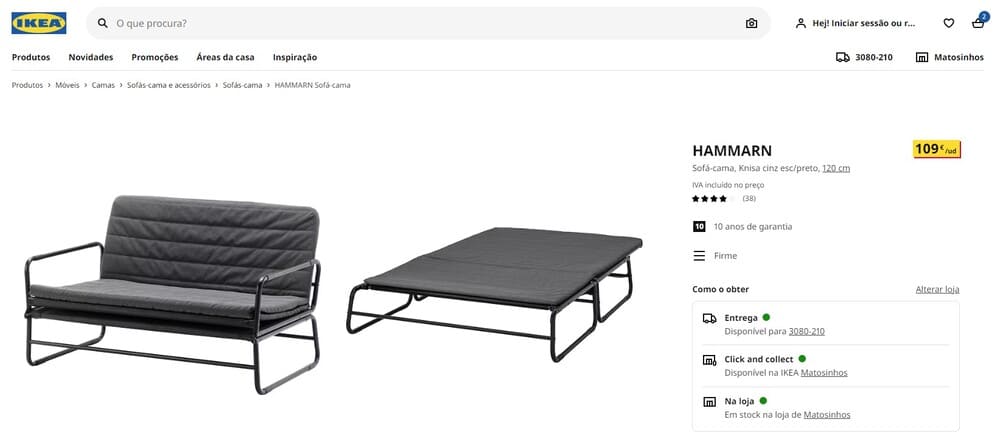 Various table lamps can be purchased starting from 12 euros per piece (without a bulb).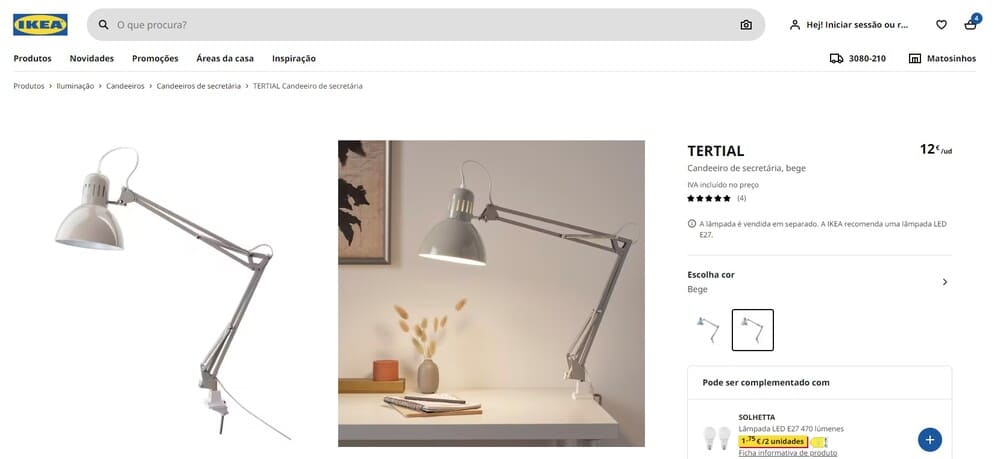 This concludes our list of essential furniture, which is the most necessary for the first time. For example, if there are no wardrobes in your apartment, then the cost of 1 cabinet will start from about 120 euros, and the price of a simple nightstand or chest of drawers will start from 50 euros. In general, you can equip your home and make it comfortable indefinitely, but let's see how much the most minimally necessary furniture we analyzed above will cost.
Double bed for adults + mattress - 129+69 euros
2 beds for children + 2 mattresses - (119+49)*2 euros
Wardrobe for shoes and outerwear in the hallway (otherwise, we will assume that the rooms already have built-in wardrobes) - 139 euros
Dining table and four chairs - 109 euros
2 desks for children + 2 chairs - (49+22)*2 EUR
2 computer tables and two chairs for spouses - (49+69)*2 euros
Small sofa - 109 euros
Several lamps or table lamps - 12*4 euros
Total amount without delivery and installation: 1,317 euros
Well, almost 1.5 thousand euros for the essential furniture pieces without delivery and installation.
By the way, the IKEA website for products from the list above calculated the delivery cost straight to my apartment at only 69 euros. Reasonably priced considering how many products we ordered. Delivery in case Leroy Merlin will also cost extra. Money, but usually this amount does not exceed 29 euros for delivery in case of bulky goods, and in the case of small products, it can be as little as a couple of euros.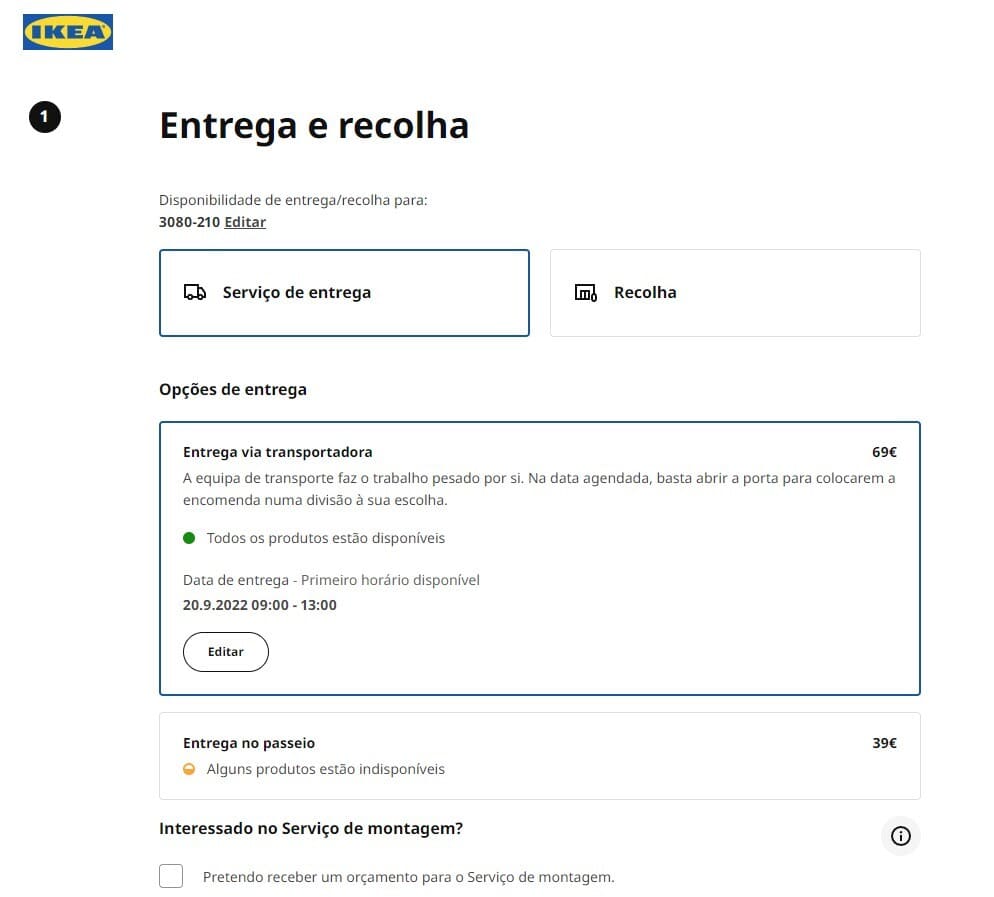 We calculate the cost of buying household appliances
If you are not lucky, it may well be that long-term apartment rentals in Portugal will not have any household appliances.
In this case, you will have to buy at least the following electrical appliances:
Fridge
Microwave
Kettle
Air Dryer
Washing machine
At the same time, in my opinion, there is no urgent need to buy a washing machine, because in Portugal there are a lot of laundries (port. "lavandaria") with a self-service format, where you can wash 9-15 kg of clothes for only 4-7 euros. However, in our example, the family has two children, so let's add the washing machine to the essentials list.
This is necessary for old-built apartments that do not have heating and a high-quality ventilation system. It only takes a few months to shower in a bathroom without ventilation and a dehumidifier, as you will be unpleasantly surprised by black mold on the ceiling and walls. It is better not to bring this up and control the humidity of the air with a dehumidifier. That is why I consider a dehumidifier a more critical acquisition than a washing machine, which can be an alternative to laundry.
Well, let's analyze the cost of household appliances listed above with the help of the Radio Popular website. I chose this store because they do fast and free delivery and installation for oversized equipment, which will be extremely useful for us.
In choosing the most inexpensive household appliances, we must be content with little-known brands of average quality. If you prefer electrical appliances from famous brands, then, in this case, you will have to pay at least a couple of hundred euros more per product.
The cheapest fridge freezer on the Radio Popular website can be found for 349 euros.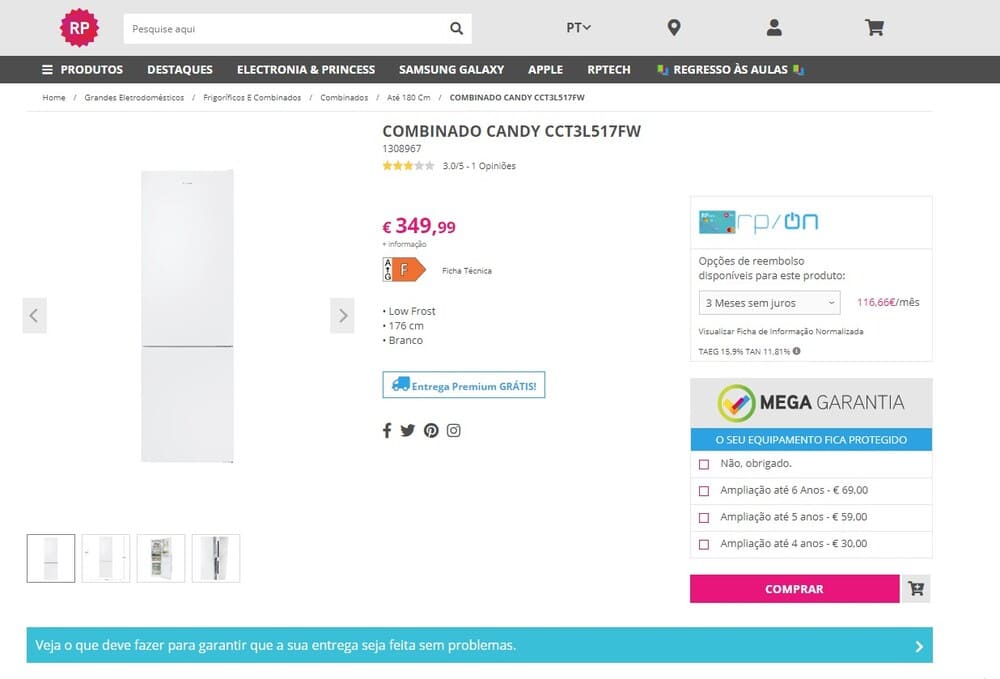 You can buy a microwave for 59 euros.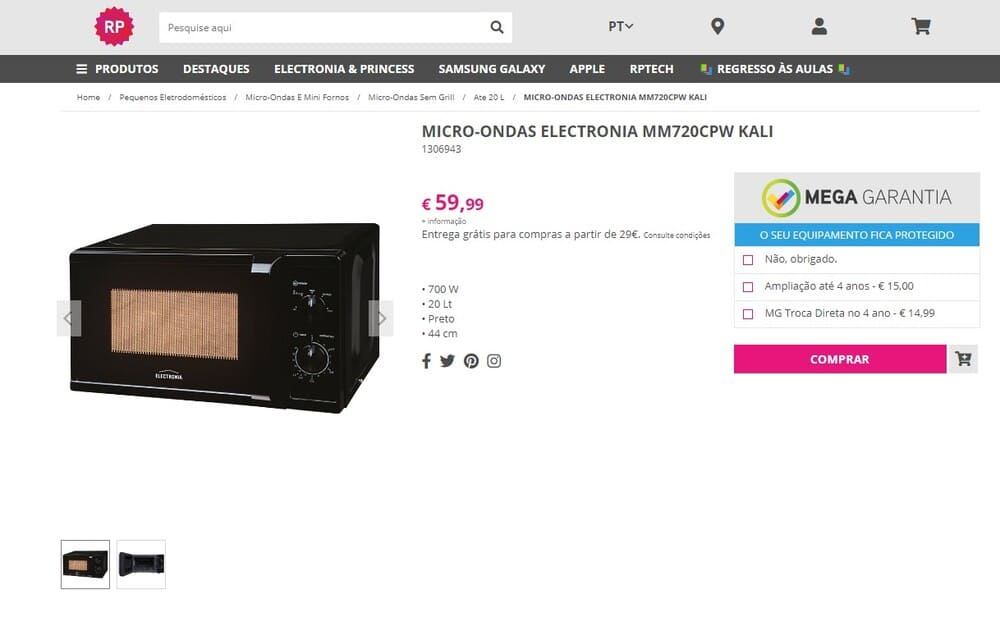 Kettle prices start from 14 euros.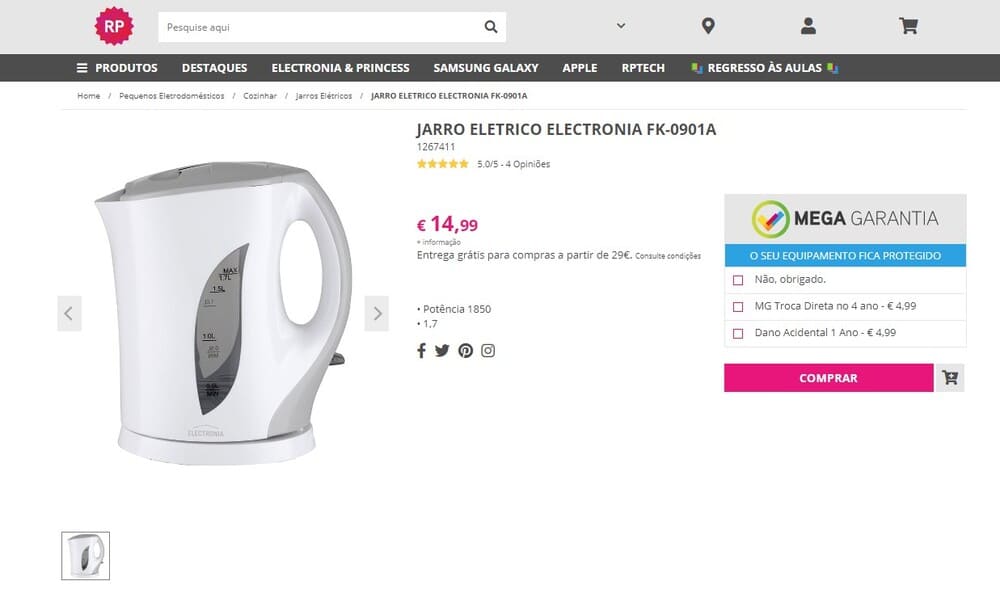 The dehumidifier is a costly electrical appliance, and the cheapest option can be found for 119 euros.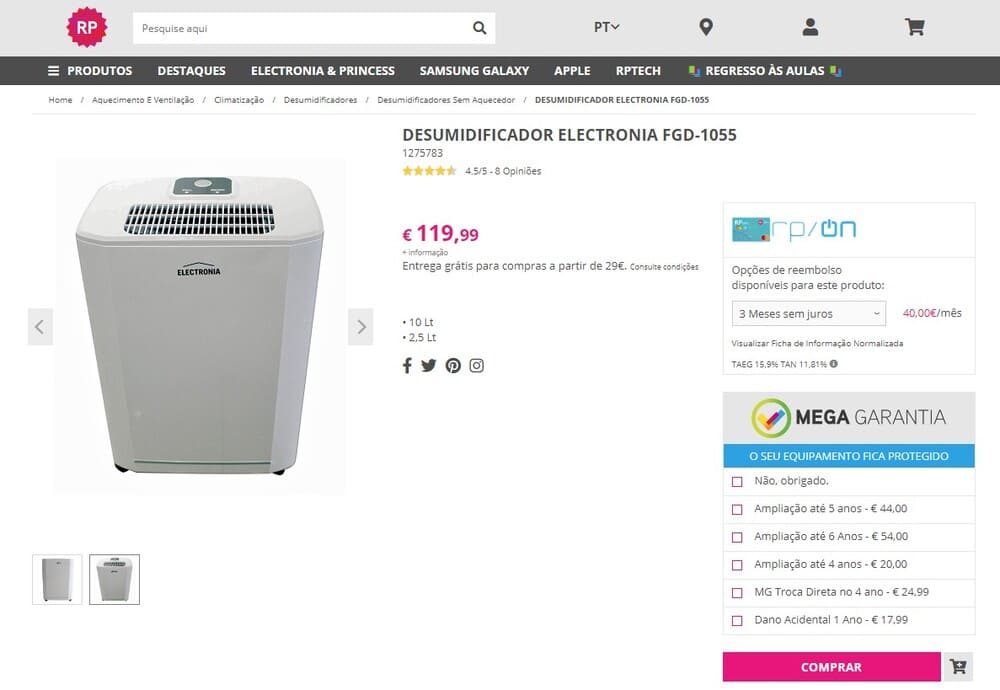 An inexpensive washing machine can be bought starting from 229 euros.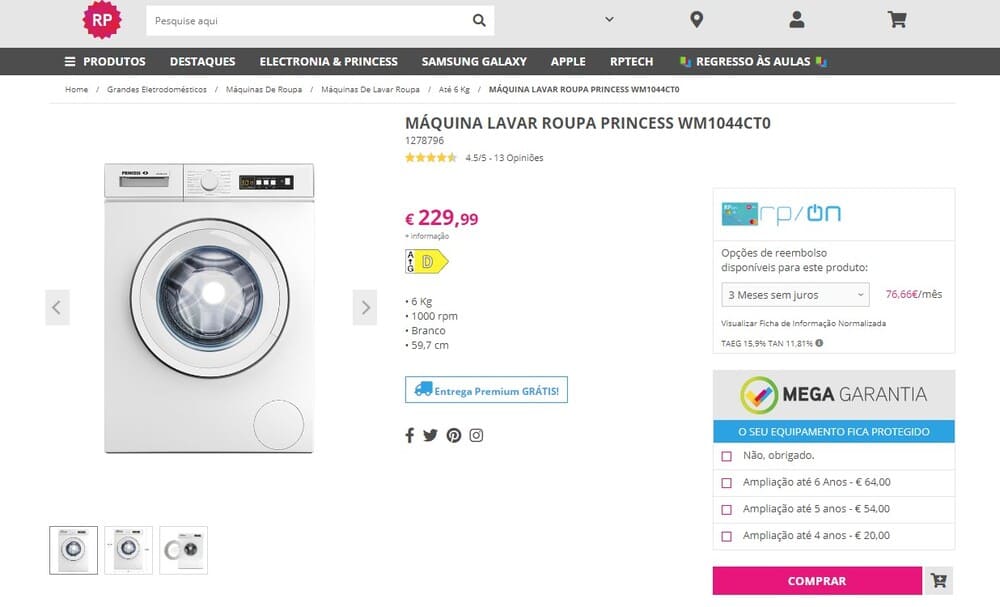 Well, let's calculate our final bill for household appliances:
Refrigerator - 349 euros
Microwave oven - 59 euros
Kettle - 14 euros
Air dryer - 119 euros
Washing machine - 229 euros
Total: 770 euros (including Radio Popular delivery and installation).
It turns out to be almost 1,000 euros for household appliances with the lowest cost.
Remember additional costs
I have already moved about ten times throughout continental Portugal, and I can say for sure that the most unexpected is the side costs that usually no one thinks about in the first place.
Unfortunately, the furniture and household appliances from the list above will not be enough to start living in an apartment because you need bed linen, pillows, towels, dishes, etc.
These things seem small, but if you sum it all up, I think at least 1000 euros per family should be allocated for these expenses. From my own experience, I can say that it is precisely under this item of expenditure that money flows through your fingers, so you need to control them better, or maybe you will bring the most expensive and valuable things from your country.
For example, a Tefal pan on a supermarket website Continente costs 38 euros for one piece.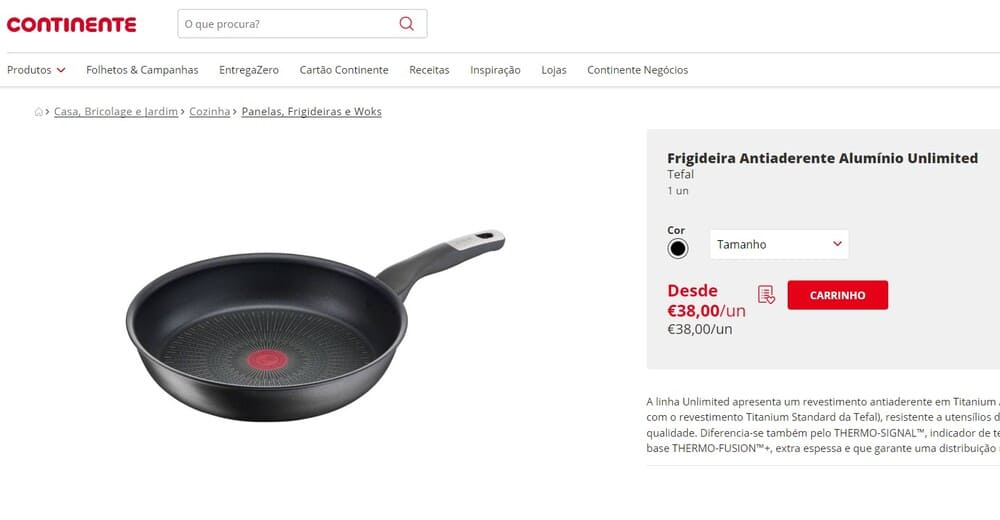 The winter bedding set for two people price is 29 euros.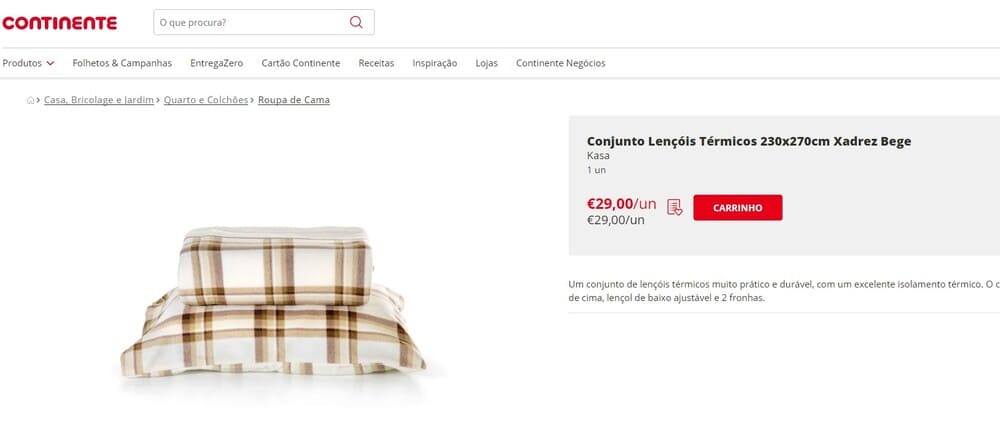 I think these two examples are enough to understand that you will very quickly collect 1000 euros on trifles, so be careful and plan your expenses more carefully.
Summing up
Well, let's calculate how much it will cost us to buy the most necessary things for the first time in Portugal.
Furniture (+ delivery) - 1,386 euros
Household appliances (delivery free of charge) - 770 euros
Add. expenses (dishes, bed linen, etc.) - 1,000 euros
Total: 3,156 euros
As a result, we will have to spend at least 3,000 euros on the most basic and necessary things of not the best quality, which is a very significant amount for the country, with a minimum salary of about 700 euros. If you rent an apartment for 500 euros per month, this amount is equivalent to 6 months.
If you want to purchase orthopedic mattresses, household appliances of well-known household brands, and other furniture and electrical appliances that we have not considered in this article, then be prepared to spend several times more.
And what to do with this furniture and household appliances next?
This question often arises among newly arrived immigrants who do not understand how you can fully furnish an apartment with the owner of which you have a contract for only one year. And what's next? Then there are three options.
The first option is to leave everything bought to the owner, although this rarely happens when people go urgently. The second option - you will try to sell the purchased items on marketplaces or distribute them free of charge to everyone. Well, probably the most popular choice is moving the purchased things to a new apartment; everyone does this, not wanting to lose their acquired property.
To give you a rough idea of the cost of moving in this case, most often, companies will charge you around 30-40 euros per hour for transporting your belongings to a new location. In addition, transportation costs are usually added to the cost of the work of loaders.
I can say by my example that when moving to another region in August 2022, we paid about 500 euros for the work of a transport company. This amount consisted of 200 euros of transport costs (the distance between our old and new house was about 150 kilometers) and another 300 euros for almost 10 hours of work by movers who manually lifted some furniture that did not fit in the elevator the stairs of a multi-story building. Since many Portuguese receive a salary of 700 euros per month, 500 euros is a reasonably large amount for moving, but we moved all our furniture. We did not buy almost anything for a new apartment.
So it will not be difficult to transport your things in Portugal, although it will cost you an impressive amount.
Essential tips for furnishing an apartment in Portugal
Above, we have given an indicative list of the cost of the most necessary things for the first time. Of course, you can buy furniture and electronics in other stores, but in any case, we recommend paying attention to the following essential aspects:
First, choose only products that are in stock.
In Portugal, you will encounter an exciting situation where many products are simply out of stock for many months. For example, on the same IKEA website you will often see red icons under the products "Atualmente indisponível para Entrega" or "Sem stock," which means that these products are not available in the online store or offline. Therefore, be careful and never add such products to your shopping cart because if you want to buy 30 products, 29 of which are in stock, and one is not, your order will be suspended for several weeks or months. Therefore, in Portugal, you need to proceed from the principle: "We work with what we have" and choose only from those goods that are in stock.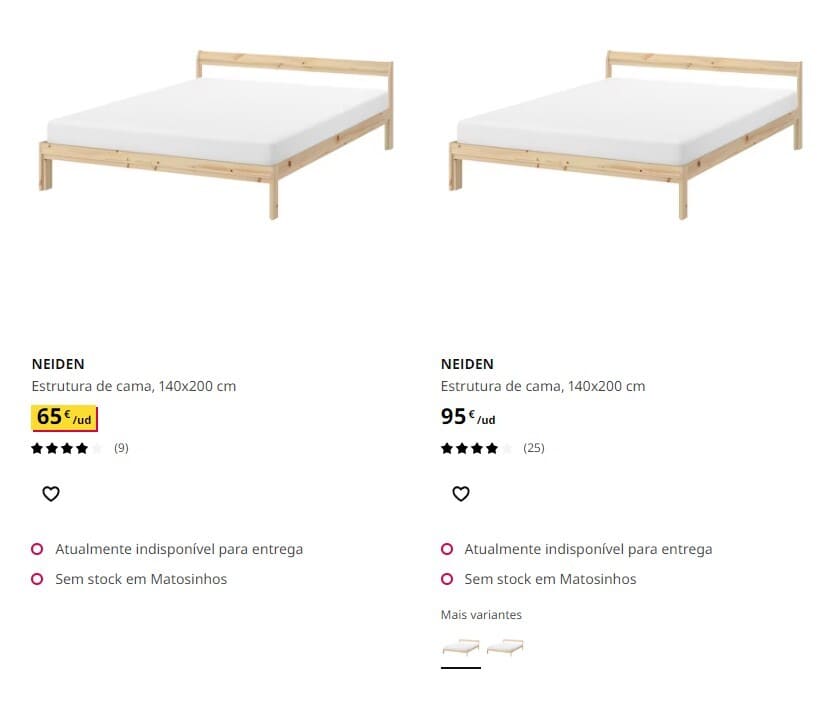 Be very careful about the size of the goods and the delivery terms.
A prevalent situation is that a person, for example, bought a refrigerator. Still, it does not fit into the elevator, and the loaders refuse to lift it up the stairs because you have not paid for this delivery. Therefore, always keep track of what type of delivery you ordered and paid for on the same website. For example, there are two delivery options on IKEA website: the apartment and the street. Of course, the delivery option to the street where you live is cheaper, but in this case, you will have to lift heavy goods to your floor by yourself.
Also, sometimes it happens that in old buildings, the stairways or doorways are not very spacious, and a person orders a King Size bed, but it simply does not fit into the stairway. I have seen several times how the Portuguese hire firefighters to use special equipment to lift a large piece of furniture into the apartment through the balcony. Still, I don't think you will like this option, so carefully measure the dimensions of the openings and compare them with the parameters of the goods you want. If this is not done, you may be left without the ordered goods and money (which, at least for the delivery, will not be returned to you).
Deliver the ordered goods yourself
If for some reason, you do not want to use delivery services, then you can rent a small truck in one of the Leroy Merlin stores, which has an affiliate program with Hertz. You can read more about the conditions for hourly rental of freight transport here or here. For example, renting a Mercedes Sprinter car in the fall of 2022 costs about 15 euros per hour, and you can use this car not only to transport purchases from Leroy Merlin but from the same IKEA or other stores.
Are there cheaper options?
If 3,000 euros seems like an unbearable amount, it is essential to understand that an alternative and cheaper option is to buy furniture and household appliances from your hands. Yes, it will be lengthy as you will have to call ads and buy each item separately, but if you want to save money, you can use one of the Portuguese marketplaces.
Mostly the Portuguese use OLX; also, many ads can be found in groups in your city on Facebook. Often people donate old things; there are also many charities where furniture and other goods can be purchased for free or almost free.
I want to designate a charitable "Associação Reto association", which helps people with alcohol and drug addiction. If you have old unwanted furniture in good condition, then you can call this organization, and they will come and pick up bulky items from you. Then they will restore some of these items, and some will be placed in their original form in their stores throughout the country (addresses can be found here).
I was in a store like this once, looking for old 100% wood furniture to restore as a new hobby, and they have absolutely everything. And mattresses, beds, cabinets, and tables, while each item costs 5-50 euros. The proceeds from the sale are used to help people with addictions.
For example, I bought an old nightstand of 100% oak for 20 euros. I then invested several times more to restore it (which made my hobby an absolute failure and financially unprofitable). Of course, the things there are ancient, and the furniture has a specific smell that can only be removed with unique means, but if you are not embarrassed by old used pieces of furniture, then be sure to visit the branches of this organization.
3,000 euros - the minimum amount required to equip an apartment in Portugal
And this amount includes only the most inexpensive essentials. In the example from our article, we considered a family of 4 people, so if you live alone and buy furniture for your rented room, 500-1000 euros can most likely contain all the necessary purchases for the first time.
On the other hand, if you are planning to buy a TV, a dishwasher, a quality sofa, and a mattress, the required budget may exceed 3,000 euros.
The most important thing is to have a clear understanding of how much various items cost in Portugal so that it doesn't happen that you move into an empty apartment with the whole family and sleep on the floor because you did not calculate the budget for the purchase of essentials.
If you do not want to invest more than 3,000 euros in purchasing not the best quality goods, then, in this case, you can purposefully look for already furnished apartments; yes, they may cost more. There will be more competition, but it is most likely worth paying a few hundred more euros per month and living in an apartment with all the necessary furniture and household appliances, which you do not have to transport from apartment to apartment.
The best option will depend on your specific situation, budget, and preferences. We hope our article helped you figure out how much it would cost to equip an empty apartment rented in Portugal for a long time.