If you have immigrated to Portugal to live and work here, you will soon face the question of obtaining Portuguese pension. Working in the country and paying reasonably high taxes, it is essential to understand when you can retire and what the amount of pension payments will be. This information is important even for young people, as in this way, you can better plan for the future, understanding whether pension payments will be enough to live on in retirement or you will have to save or continue to work after reaching retirement age in any case. So, who can count on pension in Portugal, what is the amount of pension payments in the country, and at what age can you retire? We will talk about all that in our new article.
Who can count on pension in Portugal?
Pension at retirement age, or as it is also called in Portugal, "Pensão de velhice", is an amount paid monthly, intended for persons who have reached a certain age and are members of the Segurança Social social security system. As in other countries, in Portugal, the old-age pension is paid instead of salaries, with which law-abiding taxpayers have paid an impressive amount of tax to the state treasury all their lives. At the same time, the pension is available to both employees, individual entrepreneurs, and employees of state institutions, i.e., it does not matter in what format you worked during your working career. However, you must meet certain conditions, which we will discuss below. You can read more about pensions in Portugal here in this section of the Segurança Social portal, and as part of our article, we will highlight the main elements related to the payment of pensions in Portugal.
People who meet the following requirements can count on obtaining pension in Portugal:
Reaching the retirement age of 66 years and 7 months in 2022 (for both men and women). That is, there is a clear trend towards increasing the retirement age, as we can see in other countries. However, if you are younger than this age, you may be eligible for an early retirement pension in certain situations. For example, the following conditions are possible:




Early retirement for long-term unemployment

Early retirement under the age flexibility regime

Early retirement in case of a very long career

Early retirement in exceptional cases, for example, in the case of activities in certain areas/professions
Achievement of the minimum term of tax deductions. For most situations, you will need to have worked in the country for at least 15 years (consecutively or intermittently), and during that period, you will make social contributions to the Segurança Social system. However, in cases where people work in areas where contributions to the social insurance fund are not mandatory but voluntary (this is called "seguro social voluntário"), the period of mandatory contributions will be less, namely 144 months.
Furthermore, the social insurance fund provides various specific situations, such as reducing the retirement age. For example, this situation occurs when a person reaches the age of 60, while his working career is more than 40 years. In such a case, the average retirement age is reduced by four months for each calendar year that exceeds 40 years of employment.
There is also the term "Social Pension" (in Portuguese "Pensão social de velhice"), which is for low-income people who have reached the retirement age indicated above and are not eligible for the standard old-age pension. The amount of this social pension is 211.79 euros. You can read more about this type of pension here.
What is the amount of pensions in Portugal?
As in other countries, in Portugal, the amount of pension is calculated based on the length of your working career and the corresponding earnings. At the same time, the standard amount of pensions in the country is reviewed and updated annually, taking into account GDP growth and inflation.
Unlike many countries, in Portugal retirees receive not 12 pensions per year, but 14, because there is also a Christmas payment in December and a vacation pension in July of each year, in addition to monthly payments (by the way, the same situation is concerning the salaries of employees in Portugal, which are also 14 a year, not 12).
As we said above, the amount of the pension of a particular person will depend on his length of service and salary. However, there are minimum established pensions in the country, which are guaranteed in the following minimum amounts following the seniority of the pensioner from January 1, 2020: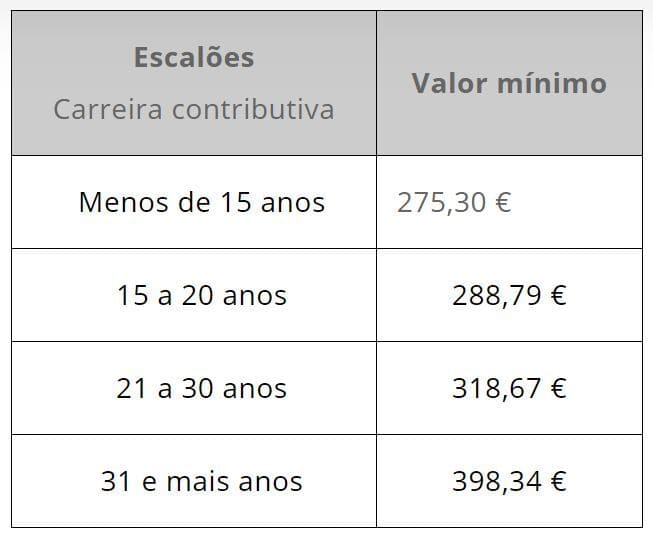 The picture above shows that with 15 to 20 years of service, the state guarantees a pension of 288.79 euros. Over 31 years - 398.34 euros.
At the same time, the amount of pension for people with a special social security regime in agricultural activity is 254.13 euros.
Sure, if your salary was not the minimum but relatively high, then the amount of your pension in Portugal will be higher than the values indicated in the table above. However, you can use the above amounts as a guide to better plan your retirement in Portugal.
Someone may note that such a pension in Portugal is beyond fantasy because even the minimum salary in the country is 705 euros for 2022, but how can you live on a pension of 288 euros?
If we turn to the statistical portal Pordata, we will see that the current size of the minimum pension is still perfect because in 2000, the minimum pension in the country was about 170 euros, which is almost 2 times less than the current amount.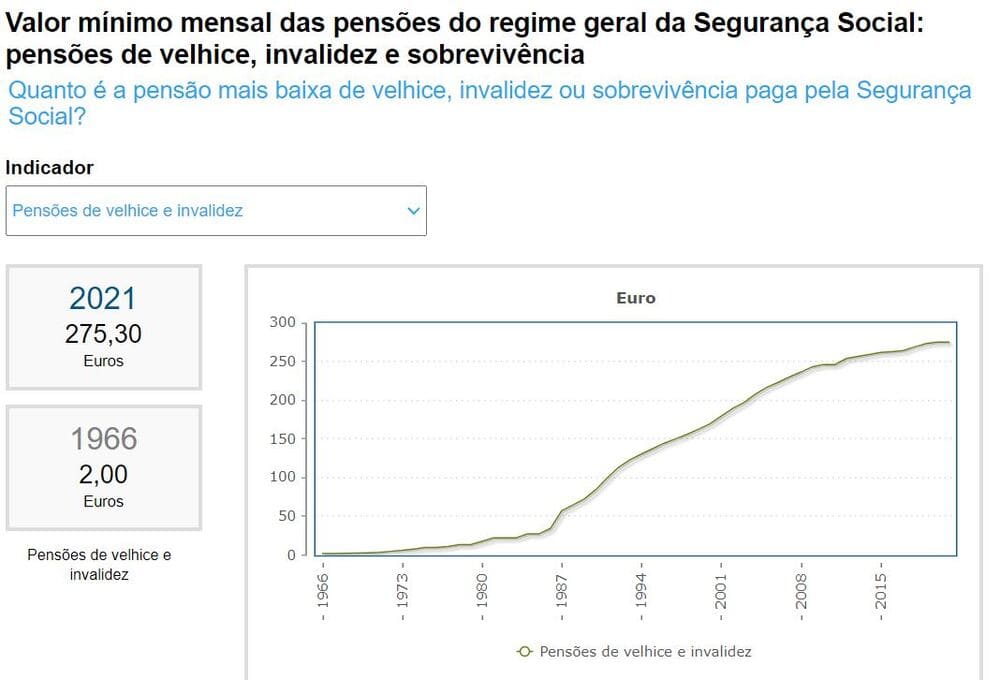 If you want to calculate exactly how much your pension will be, you can contact an accountant in Portugal or get acquainted with a rather complex and detailed calculation system on this page.
Also, in your personal account Segurança Social Direta, you can use an online calculator to predict your pension based on your current salary. Unfortunately, the indicators of this simulator cannot be considered as correct because the system automatically accepts that every year you will receive a higher salary. However, you can use this tool (see the picture below) to get a rough idea of ​​the possible pension amount in your particular case.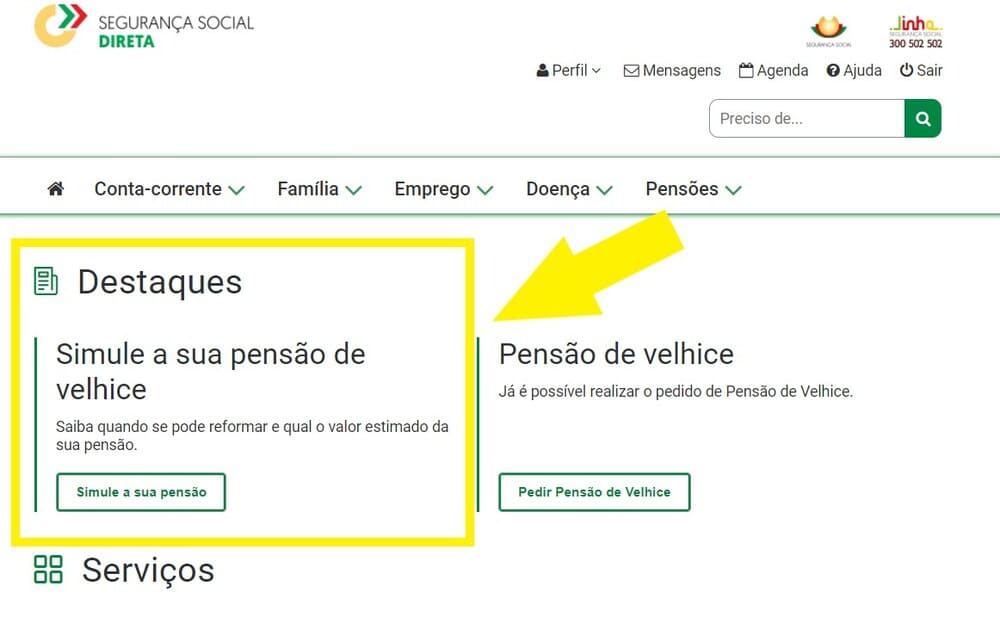 How to apply for a pension in Portugal?
If you have already reached retirement age in Portugal and have at least 15 years of work experience, you can claim your old age pension online on the Segurança Social Direta portal or in person at Social Security offices.
On the Segurança Social Direta portal, before you apply, you can see an estimate of your pension calculation, showing the number of years you have contributed and the estimated amount of your future pension. This service is called "Pensão na hora", and you can watch a short video with instructions on applying for retirement online in just a few minutes on this page.
After completing the online application, and if the necessary conditions are met, it will be automatically approved, and you will be assigned a temporary pension within a maximum of 24 hours. Then on the online portal, you will receive a letter with the final decision on your retirement, indicating its amount.
The pension is paid by bank transfer, so you must register or change your IBAN on the Segurança Social Direta portal in the "Profile"/"Bank account" section.
As an alternative, the old-age pension can be claimed in person, but performing it online on the Segurança Social Direta portal is much easier and more convenient.
The term for paying an old-age pension is not limited in any way (except for the death of a pensioner), but you also have certain obligations to the social fund insurance. And in case of their violation, the payment of a pension may be suspended. You can read more about this here in the section "Quais os deveres e sanções".
Retirement in Portugal
Sure, the average pension in Portugal is significantly insufficient compared to the average pension in Germany, France, Luxembourg, and other countries in northern Europe. However, as in many countries of the world, all your earnings for a working career are considered for calculating a pension respectively. The more you earn, the more significant the pension payments will be. The process of paying pensions in Portugal is straightforward and transparent: you clearly understand how many years you need to work, and the social insurance website calculator will help you estimate the approximate retirement age and the amount of payments right now. We hope that with the help of this article, you will better understand how the pension payment system works in Portugal, and this information will help you plan your earnings and savings, allowing you to meet your old age in Portugal comfortably.
Frequently asked Questions (FAQ)