When choosing a property to rent or buy, it is helpful to understand who will be living around you: whether the area is exclusively favored by Portuguese people or popular among expats. Everyone will make their own conclusions. For example, you may conclude that you want to live solely in an area where almost 100% are locals, as you plan for maximum integration into society and believe that the Portuguese understand the balance of price and quality. Alternatively, you may invest all efforts in finding housing in areas with more foreigners, as then you can potentially expand your circle of acquaintances with people from around the world and invest money in higher quality and more expensive construction. You will make your own conclusions, and we will provide you with data and information based on which you can make your decision.
Does Portugal attract foreigners?
It seems that it is no longer a secret that Portugal warmly welcomes immigrants and systematically works to ensure that the integration of new residents goes as smoothly as possible. As a result, the country opens its doors to representatives of different professions and nationalities. Combined with various factors that make this country so attractive for relocation, this leads to the fact that the share of foreigners in the real estate purchase and rental market sometimes reaches 50% in a particular city or an average of 20-30% in the most popular cities.

Amazingly, foreign investment volumes were not negatively affected by either the pandemic (although it did adjust the parameters for searching for housing) or Russia's invasion of Ukraine (which, among other things, reduced purchasing power and increased interest rates on housing loans). For various reasons, people from different corners of the world continue to buy property in Portugal, mainly from Brazil, Great Britain, the United States, France, Turkey, China, and other countries. Representatives from China ranked first in statistical reports on the "Golden Visa" program. By the way, the program is planned to be canceled. Read more here. The government also plans to ban issuing new licenses for renting property on Airbnb. One of the reasons for such measures is to combat speculation in the real estate market. Many of our Portuguese acquaintances, no matter how different they are, agree on one thing - buying property from a local resident with current average salaries is almost impossible. Young people, in particular, suffer greatly from this, as even a mortgage can sometimes be unaffordable. The government recognizes the huge contribution of the "Golden Visa" program to the country's budget increase but considers its objectives to be fulfilled. However, the side effects already require decisive action, and the government needs new relevant programs. The "Golden Visa" brought the country €6,284,311,472.72 since October 2012.
Can the real estate market return to the 2012 minimums, with foreign capital accounting for up to 20% of the total volume? Due to this decision, how will the real estate buyer profile in Portugal change in 2023? All of this has yet to be analyzed and may become the subject of future articles.
In any case, the interest of foreigners who buy real estate as a second home or intend to move, for example, for retirement, seems unlikely to be significantly shaken.
Who and where BUYS property in Portugal?
Below is a table from the website idealista.pt with data on the share of foreign buyers in the real estate market in cities in 2022 (showing the trend compared to 2019).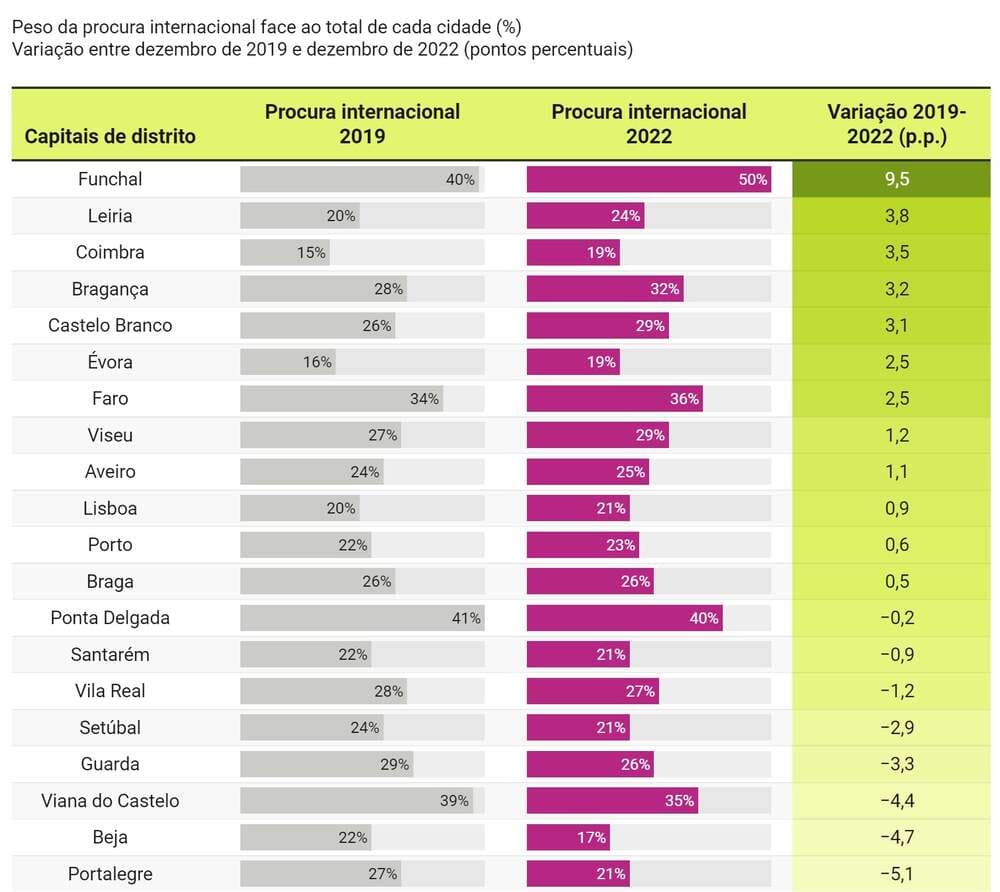 Most cities where foreigners prefer to buy property may be familiar to you, but there are over 150 more cities in Portugal. Each region where they are located engages in its public relations to attract cash flows. For example, three years ago, foreigners unexpectedly headed to the Penamacor municipality (Castelo Branco district). A news report was even filmed about it (in Portuguese, but with many interviews in English). At that time, foreigners made up 10% of the municipality. We will tell you about other unexpected destinations in the following parts of the article.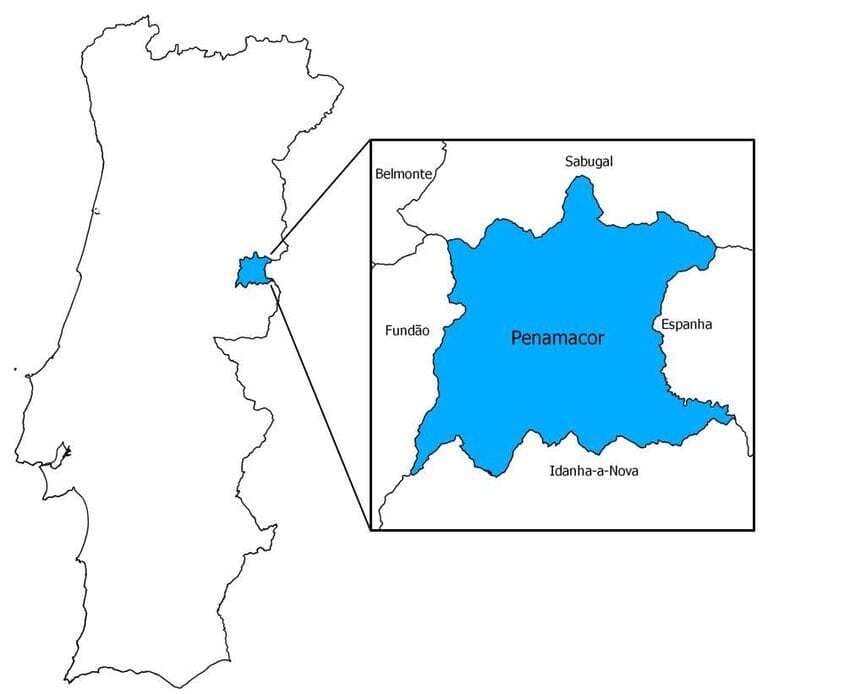 But let's get back to the statistics. We have seen cities with a high share of foreign investment in real estate. In 2022, the most attractive cities for foreigners were Leiria, Ponta Delgada, Faro, Viana do Castelo, and Bragança.
According to data from the Idealista website, in Lisbon and Porto, the highest demand for real estate purchases comes from Americans, Brazilians, and Spaniards. Germans, British, and Americans are more interested in Faro. The table will help you see the top 3 nationalities buying property in Portuguese cities.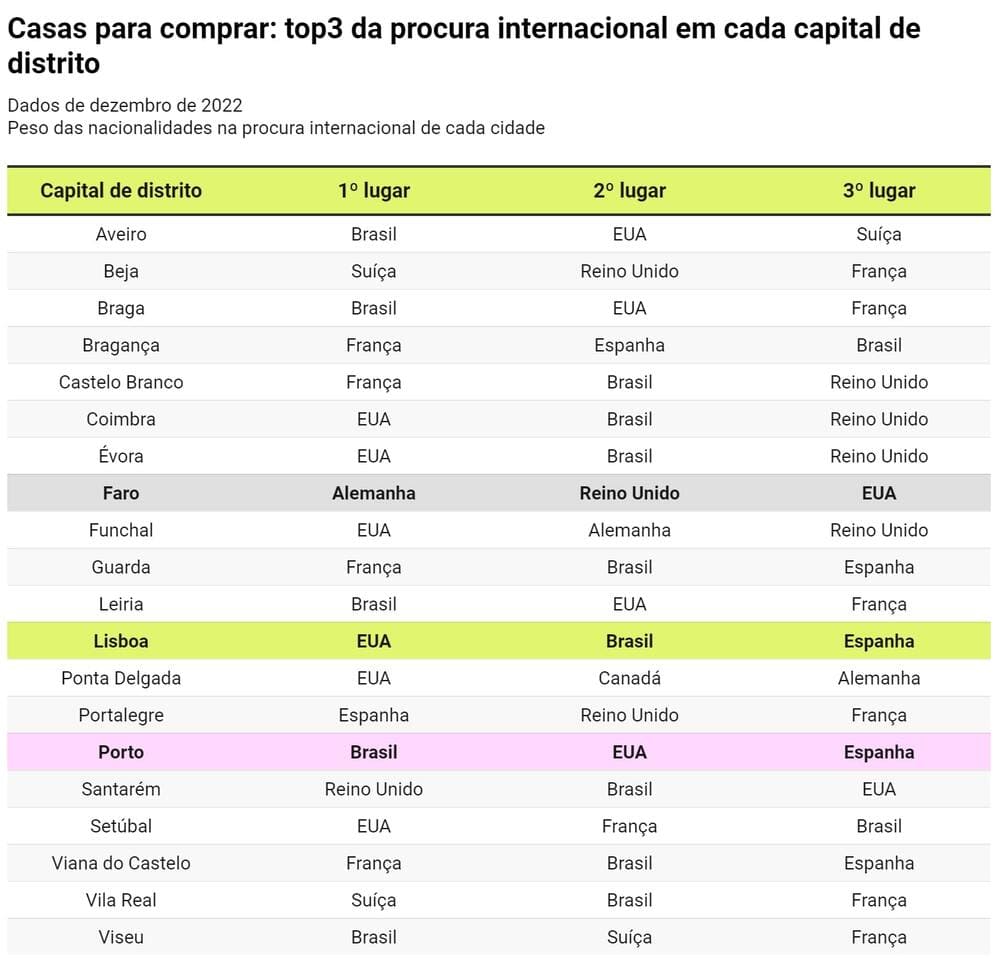 And who and where RENTS property in Portugal?
In the real estate rental market, Brazilians are the leaders. They have become the main tenants in 18 cities, the capitals of districts. The following leaders on the list are United States and Spain citizens.
The table will help you see the top 3 nationalities renting real estate in Portuguese cities.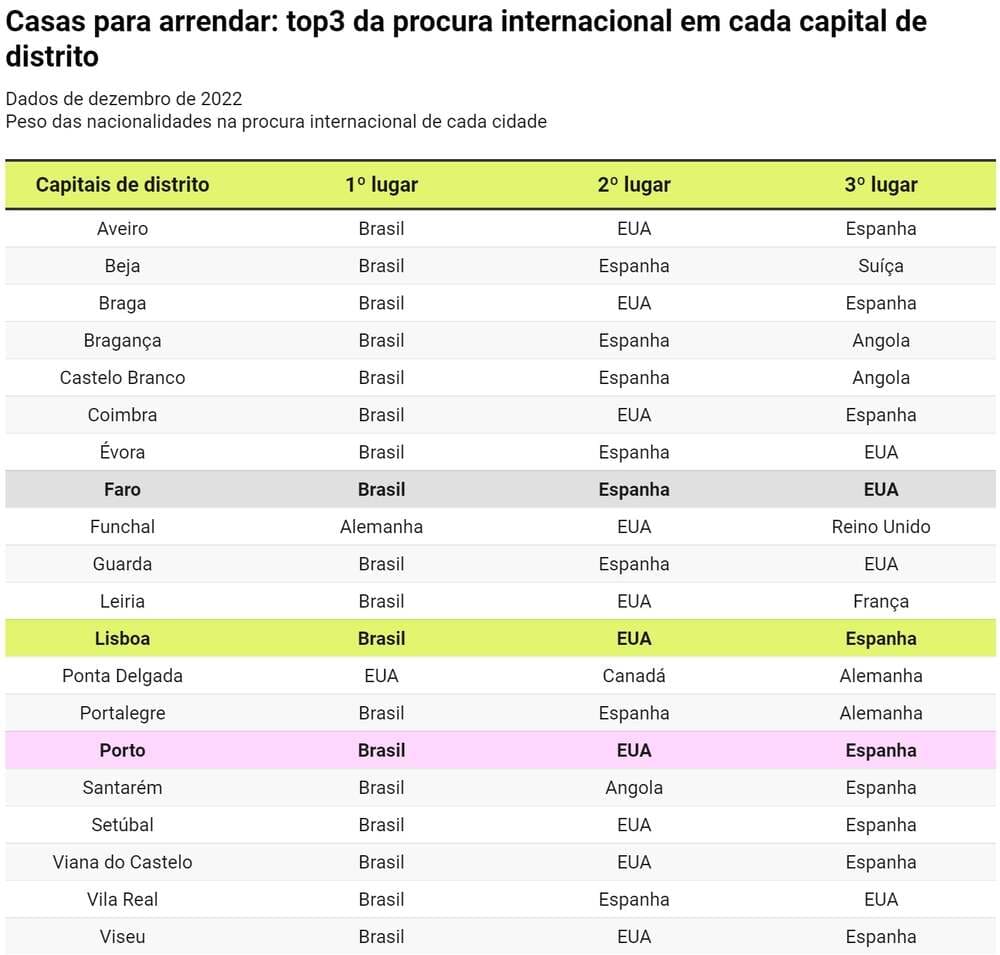 The cities most sought after by foreign tenants are Funchal, Viana do Castelo, and Bragança (49%, 43%, and 42% of the total demand in each city, respectively). Furthermore, these same cities had the most significant increase in rental demand compared to 2019 (Porto is also on this list).
The lowest demand, although still significant concerning the overall demand for rental housing, is observed in Portalegre, Évora, and Beja (ranging from 20% to 23%).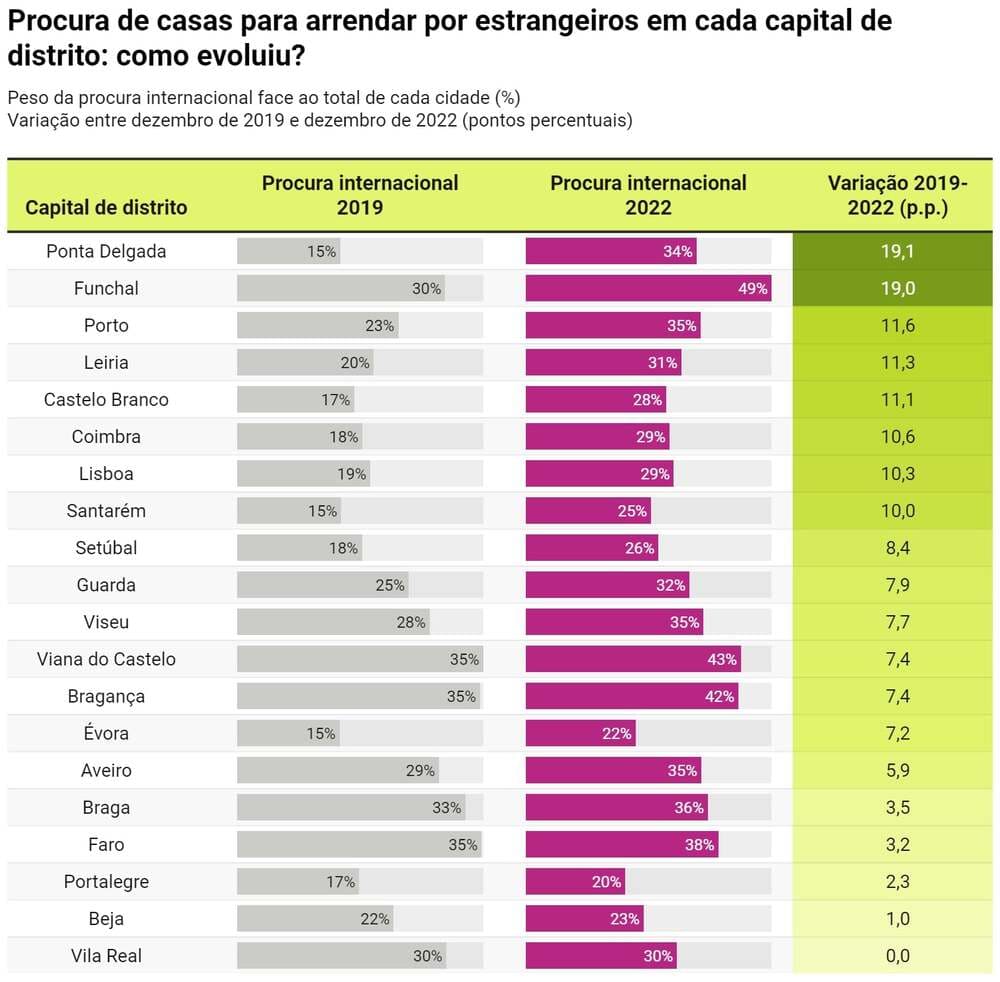 What is the price?
The most common question we get from acquaintances who are immigrating or planning to move is how much it costs to rent or buy property in Portugal.
Unfortunately, for many reasons, including high demand not met by supply, prices have risen sharply even in the last year. If previously you could find a very modest apartment in Lisbon for 800 euros, now a room can cost 500-600 euros, not always with its own bathroom.
This opens up more opportunities for investment and further passive income, but unfortunately, fewer opportunities for renting and buying.
In this part of the article, it is also helpful to provide a visual representation of the average price per square meter throughout Portugal, taken from the report of the National Institute of Statistics of Portugal. It is worth noting that these are precisely average values.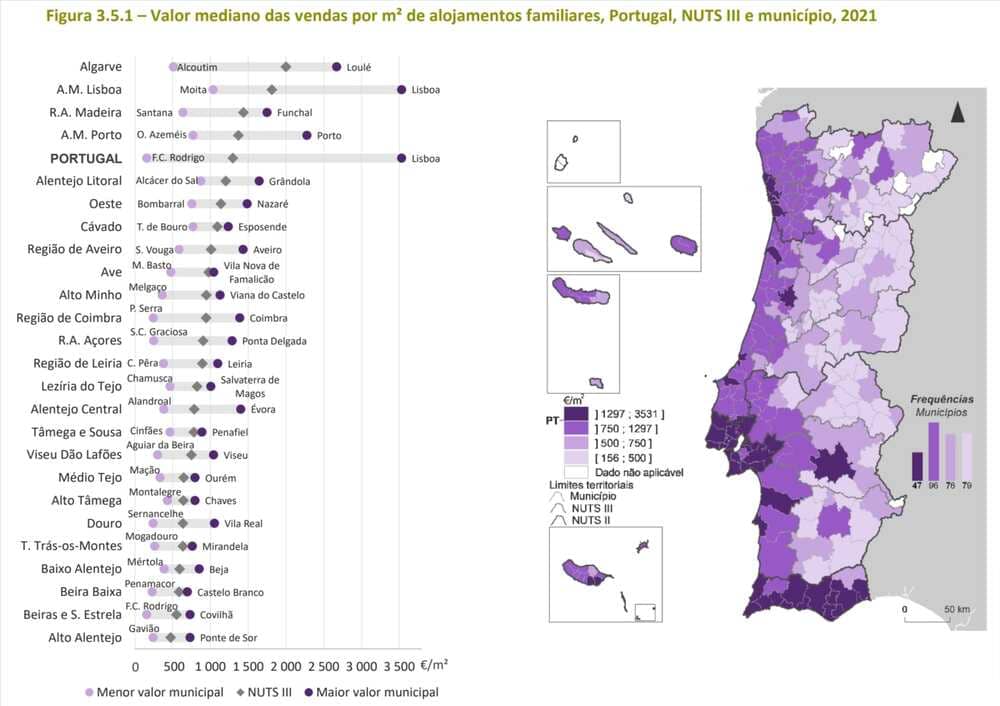 The same image shows the average rental cost per square meter of housing: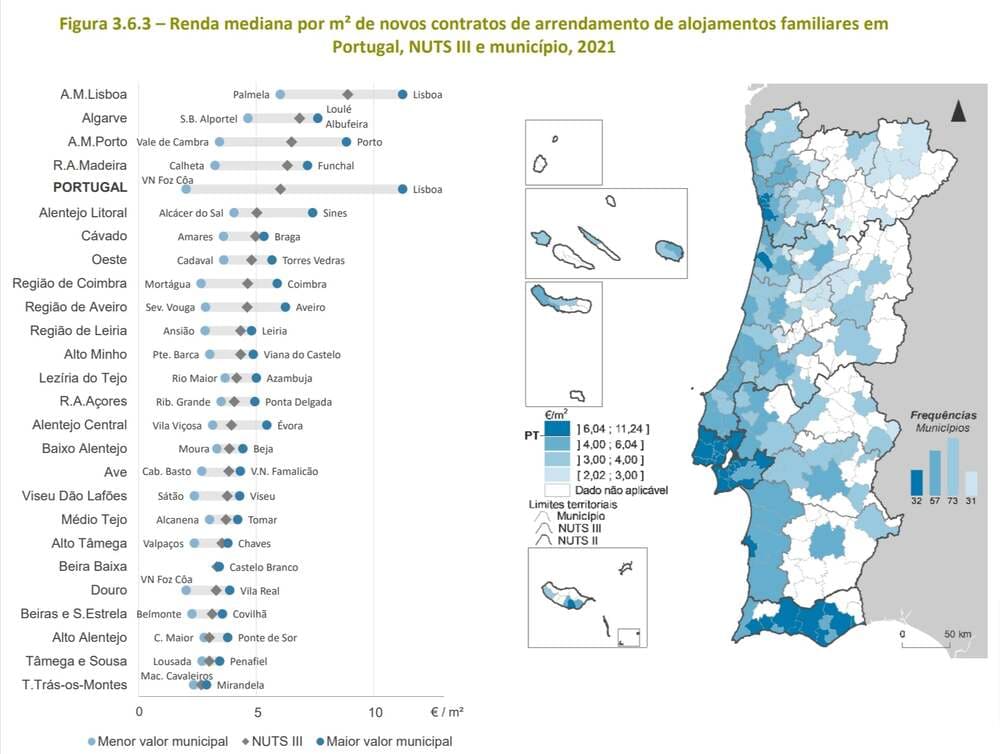 What other cities and regions do foreigners pay attention to?
It seems that there is nothing more accurate than pure statistical data. In any case, figures speak of the past, which can help predict the future. However, when we choose a property to buy or rent, we are always guided by many factors: our financial status, employment, subjective preferences, goals (for personal residence or investment), etc. We are also interested in new trends, ideas, and recommendations.
Where else can foreign buyers and tenants search for housing?
It seems reasonable to look for articles on this topic on foreign resources. So that's exactly what we did, and we'll tell you about some interesting points we noticed.
One of the most authoritative resources for finding real estate in Portugal and Spain, idealista.pt, considers Lisbon, Porto, Braga, Funchal (Madeira Island), Ponta Delgada (Azores), Aveiro, Coimbra, and Portimão are the best places for expats to live in Portugal. For each city, they list the advantages and disadvantages, which can be studied in detail here.
The resource made its conclusions based on Nomad List rankings, which are popular among expats. On this resource, every digital nomad can rate a city based on various parameters. It is an interesting resource to explore if you are planning to move. And since 2022, the list of cities has been expanded to include popular destinations such as Ericeira (a city popular among surfers), Faro, and Lagos. Costa da Caparica and Comporta are also mentioned, although the latter currently has a relatively low rating.
Next, we will group the information by regions, which will help us stay aware of many new names and, on the other hand, create our own map in our heads. We are focusing on the mainland part of Portugal.
The following picture shows the country's regions, and you can refer to it as you read the text.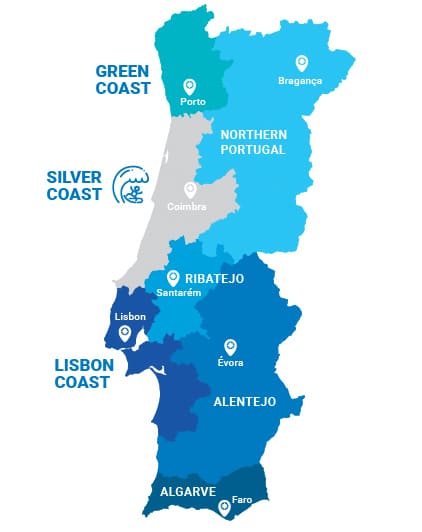 The Green coast (Costa Verde)
This is the region from Porto to the country's northern border with Spain.
We have already mentioned Porto, Viana do Castelo, and the city of Braga from this region.
It is also worth mentioning the city of Guimarães, which can be an exciting tourist location and a place to buy property. Guimarães is located an hour's drive from Porto.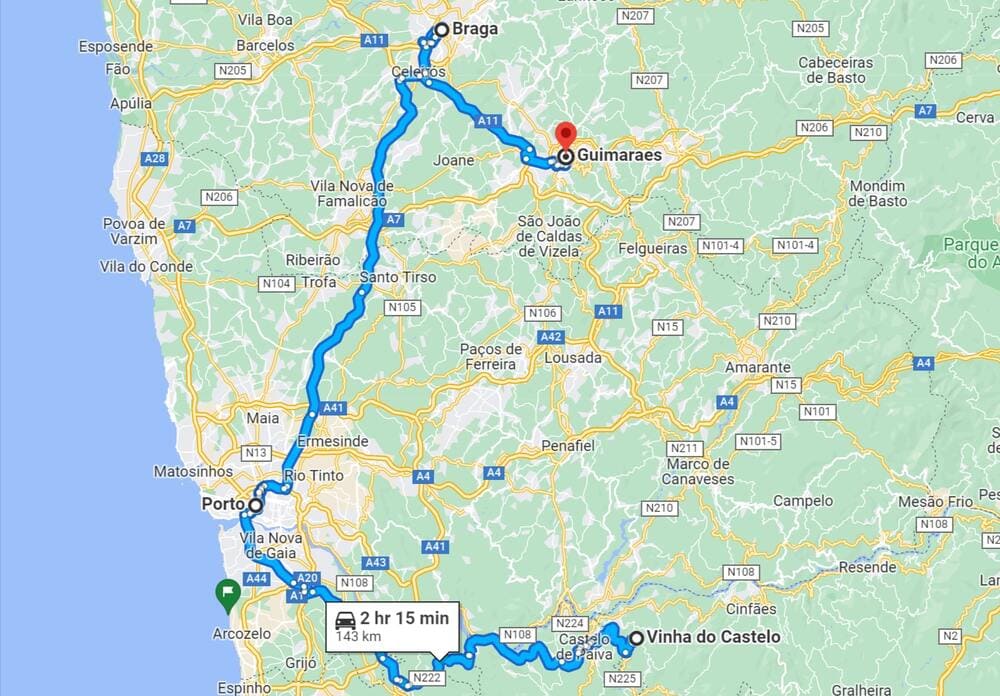 Northern region
The Green coast is a coastal part of the Northern region of the country. In our article, we have already mentioned cities for buying real estate, such as Bragança, Vila Real, and, surprisingly, attracting the attention of expats, Penamacor.
In this region,

some resources

recommend paying attention to the border town with Spain, Chaves (or Sources). The city is known for its thermal resorts, beautiful architecture, and significantly lower housing prices than major cities.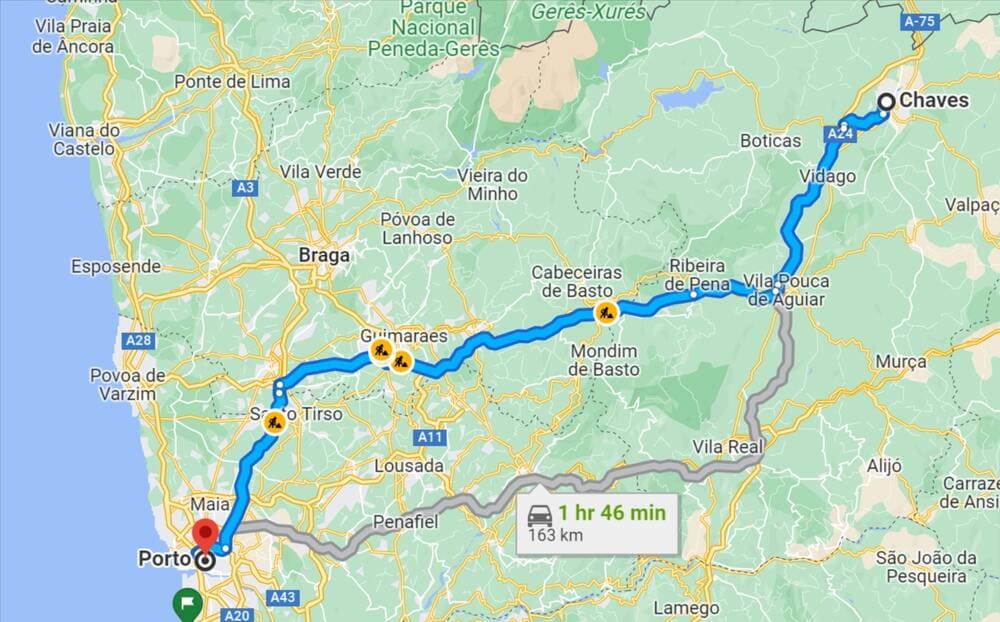 Silver coast
We found mentions of the Silver coast in English-language articles about immigration for people from the UK. It is an area that stretches 150 kilometers along the ocean coast from Lisbon to Nazare. The Silver coast is the western coastal part of the country's Central region. What other cities besides Nazare, Ericeira, and Aveiro can you pay attention to here?
Caldas da Rainha. It is located slightly inland and stands out as a center of attraction for expats living in the surrounding towns and villages.

Figueira da Foz. Here you can find numerous beaches, cultural attractions, and a casino that was opened in the 19th century and still operates today.

Peniche. It is a popular spot for surfers. We did not come across any mention of this town as a recommendation for buying property. However, it seems worth considering as a beautiful and popular tourist spot.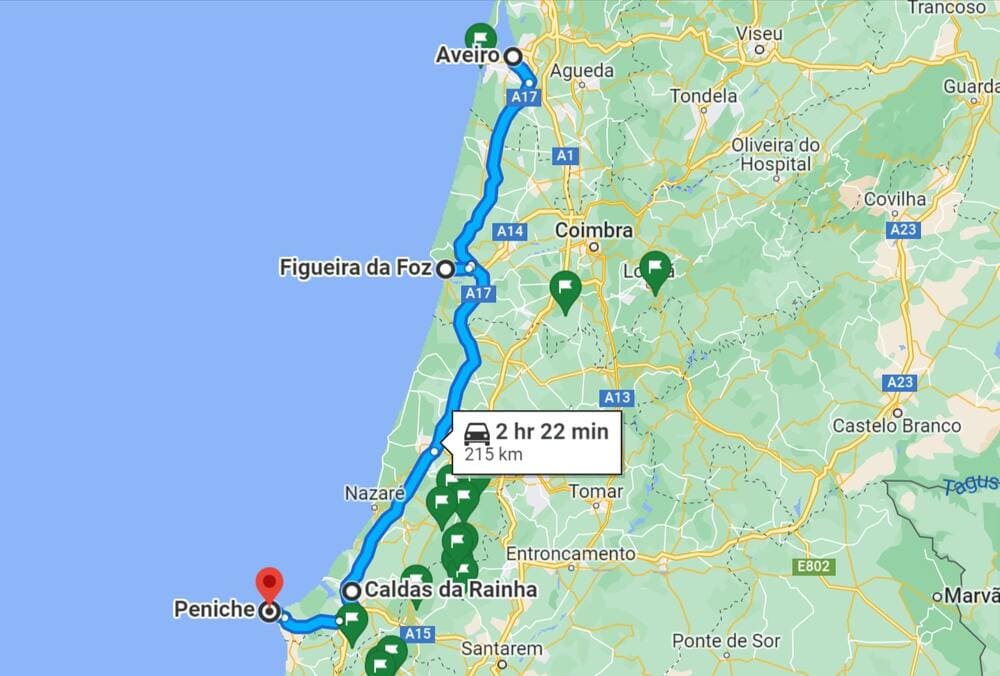 According to the authors, foreigners, including the British, choose to buy real estate on the Silver coast for several reasons:
for the same budget, you can get higher-quality housing with better views compared to real estate in Lisbon and other popular cities.

the necessary living conditions and critical services are available here.

while there are already many expats living here, there are fewer than in the Algarve, so you can choose whether to be fully immersed in the expat community.

since the resources are British, the weather is also a factor, as despite being further north than Lisbon, it is still warmer and drier than in the UK.
Central region
We have already mentioned Aveiro, Castelo Branco, Coimbra, Guarda, Viseu, and Leiria from this region.
If you look to the right of the Silver coast inland, you can find:
the town of

Tomar

, with a population of 20,000. Tomar is considered a former residence of the Templars and has historical value, but besides that, there is much for foreigners to enjoy a comfortable life. It is located 1.5 hours drive from Lisbon.

the small town of

Agueda

, known as the "umbrella city," can be attractive for those who want to live in the Aveiro region, have access to all the conveniences of civilization, but at the same time avoid the high pace of life in major cities.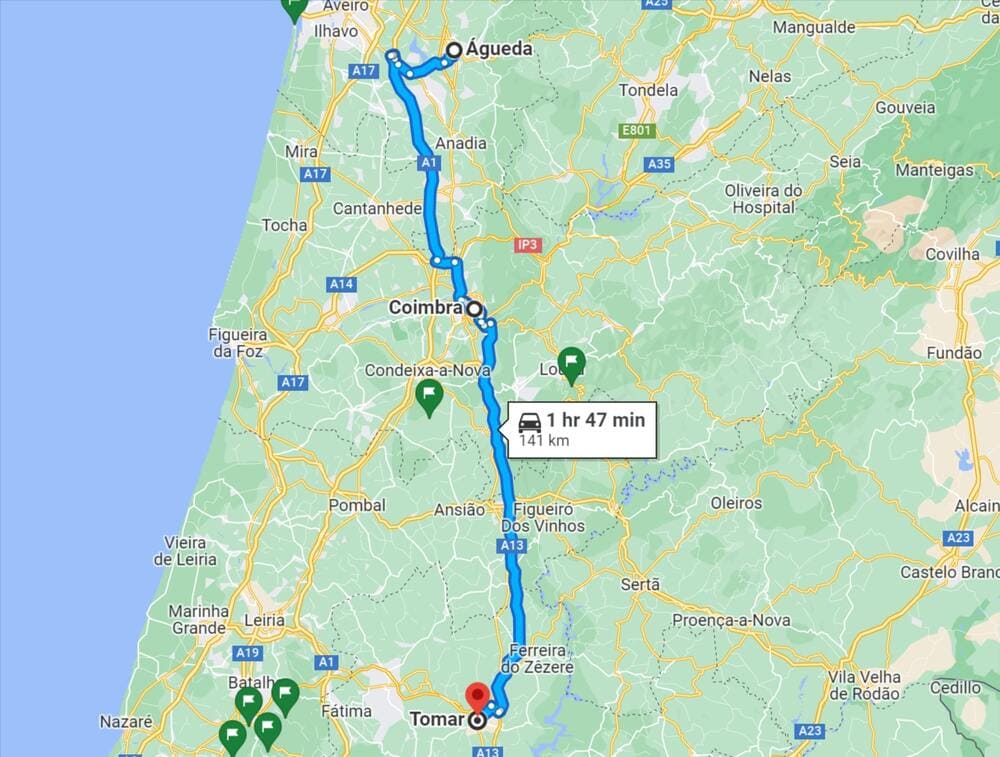 Ribatejo region
We only mentioned Santarem from this region. Perhaps this region is currently one of the most underrated and unexplored in terms of attractiveness for expats. This may lead you to explore this region independently.
Lisbon region
Perhaps this region is the most familiar to many. It is especially popular among our compatriots: Costa da Caparica, Sesimbra, Setubal, and of course, the "Lisbon coast" or the "Portuguese Riviera," the coastline from Lisbon to Cascais. Here, the situation is probably the opposite of the Ribatejo region. The region is densely populated, has high real estate prices, and has better access to infrastructure and job opportunities. Therefore, in this article, we will not focus on this region.
Alentejo region
This is a very extensive region of central and southern Portugal, which includes the districts of Évora, Beja, and Portalegre.
At the beginning of the article, we mentioned that statistically, this region is currently the least popular among expats, although there is still considerable demand for real estate. Nevertheless, here are some cities and villages that you may want to explore:
Melides. It's interesting that the New York Times wrote about this village twice in

2023

, calling it a "haven for wealthy creative personalities," and in

2019

, comparing the town to 1950s French St. Tropez;

Zambujeira do Mar: one of the most charming towns on the Alentejo coast;

Sines: homeland of one of Portugal's most important ports, alongside Lisbon and Porto;

Vila Nova de Milfontes: a small town and a popular vacation spot for Portuguese families from Lisbon.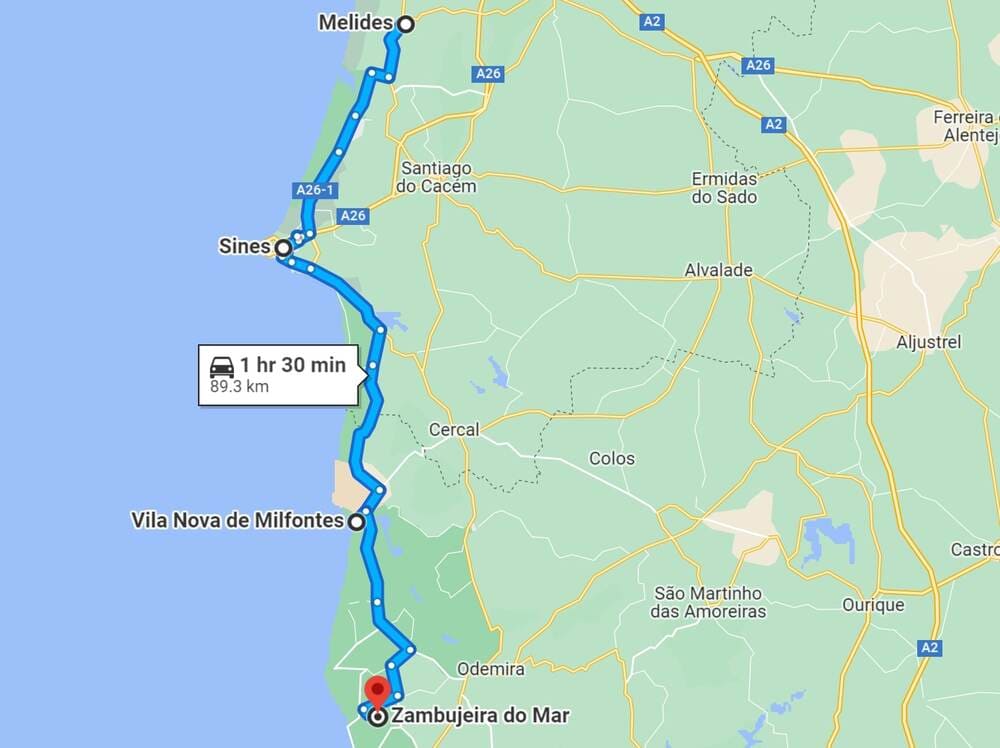 Algarve region
We have already mentioned the cities of Faro and Lagos as gaining popularity among foreigners.
We should also pay attention to the border city of

Vila Real de Santo António

, which also interests foreigners. Thanks to its location, city residents can take advantage of the options of the two countries.

In the same region is the city of

Tavira

, which is a center of attraction for foreigners living there. It is included in various rankings of the best places to live in Portugal.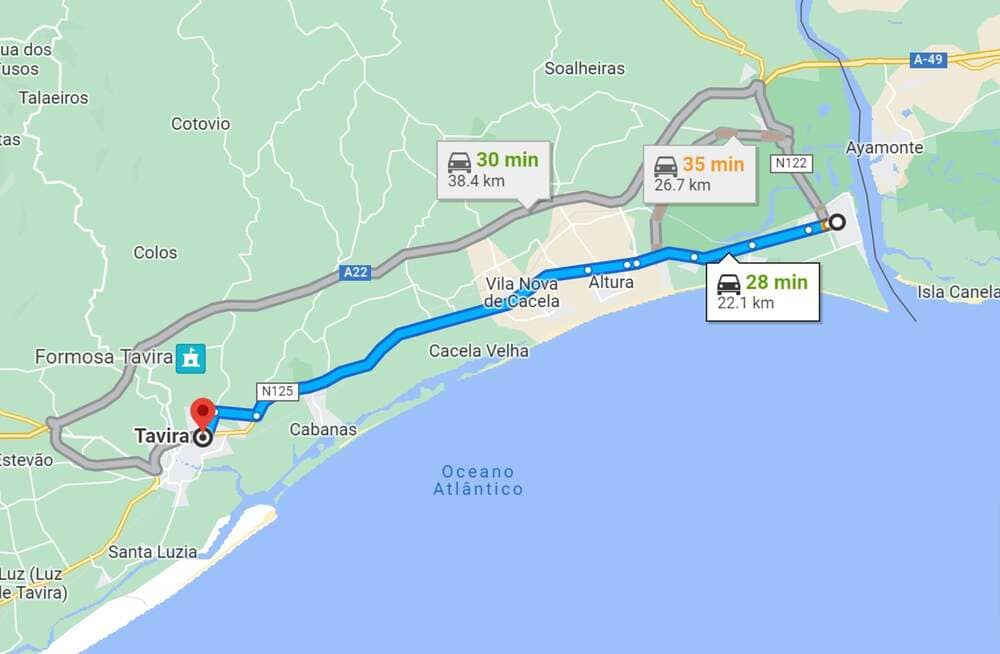 We hope that this article has been helpful to you, provided a general understanding of which cities foreigners choose, and inspired you to search for exciting and advantageous options on your own.