As you may have already noticed, Portugal is a country with a rich culture, traditions, customs, and habits. Sports are one of the excellent habits of the residents of this country, both in terms of watching sports competitions from the couch and actively participating in the process. Sports are also part of the culture, a way of communicating and spending time with family and friends. Now, let's talk about it in more detail. I hope it will be interesting for passive sports enthusiasts, as well as those who love active leisure.
Here are the top 8 most popular sports in Portugal. Let's start by going through this list, exploring each item, and then, we'll move on to less well-known but equally interesting activities you can engage in while in Portugal.
There's no surprise as to what's the most popular sport in Portugal – of course it's football (futebol). The Portuguese are crazy about football. Although Ronaldo and other Portuguese world football stars are on everyone's lips, it's not about them: Portugal has a national league, which matches are broadcasted almost everywhere, and everyone watches them, from young to old. If you go to any café or bar, there's a 99% possibility they'll be broadcasting football. Despite the existence of the national football league, the Portuguese love to watch the national team matches as it is their justifiable pride. It's one of the highest-ranked teams in Europe and the world. They won Euro 2016 and the UEFA Nations League in 2018. Portugal has three main football clubs that are well-known in most countries of the world: FC Porto, FC Sporting, and FC Benfica. All three clubs enjoy great support from Portuguese fans. Portugal hosts two major football events annually: the Portuguese League, which is currently called Liga Sagres in honor of its main beer sponsor, and the Portugal Cup (Taça de Portugal Millennium, also named after the event sponsor – Millenium Bank).
If you've noticed, football is on this list not once, but twice, and both of its varieties are in the top 3, which shows how much Portugal loves this sport. Futsal is a sport played indoors on a small, hard court. It was invented in Uruguay in 1930, right after the first FIFA World Cup, and quickly gained popularity worldwide. When it comes to the national futsal team, Portugal is one of the strongest in the world. The country won the UEFA Futsal Euro in 2018 and is currently ranked in the top 5 in the world. This type of football is also practiced in physical education classes in schools.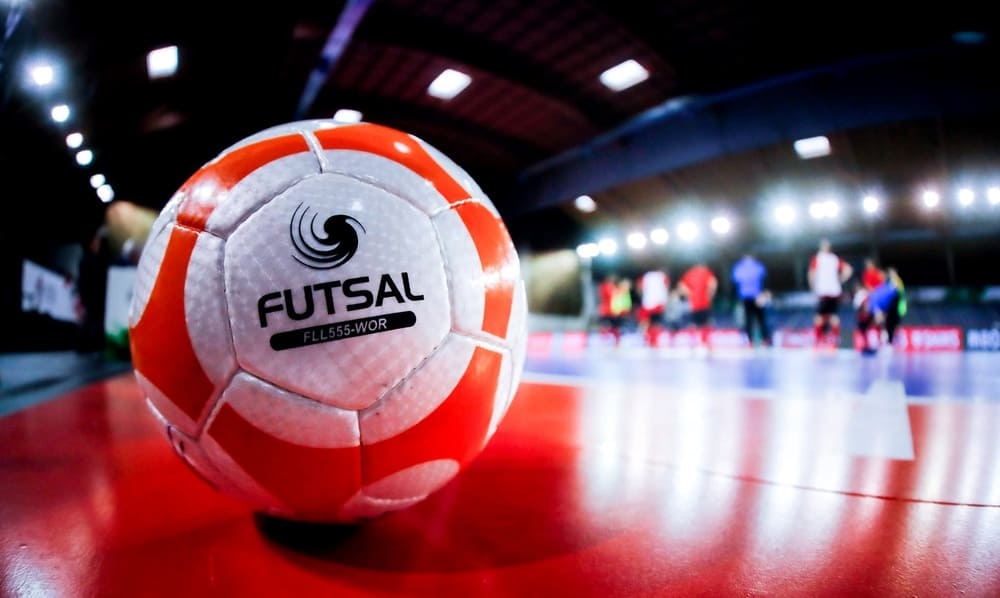 Surprisingly, the second most popular sport in Portugal is basketball (basquetebol). The most successful Portuguese clubs are Benfica and Porto, as in many other sports, including football. In recent years, both of these teams have participated in a significant number of European cups. The best achievement of the national basketball team was Eurobasket 2007, although they lost in the group stage. A note for the professional athletes: Federação Portuguesa de Basquetebol. A few years ago, the popularity of 3x3 basketball also sharply increased and is still growing. This game is played on half a court with only one basket. Courts for streetball are equipped in almost every backyard.
Looking at the map, you can imagine what Portugal looks like geographically: with such a huge coastline stretching over 1500 km, it should come as no surprise that water sports (desportos aquáticos or desportos náuticos) in Portugal are among the most popular. But we'll talk about them separately because there are so many and they are so diverse.
Portugal has achieved success in several kinds of athletics (atletismo), but the principal is undoubtedly long-distance running. As for sprinting, Francis Obikwelu has won several gold, silver, and bronze medals at European, World, and Olympic tournaments. Every year in Portugal, with the participation of the Federação Portuguesa de Atletismo, two of the most important cross-country running competitions in the world are held: the Almond Blossom Cross Country and the Oeiras International Cross Country, as well as the Lisbon Triathlon, a popular Olympic distance race.
Many Portuguese people engage in cycling (ciclismo) for pleasure, but there is also a competitive aspect, as the most significant event in the country is Volta a Portugal, one of the main European cycling races. The link to the cycling federation can be found here. For bike travelers, tours are organized (examples can be found here, or you can use maps of cycling routes for self-guided tours). Turismo de Portugal also offers good options. Cycling in Portugal is generally a pleasure: the weather is without sharp temperature changes, precipitation is generally low, and cycling paths are present (the chicest ride is along the ocean coast). And even if there is no track, local drivers are very sensitive to their two-wheeled neighbors on the road.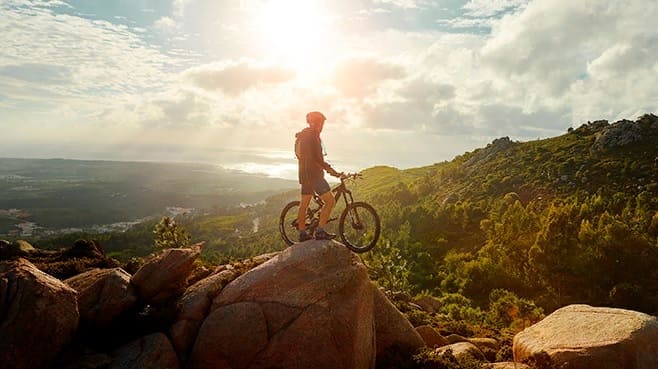 Although rugby (sometimes spelled râguebi, but the American variant is more common) is still far behind football in popularity, it continues to develop in Portugal and already has a decent player base of almost 50,000 people. This sport is mainly amateur, but there is also a semi-professional sphere, as well as the Portuguese Rugby Federation, founded in 1926 (Federação Portuguesa de Rugby). Most Portuguese rugby teams are university teams, especially in cities like Lisbon, Porto, and Coimbra.
Last but not least, martial arts (artes marciais) is another growing sport. In fact, it is developing all over the world, and Portugal is no exception. For example, judo has brought the country many medals, mainly thanks to Telma Monteiro, who won 2 gold medals at the European Championship, and a bronze medal at the 2016 Olympic Games.
Apart from the ranking list, what else do people do in Portugal? Here's what:
Golf (golfe) is very popular in Portugal, and there are many outstanding world-class golf courses throughout the country (a large number is concentrated in Algarve and along the Estoril coast). Comprehensive information on this sport in the country can be found on this resource. Every year, Portugal's best players compete for the title of champion at the Algarve Open, organized by the Federação Portuguesa de Golfe. The profile magazine Golf Monthly has compiled a selection of the top 20 golf courses in Portugal.

Car sport (automobilismo and motociclismo). Portugal has a long tradition of rallying and holds Rally de Portugal – one of the most famous races in the world. The Autódromo do Estoril (Estoril Circuit) or, as it is officially called, Autódromo Fernanda Pires da Silva, is the major Portuguese race track, hosting competitions in car sports such as Grande Prémio (from the International Motorcycle Federation), Formula 1 (in 2021), and other iconic events. The second race track is newer but equally exciting. Autodromo do Algarve, built in Algarve, also hosts races and has a motorsport school and kart track. Off-road motorcycle competitions (such as Baja Portugal 1000, Baja Portalegre 500, and the Dakar Rally in Lisbon in 2007) are also held in Portugal. And, of course, as with any sport on this list, there are regional events: retro car rallies (racing and not), auto-moto races, etc., at the amateur level, of course.
Tennis (ténis). Significantly, the Portugal Open takes place annually in Estoril, which shows the country's high level of involvement in this sport. Generally, you can see with the naked eye that every small town has a tennis club, and what's important, they are in demand (judging by the number of players on the courts). The link to the Federação Portuguesa de Ténis can be found here. Paddle (raquete) is also popular in Portugal, as tennis courts can be used for this game, while squash is nearly non-existent.
Portugal has one of the best table tennis (ténis de mesa) teams. It even reached the quarterfinals at the 2012 Summer Olympics in London, defeating Great Britain in the first round and losing to South Korea with a 2-3 score in the quarterfinals. Table tennis is very popular in Portuguese schools as a pastime: there is always a ping-pong table in the playrooms, and children enjoy playing it, often with their teachers.
Horseback riding (equitação) is an essential part of Portugal's cultural heritage. For many centuries, they have been breeding riding horses, crossing the Arab and English breeds to obtain their own breed, the Lusitano (used for international competitions), which is a matter of national pride. Once a year, the world-famous horse fair, Feira da Golega, takes place in the Portuguese town of Golegã, near Tomar. Stables and riding clubs are located throughout the country, as Portuguese nature is generous with landscapes for horseback riding: along the ocean, in valleys and plains, or in mountainous areas.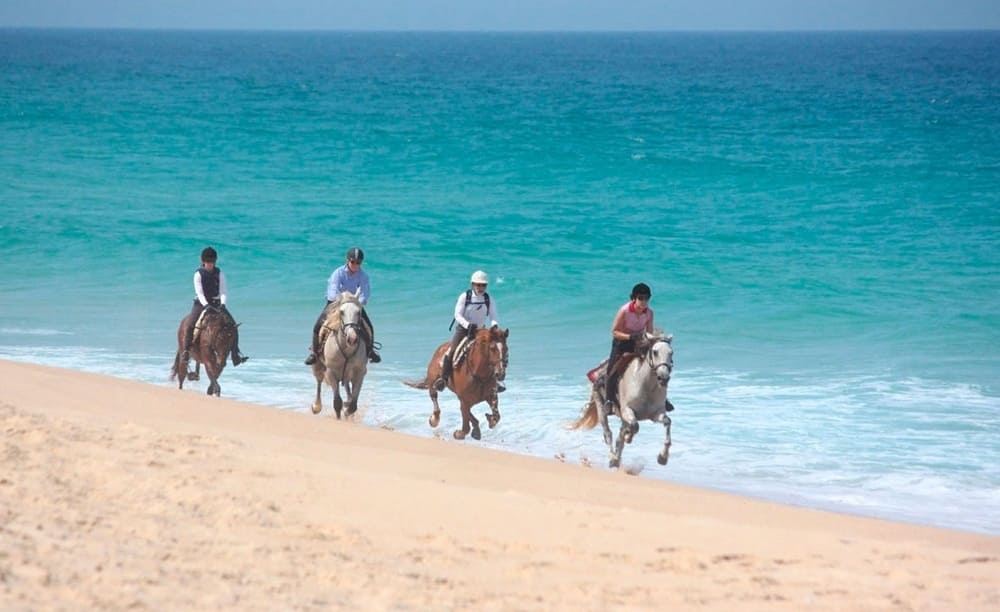 Well, now we've reached the sweetest part – water sports. Actually, it is the reason why many people move to Portugal, as having the opportunity to train almost year-round is priceless. It can be said that the country has achieved outstanding results in surfing, windsurfing, kite surfing, kayaking, and sailing in the international arena. Portugal has excellent infrastructure for water sports: hotels for any budget and developed infrastructure in riding areas, surf camps, rental equipment, and professional gear points. In addition to the well-established and familiar water sports, new sports, including extreme ones, are developing.
Portugal is renowned for having some of the best surfing waves in Europe. Let me remind you that training is available all year round: there are hundreds of surfing schools located along the western coast. Nazaré is a venue for many surfing competitions, as the waves on Praia-do-Norte reach the highest levels in the world. But there are also many other places more suitable for beginners and amateurs. Since 2010, Portugal has been included in the WSL Championship Tour, within which the MEO Rip Curl Pro Portugal is held in Peniche every year.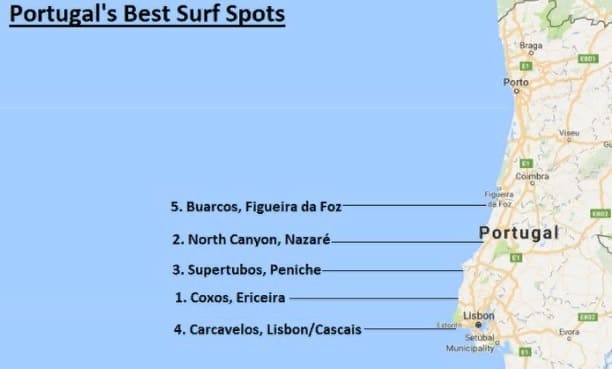 Despite the declared year-round regime of training, the ocean still dictates some rules: from May to September, the Atlantic is quite calm, and the water temperature remains highly comfortable – this period is considered more suitable for beginners, while advanced surfers may find it boring. On the other hand, in winter, the ocean gains full strength, and Portugal attracts big wave enthusiasts from all over the world.
Kitesurfing (kitesurfismo or kiteboarding) is an extremely exciting and extreme sport, based on four basic sports: surfing, wakeboarding, paragliding, and windsurfing. Its essence is to ride the waves using wind power and a kite-shaped sail. It is worth noting that this is one of the most difficult water sports and, as professionals say, cannot be done without a week-long training course.
Paddleboarding or paddlesurfing originated from the Hawaiian Islands, where such boards (in fact, prototypes of modern paddle boards or SUPs) were used as transportation. This is a relaxing option to be on the water when the ocean waves are too small for surfing, or you can practice on the numerous rivers and water bodies in Portugal.
Among adrenaline lovers, extreme and high-energy flyboarding is gaining popularity: flying on a special board, driven by the force of a water flow generated by a hydrocycle connected to the flyboard. And it can be practiced on the open waters of the ocean, as well as on lakes and rivers with sufficient depth.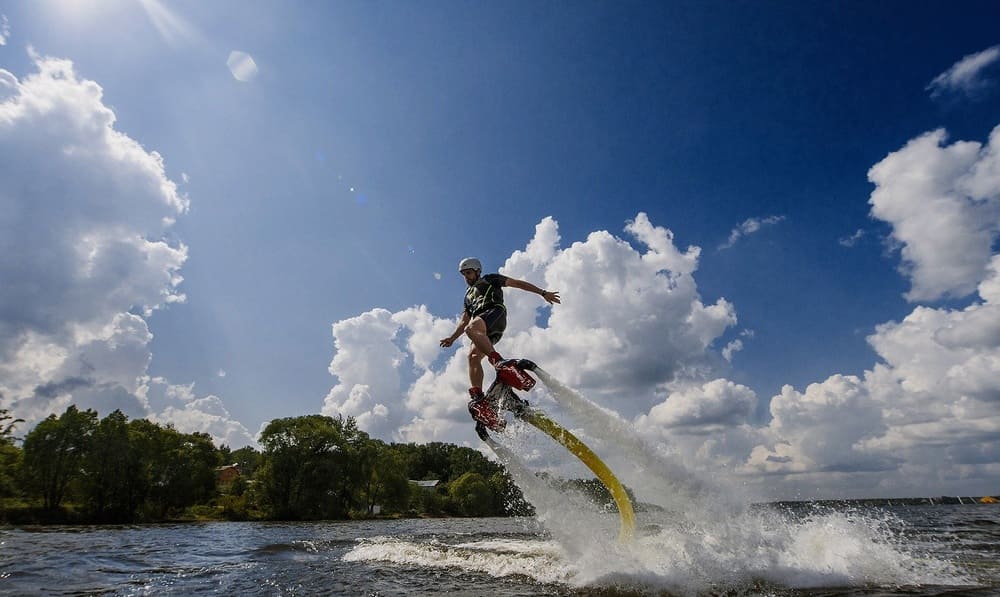 Rafting (passeio de jangada) is practiced in only one place in Portugal, as only one river provides ideal conditions. It is located in the northern part of Portugal, about 50 km from the city of Porto. Rio Paiva is a fast river formed by the rains in the mountainous landscape. This sport is best practiced in winter when the river is in full flow. More information about this place can be found at the Clube do Paiva.
Kayaking and canoeing (canoagem). In recent years, Portugal has become one of the most successful countries in this sport, winning numerous medals at European and world championships. Schools (Escola de Canoagem) are scattered throughout the country, usually based at the O Clube Naval (the naval club). The same clubs usually have commercial structures offering hourly rentals of kayaks and canoes for amateurs. In 2018, Portugal even hosted the Canoe Sprint World Championship (Campeonato do Mundo de Velocidade de Canoagem).
Coasteering is another new sport that is becoming a trend among adventurers in Portugal. It consists of climbing, sliding, jumping into the water, and swimming. In Portugal, locations for practicing can be found near Lisbon in the Arrabida Natural Park or in Algarve, where the coastline is best suited in terms of terrain.
Paragliding (parapente). Unfortunately, Portugal's changeable and often unpredictable winds do not make it an ideal place for paragliding, but the landscapes and scenery partly compensate for these inconveniences, and athletes continue to develop this sport, also thanks to the Federação Portuguesa de Voo Livre. Tandem paragliding is particularly popular.
Canyoning (desfiladeirismo) (the name, as well as the sport itself, came to Europe from the USA) is a journey through canyons using various techniques including walking, clambering, rock climbing, jumping (parachuting as well), and swimming. Popular locations for practicing canyoning are mainly in the north, near Porto, on the island of Madeira, and the Azores, where there are many canyons. This is a perfect activity for adventurers, and people of all ages can do it, but accompanied by a professional instructor.
Well, it seems we have covered the main and most popular sports practiced in the westernmost country of Europe. As you can see, there is a wide variety of them and, of course, there are even more than those mentioned above. But, unfortunately, it is impossible to cover everything. In any case, everyone will find an activity to their liking. You're not someone who likes to actively engage in a particular sport, but you love to move? Well, you're lucky – you're in the right country: Portugal is the perfect place for hiking (caminhadas) and trekking of any level of difficulty. The combination of a mild climate, the beauty of natural landscapes, and the variety of terrain make hiking unforgettable. Portugal has a particular kind of entertainment – passadiços: special routes along wooden bridges of varying degrees of difficulty (on flat terrain, along the ocean, or in the mountains). It is very beautiful and convenient and does not require any special equipment (and the visual effect is no different from a good hiking trip in rough terrain). You can learn what it is and where to find it here. The central region has even designated a place for it on its official Turismo do Centro website. In many places throughout the country, natural hiking trails used by shepherds for their sheep and goats have been preserved – and they are ideal for hiking.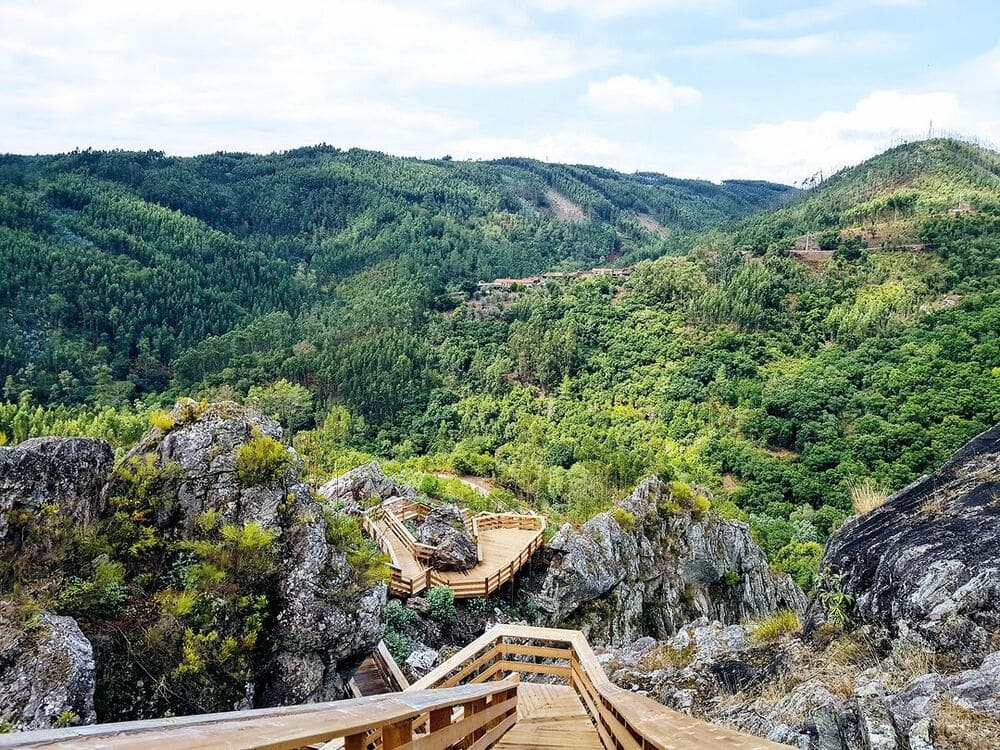 It may seem like we could end our story on this note, but you won't believe it: there are winter sports in Portugal too! Since there aren't many and they aren't widespread due to the not-so-suitable climate, they are united in the Winter Sports Federation (Federação de Desportos de Inverno) (there is a distinction between snow sports and ice sports). Looking at the ocean and swaying palm trees outside the window, it's hard to imagine that in a country with an area of ​​less than 100,000 km2, you can also ski and snowboard, just a couple of hours' drive from that same ocean and palms. Both tourists and the Portuguese themselves love to go to their ski resort, Estância de Ski Serra da Estrela. In the winter season, of course. I think it's amazing to have the opportunity to ski without leaving the country, even on artificial snow. By the way, the resort even has a ski school. Portugal also has a national ice hockey team, which regularly hosts tournaments and participates in international competitions (although, due to the climate, hockey is mostly played on rollers).
Finally, we present a small section on traditional sports and games.
Jogo da Galhofa is a type of national Portuguese wrestling, competitions in this sport can only be seen in the Bragança region. There is even a traditional "martial art" – Jogo do Pau (literally: stick game), a kind of fencing with sticks.
Popular traditional games among both older and younger generations include Jogo do Sapo (frog game) and Jogos de Queijos (cheese game). Actually, there are a vast array of such games in Portugal, and their popularity depends on the region: Jogos de Concas, Jogo da Malha, Jogo da Laranjinha – the names and rules of the game vary by region, but in general, they involve throwing various objects at targets or at a distance, hitting holes or knocking things down. The Portuguese love to have fun and enjoy outdoor activities with family and friends, while seniors like to spend their leisure time wisely: you can often find playgrounds for games like bocce or similar, where elderly Portuguese passionately compete with each other.
In general, we have written a lot about sports, both professional and amateur. But, finally, we would like to note that most Portuguese people are very active: they like to run, play football and volleyball (especially on the beach). For example, on Sundays, it's hard to find someone idly wandering around on our promenade in Figueira da Foz: everyone is running somewhere, riding something, playing something, or someone is using sports grounds for outdoor workouts. I think it's not an exaggeration to say that the Portuguese are a sporty nation, so I suggest you join them with pleasure!
While you were reading this article, we prepared a lot of other materials for you in this section. Do not forget that our portal is not only entertaining but also very useful: here you can get legal assistance, as well as find real estate for rent or purchase in different regions of Portugal.