An attentive reader of the WithPortugal website is well acquainted with how things are going concerning employment in Portugal. Sufficiently low salaries, difficulty in finding a job, and the conservatism of Portuguese companies - many articles have been written about this. Perhaps that is why you can often hear the typical phrase that Portugal is an excellent country for retirees and people with remote work or passive income. These beliefs are indeed not unfounded because Portugal has a lot of unique advantages, but employment is definitely not one of them because the labor market is quite limited, and salaries are the lowest in all of Europe. All this is true, but this rule has one exception, namely the IT sector, where there are a lot of vacancies even in such a small country like Portugal, and salaries in this area are as high as possible. If you work in IT and want to immigrate to Portugal, then in our new article, we will tell you how to do it and what level of salary you can expect based on your field and work experience.
Why are IT specialists in such high demand in Portugal?
First of all, Portugal is no different from the rest of the world, where everything is gradually moving into the online and digital sphere, and there is a team of programmers, analysts, and managers behind any website, application, or online product.
The number of technology and IT companies in Portugal is constantly growing, and gradually this tiny country on the Atlantic coast is becoming an international digital hub, which hosts the largest conference in the field of information technology Web Summit, as well as many global corporations, banks and start-ups decide to open their offices here. Why should the world banks or the largest companies open their offices in Lisbon or Porto? The answer is simple - the highest quality of life, a relatively inexpensive labor force, and the cost of renting offices. Companies cannot achieve such a unique combination in London, Berlin, or other European cities.
That's why the number of IT companies in the country is constantly increasing, as well as the number of vacancies in this field. And the number of specialists is not growing because, in Portugal, only a few universities train programmers at a reasonable level, and many students are "reserved" by the companies even before graduation. In addition, let's remember that about 30% of Portuguese youth seriously think about immigration to the more developed countries of Europe, which means that there are even fewer local competent IT specialists in Portugal. For this reason, many Portuguese companies are ready to hire IT workers from absolutely any country in the world.
Companies help prepare all documents, make a work permit and most often pay for the flight and other related expenses that a specialist may have when moving to another country. It is essential to understand that this does not happen with other specializations. For example, no one will invite a marketer or an economist to Portugal, let alone pay for relocation and help with paperwork, because there are enough such specialists among the Portuguese. Therefore, Portuguese companies treat programmers, and IT professionals as special and unique cases, born at the junction of an enormous demand and meager supply.
So if you are just such a specialist and would like to live in Europe, then Portugal can be an excellent option for you to immigrate.
Step-by-step guide for immigration of IT-specialists to Portugal
If we briefly describe the complete process of employment in the field of IT in Portugal, we can note the following steps:
Step 1. Search for vacancies
We recommend looking for vacancies in the field of IT in Portugal on the following websites:
This is only a partial list of the leading aggregators and job search websites.
As a highly demanded qualified specialist, it will be enough for you to speak English to pass the interview stage and communicate with colleagues in the future. But still, I recommend mastering at least the basics of the Portuguese language because this will help to achieve a more fabulous position from the company at the interview stages and will simplify your immigration process and the solution of domestic issues associated with it in general.
It is essential to note that no matter what website you use to look for vacancies in IT, there will always be many of them. Yes, on the LandingJobs website in January 2022, you can find 500 open vacancies in this specialization across the country, which is a lot for such a small job market.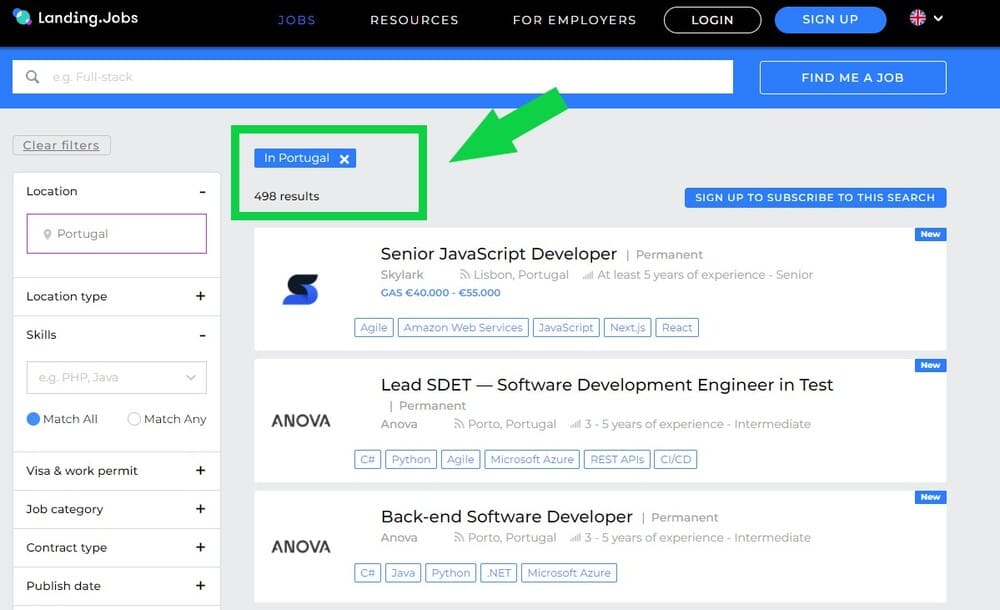 On the Indeed website, by the search word "programador" (port. programmer) in January 2022, you can find about 1400 vacancies in this specialization, which is just a considerable number for Portugal.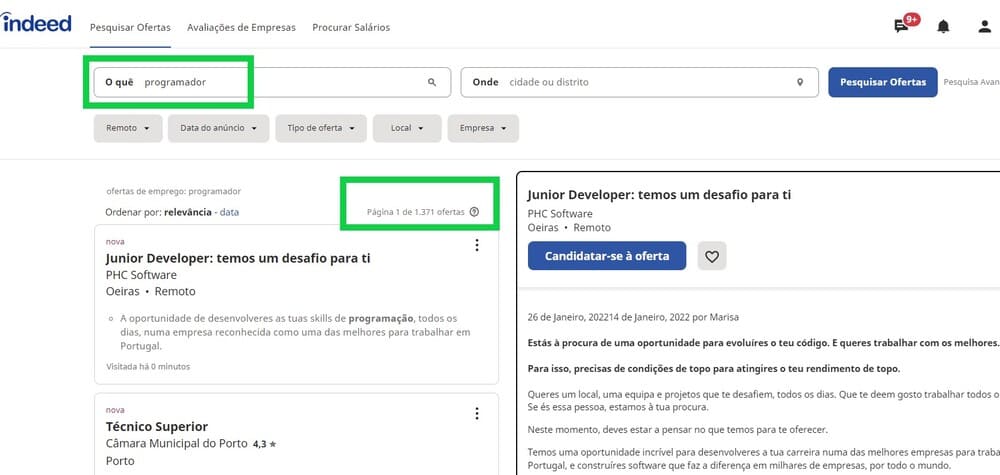 This may seem quite normal, but in Portugal, the labor market is so small that there may be only 5-10 vacancies in some specialties. However, in the IT specialization, their number is measured in hundreds and even thousands, and therefore, you will have many employment opportunities.
Also, you can search for jobs on LinkedIn and directly on the websites of the largest technology and IT companies in Portugal (for example, NOS, Vodafone, Primavera, Farfetch, etc.). Still, those search aggregators that we have indicated above will be more than enough because the vacancies of all companies, in any case, appear on these websites.
Step 2. Passing interviews and signing a work contract
Depending on your experience and qualifications, you will need to send CVs to various companies persistently, and sooner or later, they will definitely answer you (here, we wrote in great detail about the quantitative approach of sending CVs in Portugal and why you will not always get an answer).
At the same time, an essential point in the selection process will be the discussion of your salary expectations. Be prepared for the fact that in Portugal, it is not always expected to disclose the salary at the initial stages of the interview, so in case the company does not want to announce the proposed salary, you can name an indicative "salary limits" and say that you are ready to discuss it. To define your salary expectations correctly, it is important to understand how much, on average, programmers receive in Portugal, and we will talk about this in the final part of our article.
Step 3. Registration of documents for a resident visa
Companies often help highly qualified IT-specialists complete all the necessary documents for moving to Portugal. Many organizations even help with rental housing and other issues.
Just keep in mind that you have the following options for obtaining a resident visa to work in the IT sector in Portugal:
D1 visa, that is, visa for work in Portugal

Tech Visa
By the way, after moving to Portugal, you will have access to register the EU Blue Card.
It's important to know about the differences in resident visas because Portuguese companies often do not quite understand how they differ from each other and will help you in concluding an agreement and documents for a visa, and you will have to make an inquiry to the Portuguese consulate in your country and choose the type of visa yourself.
At the same time, if you want to immigrate to Portugal with your family, then after moving to work in an IT company, you can easily reunite with your relatives on a D6 visa, which we wrote about in great detail here in this article.
Furthermore, being a highly qualified specialist, you will be able to apply to transition to the preferential tax regime RNH and pay fewer taxes, which is a significant advantage for choosing Portugal as a country for immigration.
Salaries of IT specialists in Portugal in 2022
As we have written above, Portuguese companies are not always ready to disclose the sum of salaries, so you rarely find a specific salary or "salary limits" in vacancies.
Nevertheless, we can say that on average, an information technology specialist earns from 1500 to 3500 euros in Portugal. Of course, the exact amount of salary will depend on the applicant's experience, the position, and the company itself.
For example, in an article on the popular portal Sapo, published in 2021, we can see that a Front-end programmer with two years of experience can earn more than 30 thousand euros gross per year in Portugal. In management positions, the salary can reach 120 thousand euros per year so everything will depend on your experience and qualifications.
It is important to note that in 2022 the minimum salary in Portugal is 705 euros, and the average salary in the country is currently about 1300 euros.
Only such an objective comparison can help understand how high the salaries of IT specialists in Portugal are because it makes no sense to compare them with salaries in the US, EU, and CIS countries. After all, these are entirely different countries, with varying living standards and levels of spending.
Teamlyzer salary calculator
A very interesting tool can be found on the Teamlyzer portal, namely the salary calculator, which will allow you to assess salaries in various companies, specializations, and positions.
The portal creators believe that IT professionals in Portugal are in a highly disadvantageous position when negotiating salaries because they always know less than a recruiter, as we already wrote above. Therefore, it was to make the negotiation process more transparent than the Teamlyzer salary calculator. You can get an idea of ​​​​the approximate level of salaries in a particular specialization, which subsequently allows you to negotiate a higher salary.
Let's see how this calculator works in practice.
In the top menu, select the type of company (we chose "Banks and financial institutions"), then select the required position (we chose "Software developer"), and in the third field, select the level corresponding to our work experience (pick "Junior").
In the top diagram, the green circle represents the average salary in Portugal, and with these variables, the average salary for a Junior Software developer is about 1500 euros (before tax).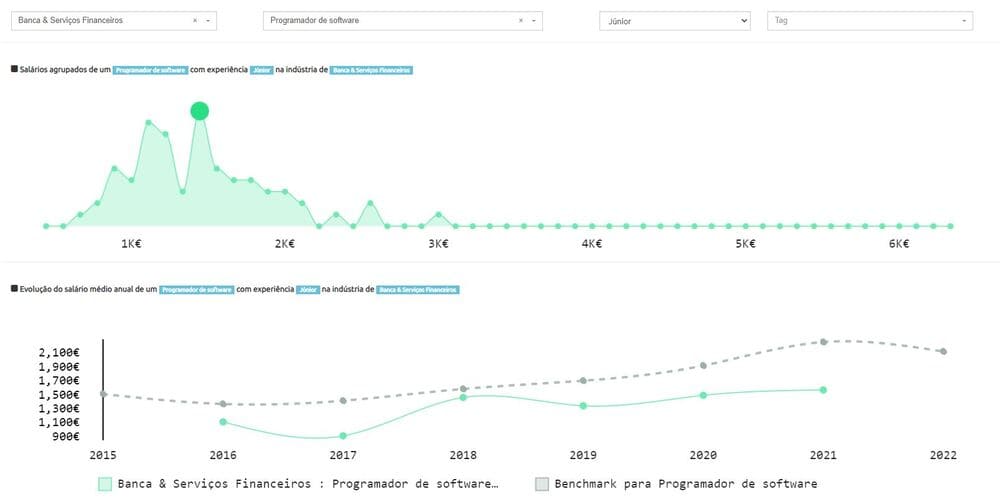 In the lower diagram, we see the dynamics of salary growth from year to year with these variables and the average level of salaries in the country in other areas (gray line in the last diagram).
Although this website is presented exclusively on the Portuguese website, we recommend using it (at least with automatic page translation) to understand the actual level of salaries in a particular area to feel more comfortable in an interview.
Landing.Jobs annual survey
Portal LandingJobs every year publishes a very detailed study, a Tech Careers Report concerning the situation in the IT market in Portugal. This report is in English, and you can get a lot of information from it, such as which programming languages ​​are the most paid in Portugal, in which cities programmers receive the highest salaries, how many people work in companies on average, and what are the working conditions, etc.
As part of this article, we will not retell the content of this voluminous and detailed study, so we invite you to get acquainted with the full version of the Tech Careers Report for 2021 here.
The portal has not yet published the report for 2022, but with great confidence, we can say that in 2022 the salaries of IT specialists in Portugal have only increased, and the pandemic played a vital role in this.
Here are some of the most interesting facts from this report.
Fact #1: about 20% of all IT specialists in Portugal do not have higher education and are self-taught, which is excellent news for those who learned programming on their own and think that it is impossible to get an invitation without a diploma from a European company.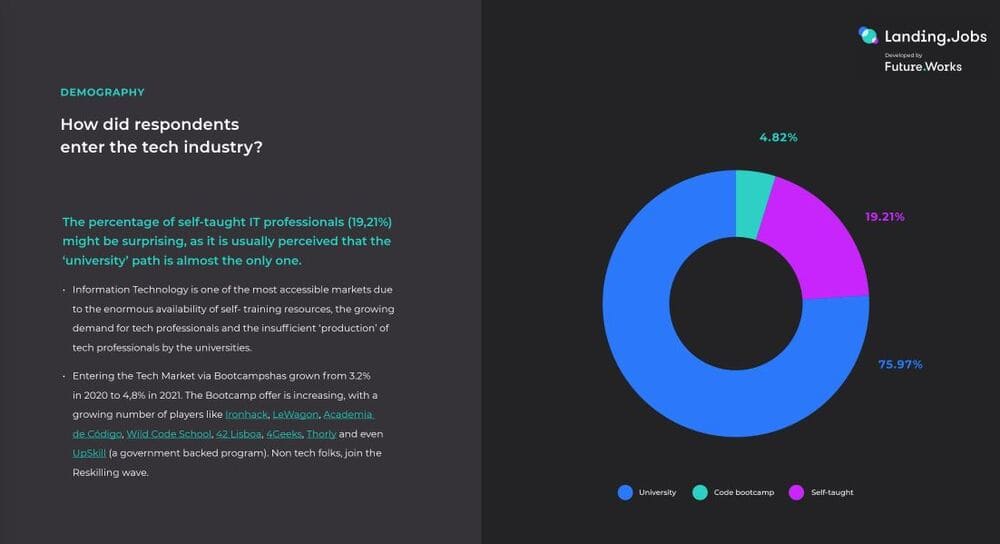 Fact #2: The most popular programming languages ​​in the country are: JavaScript, SQL, and HTML/CSS.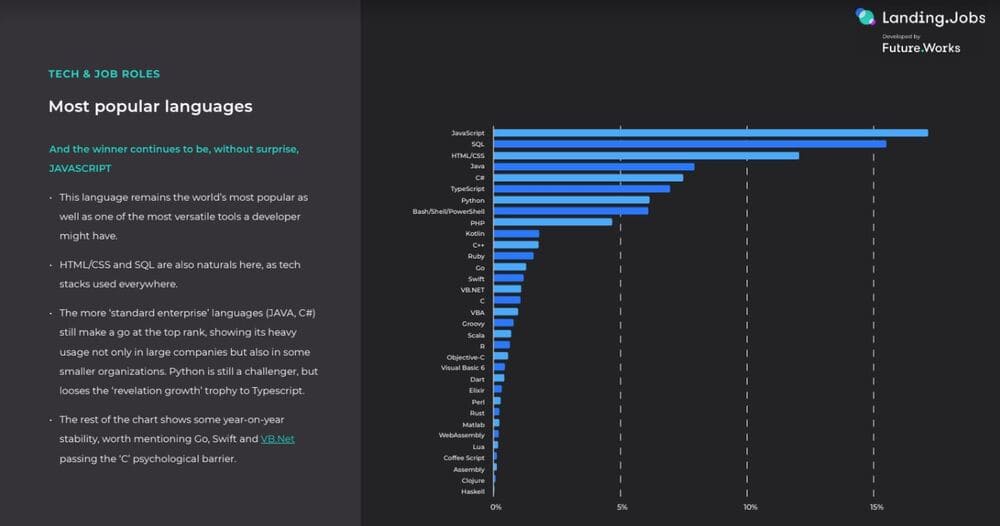 Fact #3: The highest salaries for programmers in Portugal are, as you would expect, in Lisbon and Porto. At the same time, salaries in Lisbon are about 18% higher than the national average ones.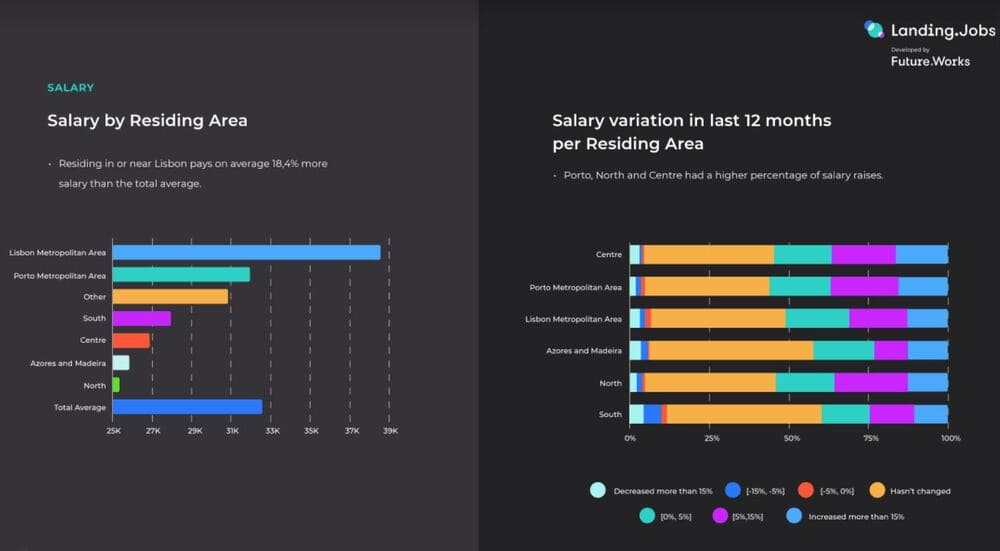 Fact #4: on the diagram below, you can see the salary rating depending on the position and whether the person works on a temporary contract/on a project or whether he is a permanent employee and is part of the staff. Surprisingly, it is a fact that almost always, employees on fixed-term agreements earn more (blue lines in the chart below) than full-time employees (red lines in the diagram).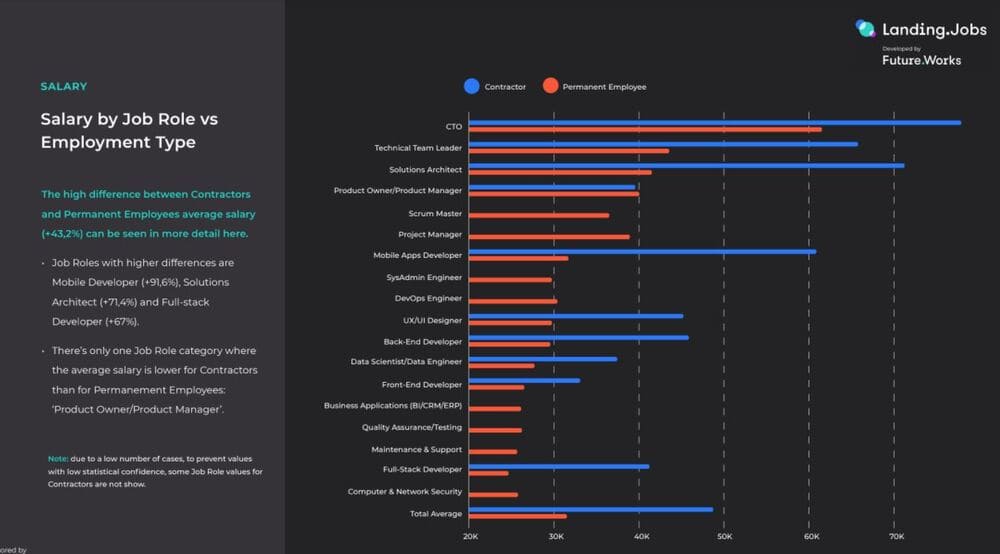 Fact #5: As for salaries for those employees who are a part of the company's staff, then, depending on the position and work experience, the average salaries and "salary limits" are as follows: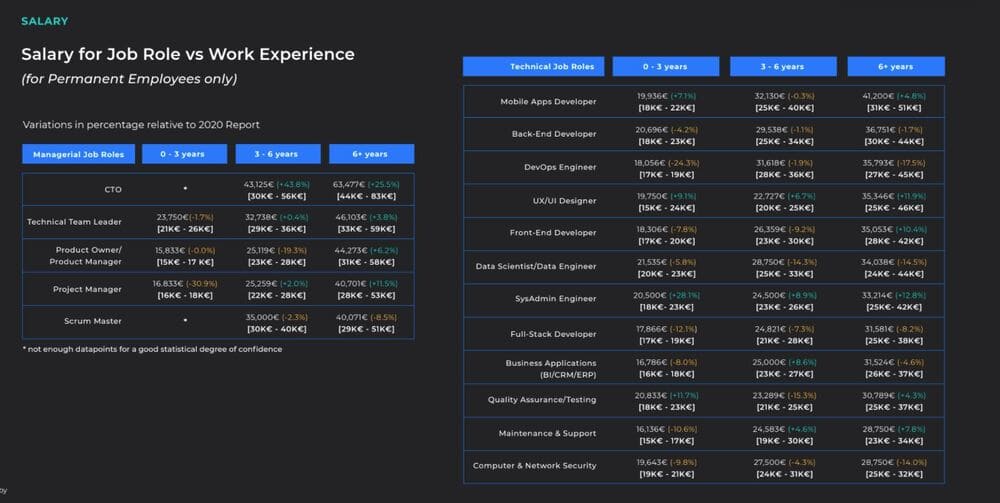 Fact #6: salaries for employees on fixed-term contract look like this: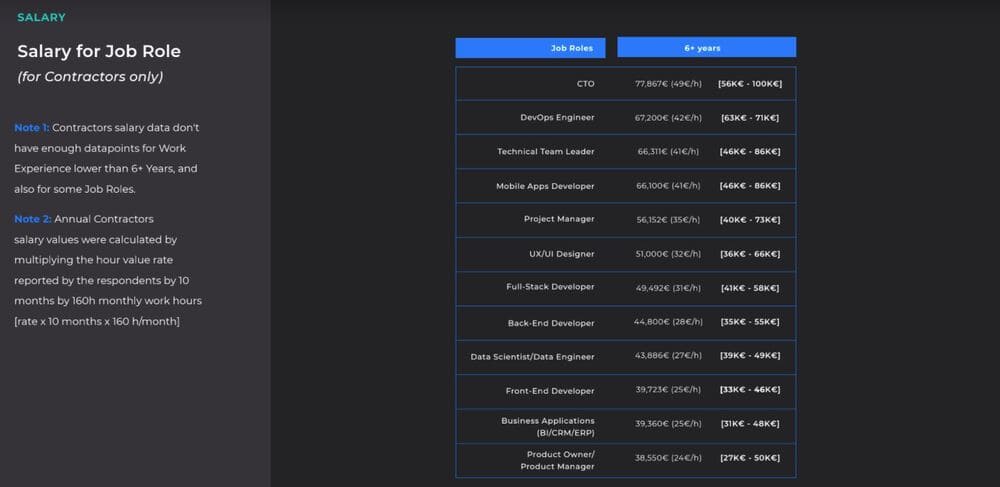 Fact #7: IT specialists get the highest salaries in companies in Internet technologies, cloud services, and the medical field.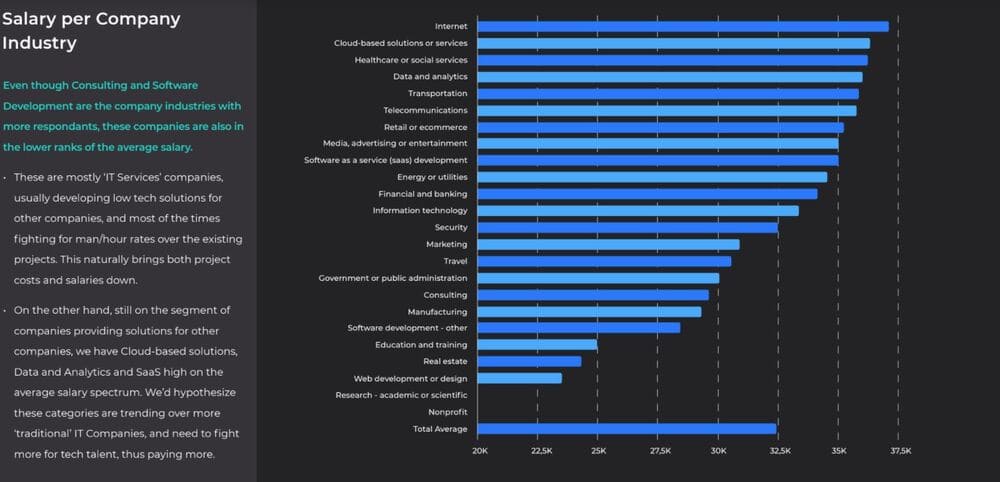 Fact #8: Go, Perl and Kotlin are the highest paid programming languages ​​in the Portuguese market.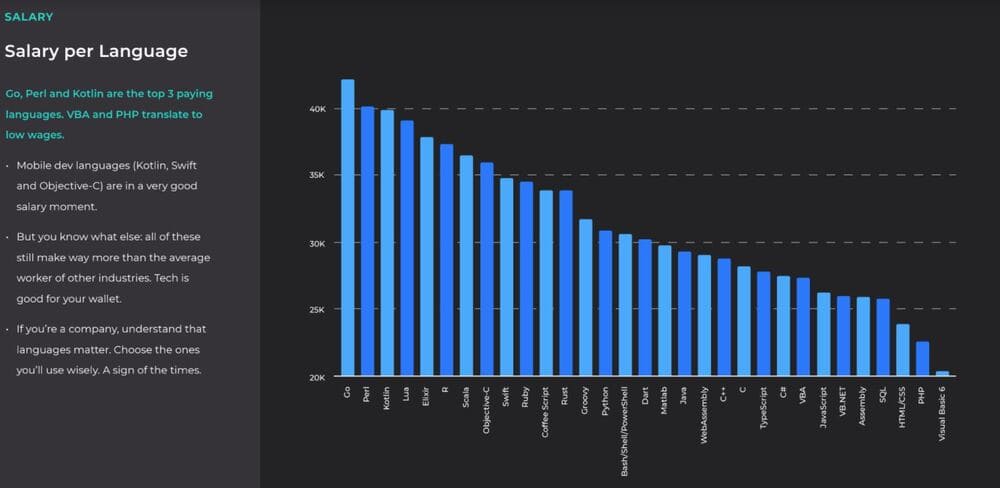 These were the highlights of this report, but we invite you to read the full version and stay tuned for when the 2022 Tech Careers Report goes online at LandingJobs.
IT professions in Portugal are in high demand in 2022
And if you are such a highly qualified specialist, then be sure that you will be welcome in Portugal, and here you will definitely be able to find a well-paid job. When we say "well-paid", we mean that you will earn much more in Portugal as a programmer than the economists and marketers. Of course, we must be aware that programmers will undoubtedly earn more in the US, Germany, and other countries, but this is if we compare numbers. And if you compare the quality of life, then in Portugal you can rent a house on the shores of the Atlantic ocean at a very affordable price, in stores you will find the freshest fruits, vegetables, meat, and fish, and in general, the country is extremely safe and comfortable for life.
Therefore, if your goal is not the maximum income at any cost, if you are looking for a high quality of life in Europe for yourself and your family, then life in Portugal will definitely not disappoint you. At the same time, you will receive a relatively high salary by the country's standards and will be a highly qualified specialist who will be valued and respected by Portuguese companies. Therefore, we wish you a successful job search in IT in Portugal!