What do you associate Portugal with, first of all? With the ocean, beautiful beaches, sun, and fine weather? All this is true, and it is the reason why another association is the extremely high prices for real estate, both for purchase and rent. And this is not a surprise because Portugal attracts many tourists, digital nomads, expats, and immigrants with its advantages and favorable conditions. And very little new housing is being built; as a result, demand in the real estate market is constantly increasing, and there are no more offers. Even the pandemic could not change the growth dynamics of Portuguese property prices.
Nevertheless, there is very cheap real estate even in Portugal. It is essential to understand that in this case, we will not talk about large cities, and housing will be pretty modest, possibly requiring major or cosmetic repairs. What is the minimum possible budget for buying a house or apartment in Portugal in 2022? We will tell you more about this in the framework of this article on the WithPortugal website.
How to search for property in Portugal?
If you are going to buy a house or apartment in Portugal on your own, we recommend that you constantly scan current offers on the following most popular websites for finding and selling real estate in the country:
We will also use these websites when analyzing Portugal's low-cost real estate market, which you will get acquainted with in this article.
If you do not want to delve into and understand the nuances of the Portuguese real estate market, you can always facilitate your life by contacting professional real estate agents in Portugal, which you can find without leaving our WithPortugal website.
Furthermore, if you are looking for a house or apartment to buy in Portugal on your own, it is crucial to know the following terminology:
Moradia - a private house

Apartamento - an apartment

Quarto - a room

Terreno - a land plot

Loja - commercial premises suitable for shops, restaurants, beauty salons and other institutions
Within the framework of this article, we will consider only options for buying private houses and apartments in Portugal, and if you want to buy an apartment, then remember the following abbreviations:
T0 - a studio apartment

T1 - an apartment with 1 bedroom + hall

T2 - an apartment with 2 bedrooms + hall
And so on, it means that in Portugal people count exactly the number of bedrooms, and the hall is taken for granted, the same as a kitchen and a toilet.
Well, we have puzzled out the basic terminology, and now let's check where you can find the lowest property prices in Portugal.
Cities with the cheapest property in Portugal
To understand which regions and cities of Portugal have the lowest real estate prices, let's use an extraordinarily convenient and understandable tool of the Idealista website.
We can analyze the price per square meter in different regions of Portugal using this tool and thus understand where we can best find the cheapest property in the country.
So that you can compare, we note that according to February 2022, the cost of one square meter of real estate in Lisbon was 3,764 euros.
And here's what the table looks like, divided by cities in Portugal with the cheapest real estate:
As we can see in the table above, the cost of 1 sq. m in the town of Portalegre is 600 euros, which is more than 6 times less than the cost of a square meter in Lisbon.
I hope it is now clear why you should not choose either Lisbon or Porto if you look for cheap real estate in Portugal.
Well, we have puzzled out the cities with the lowest real estate prices, and now it's time to look at specific ads with prices for a more detailed analysis.
Cheap houses to restore in Portugal
The first and most affordable type of inexpensive real estate in Portugal is ruins (port. ruínas) or houses in poor condition, where it is impossible to live, and significant repairs are needed.
As you will see in the examples below, such options are the cheapest in the whole country, and you can purchase such a house for literally a few thousand euros. So, you may ask, why are the Portuguese themselves in no hurry to buy such cheap houses?
The fact is that the cost of repair work in Portugal is very expensive, and it is so difficult to find good and proven specialists that sometimes it can take months or even years. Those tasks that cost adequate money in your home country can cost thousands of euros for a couple of hours or a day of work in Portugal.
That is why, in my opinion, buying a house for restoration in Portugal only makes sense in two cases: if you have an unlimited budget and the patience that you will need for a significant renovation of the building, or if you have worked in the construction industry and you have necessary skills and strength to restore the house on your own.
Restoring a house on your own is just a perfect option. By the way, you can later create your business by helping other people restore buildings with high quality.
Well, let's visit the Imovirtual website and check some options for the country's cheapest demolished houses to rebuild.
On the left, select the type "Moradias - private houses" to see the cheapest ads. On the right, we filter all ads by the lowest price (ordenar por: preço: mais baixo).
First, you will come across spam ads with a price of 1 or 100 euros (you definitely can't buy a house in Portugal for that money), then, starting from 2-3 thousand euros, real ads will appear, but there the buildings will be in the form of stones scattered on the ruins.
More or less adequate options appear from 10,000 euros in those areas with the cheapest real estate that we talked about earlier. Yes, such houses need major repairs and complete restoration, but many of them have walls and even a roof, and therefore, an experienced specialist will immediately be able to determine how reliable the structure is and whether such a house can be restored on a limited budget.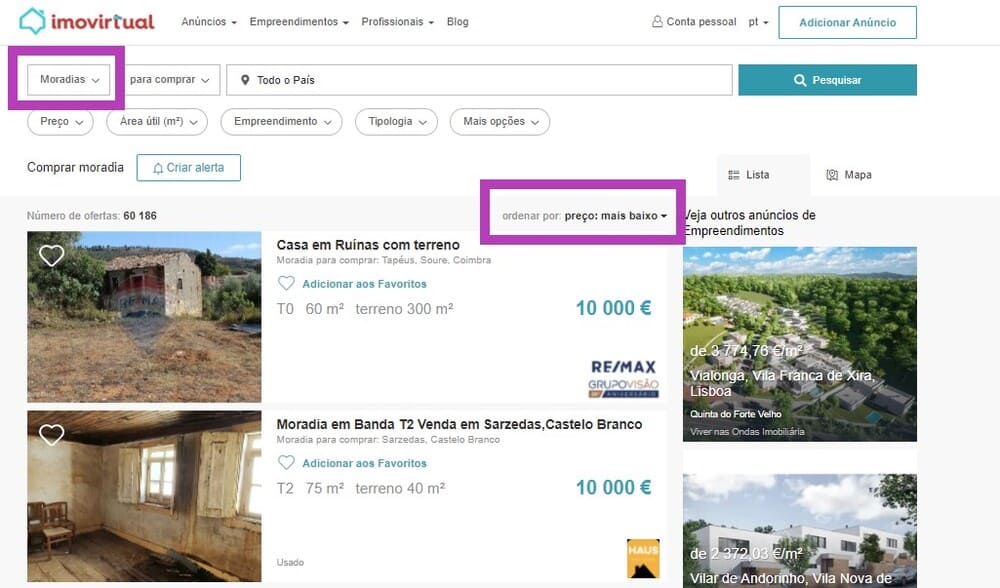 For example, in the picture below, you can see an example of such a house for reconstruction in Viseu for 10 thousand euros. Even from the picture, you can see that the house has a stable structure, so it definitely won't have to be restored from the ruins, although most likely, the condition inside the building is very deplorable (after all, the ad does not even have a picture of the inside of the house, which is disturbing).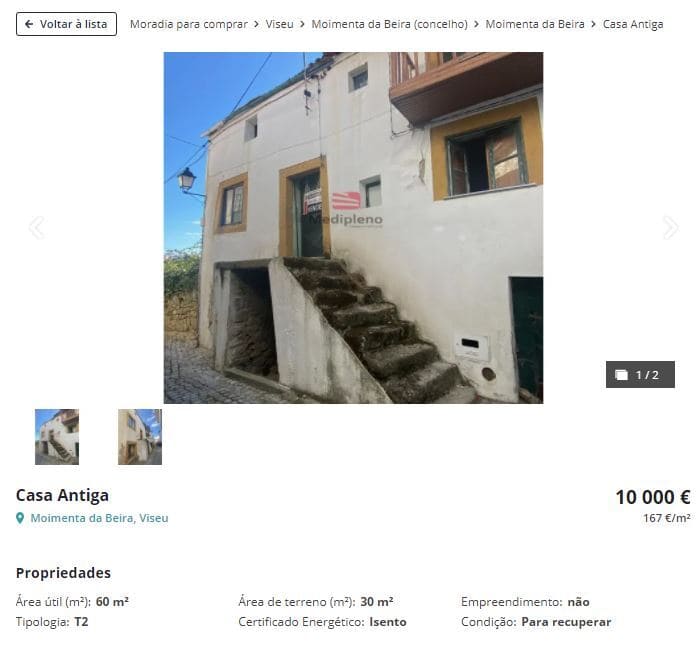 You can see what a house for such an amount might look like inside in the picture below (a house in Castelo Branco for 12,500 euros).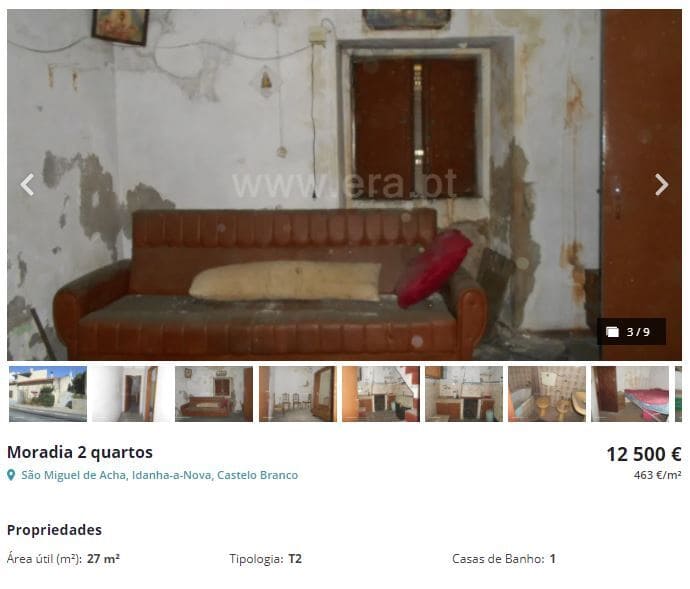 Higher-quality houses begin to appear starting from 20 thousand euros, and many of them can even be suitable for living in (taking into account all possible risks, such as mold, moisture, leaking roofs, and other points that can be eliminated through restoration).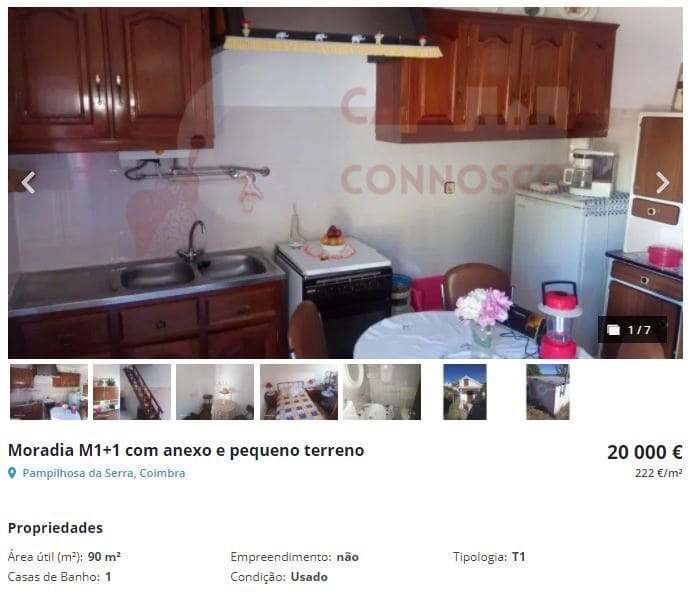 So, in the picture above, you can see an example of a house for 20 thousand euros in the Coimbra region which is quite ready to move in, and as the budget increases, you will find options with better conditions, so let's jump straight into exploring options for affordable residences in Portugal ready to move in.
Cheap private houses in Portugal
If you understand that you do not have building skills and you cannot restore the purchased private house on your own, and at the same time your budget is limited, then it is better to directly look for buildings ready for living because almost every one of us can manage with cosmetic repairs and elementary painting of the walls.
Starting from 30 thousand euros, you can find houses ready for living. Yes, there will be repairs that have been going on for several decades in such houses, it may be cold and damp there, and the windows and doors will be old and ventilated, but you can solve all this gradually, slowly investing in cosmetic repairs and other improvements to the premises.
So, in the picture below, you can see a private house with 2 bedrooms and a plot of 1395 sq. meters in the Santarém district for 30,000 euros.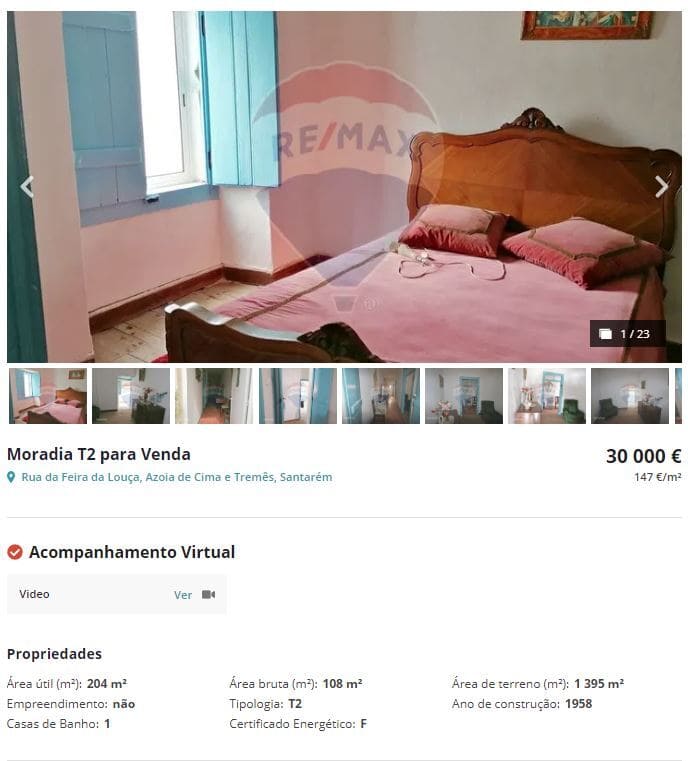 You can see a 3 bedroom house in the same region for 50,000 euros in the example below. The house is also move-in ready and has a plot of 2000 sq. meters with planted olive trees and the opportunity to set up your own garden.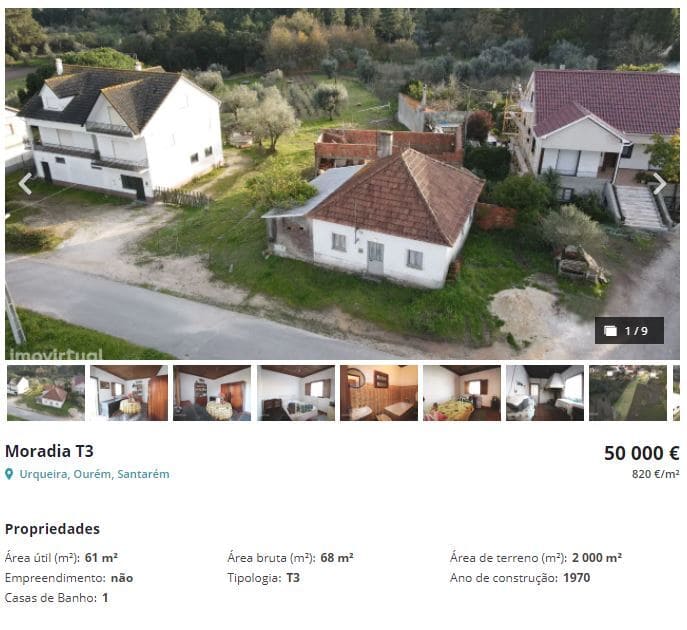 Cheap apartments in Portugal
If you are not attracted to living in a private house and want to find housing in good condition, where you can move in as quickly as possible, you should definitely consider buying an apartment.
You can find inexpensive apartments in good condition in Portugal starting from 30 thousand euros. So, in the picture below, you can see an example of an apartment with 1 bedroom and 1 hall in the Viseu district for 28,463 euros. Of course, the apartment will require painting the walls and buying all the necessary furniture.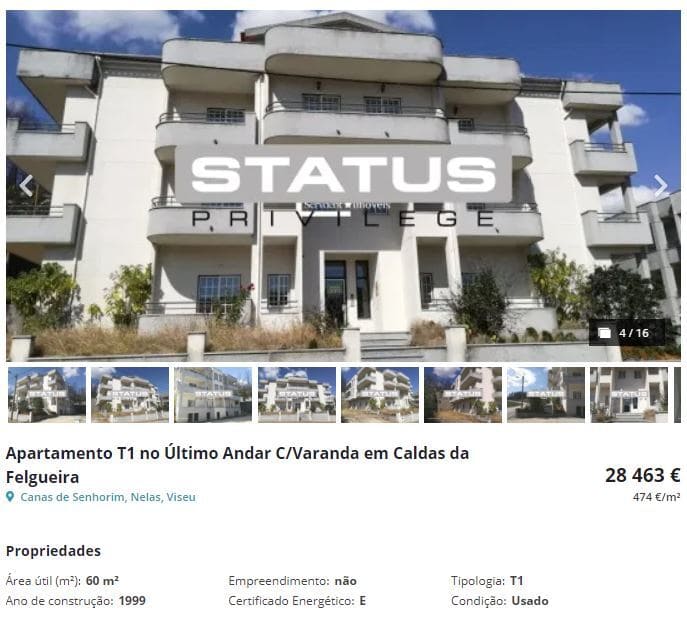 You can find many different options for apartments with 1 or 2 bedrooms throughout the country in excellent condition starting from 50 thousand euros. In most of these apartments, even cosmetic repairs will not be required, and if you do not need freshly painted walls, you can immediately move in by purchasing all the necessary furniture and electrical appliances.
Yes, in the pictures in the ads you will most often see fully furnished apartments, but the furniture, as a rule, is always taken away by the previous owners, although you can always try to negotiate with them and often they will be ready to leave all or part of the furniture for a nominal fee or even for free (if they don't need it).
In the picture below you can see an example of an apartment in excellent condition, with a balcony and a beautiful view from the windows, with 1 bedroom and 1 hall in Santarém for 50,000 euros.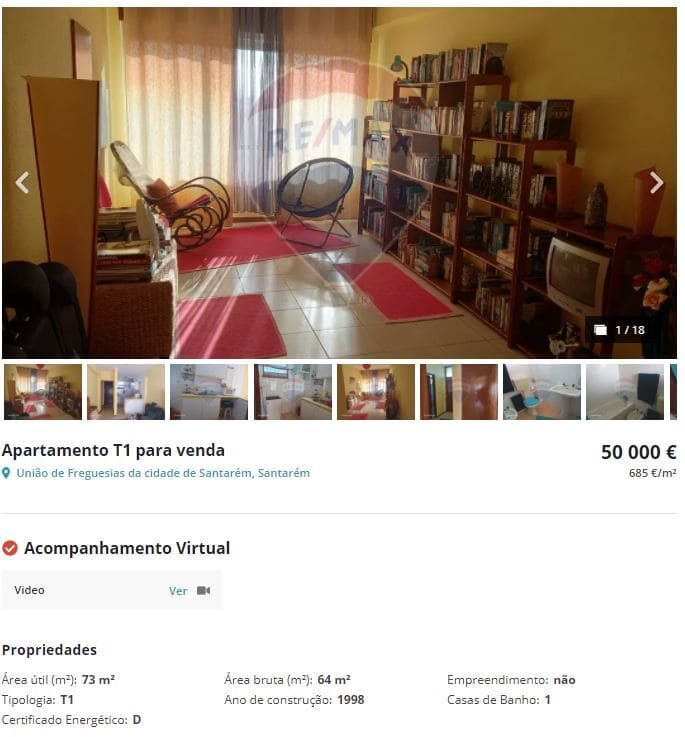 Cheap property in Portugal exists, but not for everyone
After analyzing inexpensive houses and apartments in Portugal within the framework of this article, we found out that you can buy a house for restoration for 10 thousand euros in the country; for 20-30 thousand, you can buy a house in good condition, and you can buy an apartment with a good restoration for 50 thousand euros. Yes, the cities that are most often featured in today's article are extremely small because inexpensive real estate is concentrated in rural areas or small urban-type settlements with a low population density.
Someone may object, saying that there is nothing to do in such villages and towns, but let's take a subjective approach to assess possible risks.
Yes, there are most likely no large companies, discos, shopping centers, and many places for entertainment in such places, so these options are not suitable for those who want to live in a metropolis with its developed infrastructure or intend to look for work in large corporations.
On the other hand, if you want to have your garden, if you're going to live in a quiet and peaceful place without crowds of people, if you work for yourself or do not mind working in agriculture if you want to have or raise animals, and if you do not mind buying a used inexpensive car for more convenient transportation, then life in such small towns and cities will suit you.
By purchasing real estate for such a low price, you will live in a quiet place, away from the noise and stress of cities, as close as possible to nature. At the same time, there will be cafes, restaurants, shops, and clinics around you. Yes, they will not be as fashionable as in Lisbon, and there will not be as many of them as in the major cities of Portugal, but they will definitely be, you can be sure of that.
After reading this article, I hope you understand that Portugal also has the most inexpensive real estate, but it is not suitable for everyone, but only for those who initially understand the specifics of life in small towns and villages in Portugal. Personally, I, the author of this article, live in the countryside, and after living in Porto and Lisbon, I will honestly say that I would not swap a quiet and peaceful life in my small village for anything; a village from which you can quickly get to a large metropolis in half an hour.