Arriving in Portugal, we didn't even question if we needed a car. Our long-term family experience of automobile travel had answered that question beforehand. But what car to choose? And we are not talking about the vehicle brand yet, but about a new side of this issue: the energy source.
Especially in the big cities of Portugal, you probably often hear that enchanting sound of the future, as if a ship from a sci-fi movie is flying past you. "Yoummm," it's impossible not to pay attention to it. So unusual and magical is the sound of an electric car. But what was behind this new option – we had to figure out.
So, which option to choose: fuel or electricity? We will divide the article into several blocks according to the key parameters we considered when choosing a car. By the way, we very much welcome the emergence of discussion and reasoning on this subject in the comments – any positive or negative experience, nuances you noticed, life hacks – all this will be useful to the readers of this article.
The cost of filling up a car
Fuel: For residents from the former Soviet Union, the fuel in Portugal will seem very expensive, although the Portuguese themselves will tell you the same – that fuel in neighboring Spain is much cheaper. Prices over the past year have reached €2.20 per liter. For example, filling up a Volkswagen T-Cross 1.0 TSI with 40 liters costs almost €90. One refueling is enough for 550-600 km.
At the time of writing, octane-95 petrol is available for about €1.70 per liter.
The good and surprising news is: despite the initially high bar, fuel prices, like everything else, can not only go up but also fall, and quite significantly! You can see current fuel prices here.
All sorts of collaborations and loyalty programs make buying fuel more profitable. For example, the company Galp has partnered with the Continente supermarket chain. Refueling at these gas stations, you can activate a coupon in the store's app, get some cashback on your loyalty card, and then spend it on groceries.
Electricity: It all depends on where you fill up: at street stations or at home from your outlet (and what kind of plan you use). If the latter, then it is much cheaper. Many companies offer package services with benefits for the customer, such as electricity and gas, or electricity for the house and the electric car, etc.
The price of charging at home also depends on whether you have a simple tariff or one that takes into account peaks and half-peaks in consumption. The article "Electricity tariffs in Portugal" will help you understand this topic.
If you charge your car at night, not only will you get a constantly charged car at a cheaper rate, but also have a more positive impact on the environment because at night, it uses energy from renewable sources that have yet to be learned to store. But even not at night, you will get energy, which, according to APREN (Associação Portuguesa de Energias Renováveis/Portugal Renewable Energy Association), is 60% green energy.
Example from the website of the Association of Electric Vehicles Users (UVE):
To drive about 800 km per month (an average of 27 km) per day will cost:
For a gasoline car: about €86;
For a car with a diesel engine: about €66.
For an electric car:
Charging with PCR – fast charging station: about €48;

Charging at home (simple tariff): about €24;

Charging at home (two-part tariff): about €12.
If you want to understand the parameters of the calculation, you can read the material here.
There are also average data for the costs per 100 km (see picture below):
For a gasoline car: about €9.74;
For a car with a gas engine: about €7.73.
For an electric car:
Public charging: about €6.94;

Charging at home (simple tariff): about €3.43;

Charging at home (two-part tariff): about €2.30.
On UVE's website, you can find a model of cost analysis per trip per 100 km. Among the parameters analyzed are the values of different types of charging stations in Portugal (in the public network), home/condominium charging (simple and complex electricity tariff), and the actual consumption of different models of 100% electric vehicles in circulation in Portugal.
UVE updates the information on this page monthly. The picture shows data for January 4, 2023.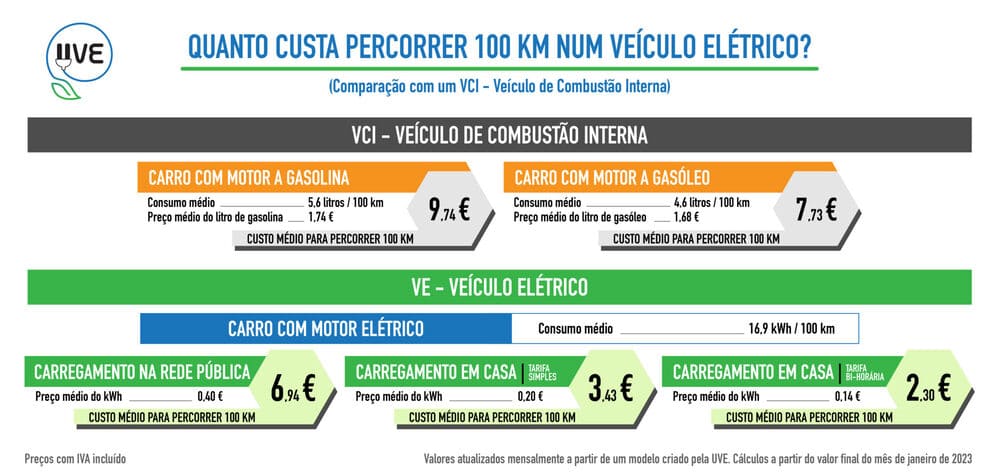 Availability and prevalence of fueling stations
There seems to be no doubt about the availability of fuel stations. Years of industry development have allowed stations to be spread as widely as possible wherever it is profitable and necessary for one reason or another.
Negative comments on the number of fuel stations can be found in the context of electric cars. Therefore we will elaborate on this point specifically for electric vehicles.
The users of such cars we were able to talk to suggested that the argument about the number of charging stations can come from foreigners who came with their vehicles from other EU countries. After all, to pay at Portuguese gas stations, you need to have a local bank card or friends and relatives willing to lend it to you. Local owners of electric cars say this used to be a problem, but now there is at least one solution – the international service MOBIE. In the service, you can link any card and fill up in Portugal.
You can try to determine how complicated the situation really is by using the map of electric filling stations. Still, only fast charging points are shown here, and many more regular outlets exist.
The number of fueling stations in 2016 was 2832, and of electric car charging points in 2021 was 3991 (calculated based on the number of Galp stations and the company's approximate market share). There are also figures about 5100 points for the current year. The tricky part is that a fuel station consists of several columns, whereas by electric refueling points, we mean precisely the outlet, which is somewhat analogous to a fuel dispenser.
So far, we can make a subjective conclusion that there are more fuel pumps, and they have a wider geography.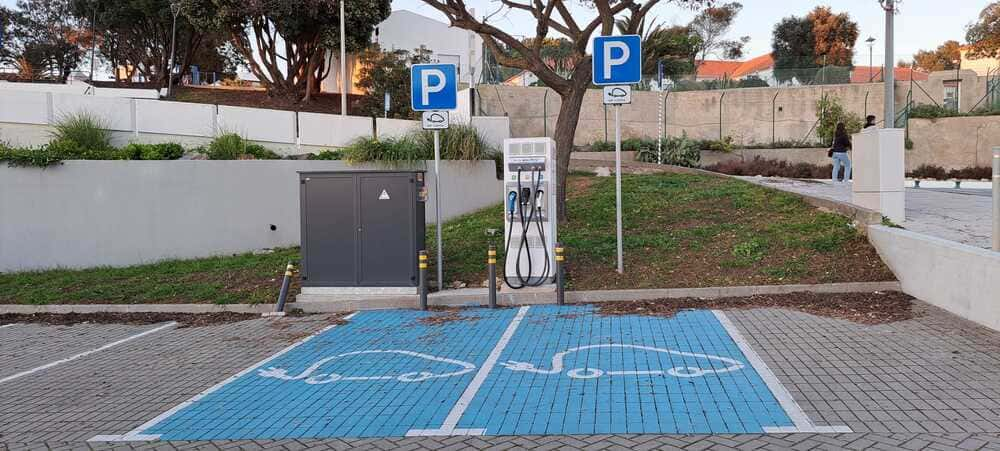 Nevertheless, the dynamics of the proliferation of electrical outlets are astounding. You can have an outlet at home, the city can take care of integrating outlets into current parking spaces, companies are integrating outlets in their territories, and parking lots, and even major fuel brands are adding such options for customers, developing loyalty programs.
Large and medium-sized retail chains significantly contribute to integrating equipment for recharging cars with electricity. Examples include Continente, Auchan, LIDL, Pingo Doce, ALDI, and parking lot chains.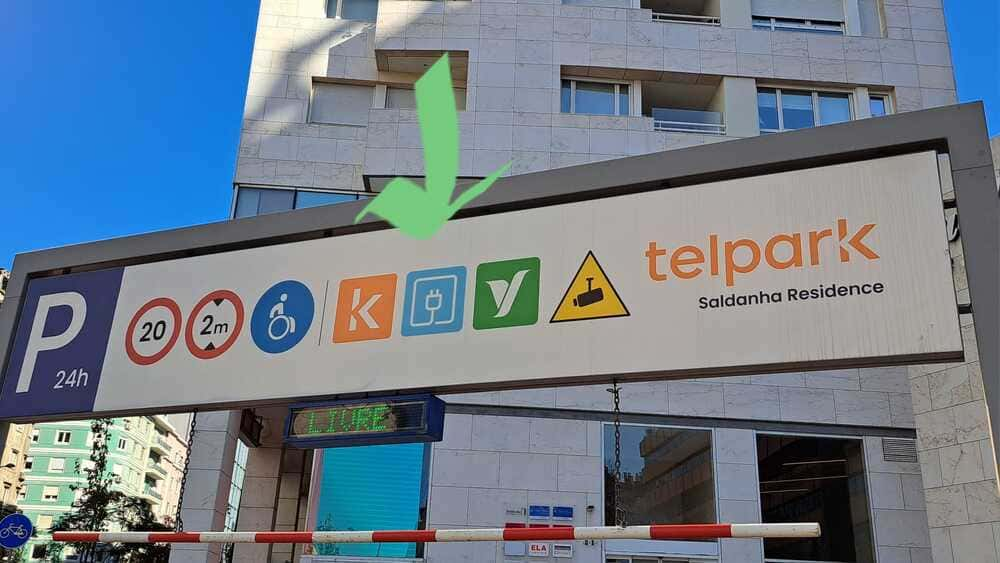 Prime Minister António Costa said at the UN Climate Change Conference in 2022 that Portugal's goal is not only to become carbon neutral by 2050 but to do everything possible to achieve these goals by 2045. Therefore, the dynamics of the appearance of new filling stations for electric cars will only accelerate toward positive values. Yes, we can still assume that there are more gas stations and they are located in the most convenient places, but this may change in the next 5-10 years.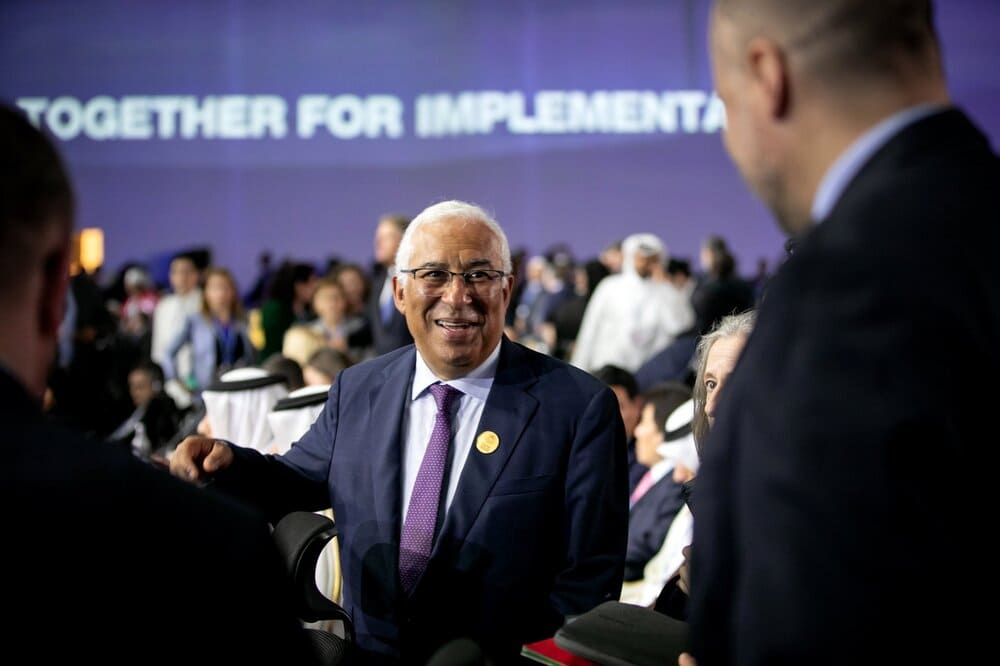 You can also install your own personal "gas station" right in your home or Condominium.
Traveling out of town and over long distances across the country
If an electric car is the most convenient and budget-friendly option for driving around town, especially with your own outlet, what about traveling long distances?
Are there charging stations outside of Lisbon or Porto? How much longer will the trip become because of charging stops?
If your travel territory is limited to Europe, you're not an off-road fan, and auto travel is more of an event than a regular habit for you, that's one set of arguments for choosing a vehicle type. On the other hand, if you plan to drive long distances, stopping by in Lithuania, Estonia, Latvia (countries with the smallest number of available electrical outlets for electric cars), the countries outside the EU, looking for impassable trails, often go to deserted areas, it is another set of arguments.
For both fuel cars and electric cars, planning is essential on any new trip. From north to south, the maximum distance in Portugal is 561 km, which is, give or take, one fuel tank and about two full electric car charges, depending on the model. So it seems that in both cases, planning should not be complex. Still, when calculating a trip to distant cities, it's worth checking out the availability of charging stations. You will find a map of power points and a map of fuel stations at the links.
You can also plan for gas stations along your route via Google Maps, although the location of the filter is not easy to find: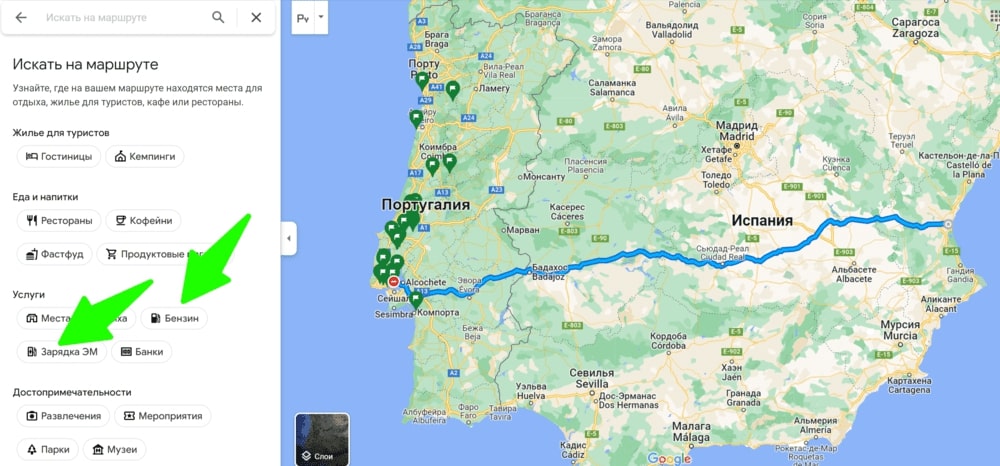 An app for motorists like Wase shows EV gas stations (electric vehicle gas stations) when you enter the appropriate query in a search: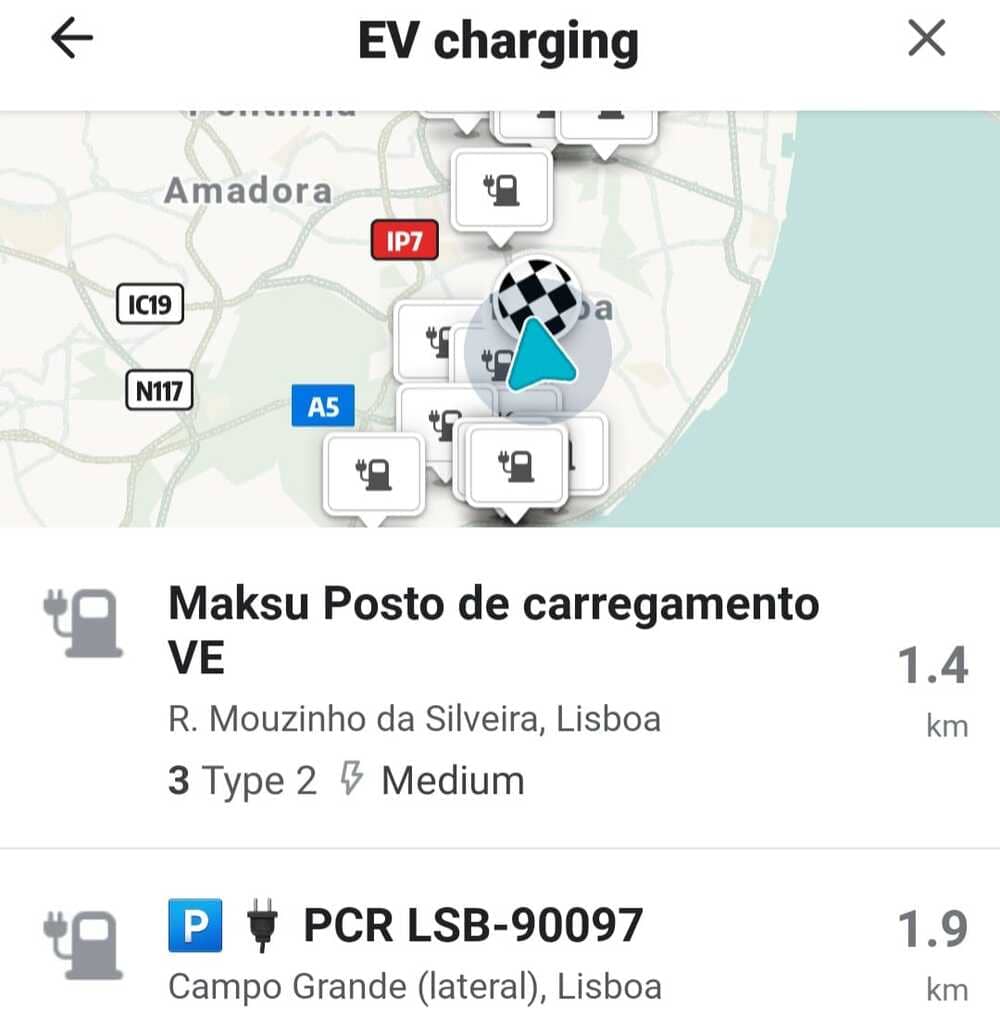 Let's say you pull into a gas station, and now the question is how long the whole process will take you. Filling up with regular fuel can take a few minutes.
Charging an electric car can take an hour and a half to cover the next 100 kilometers, depending on the type of charging point (regular or fast). Also, such factors will affect the increase in time: the vehicle's current charge level, the presence of a queue at the point, and the number of kilometers you still plan to travel.
Managers of various major car brands, when talking about long-distance travel in electric cars, highly recommend planning your trip wisely.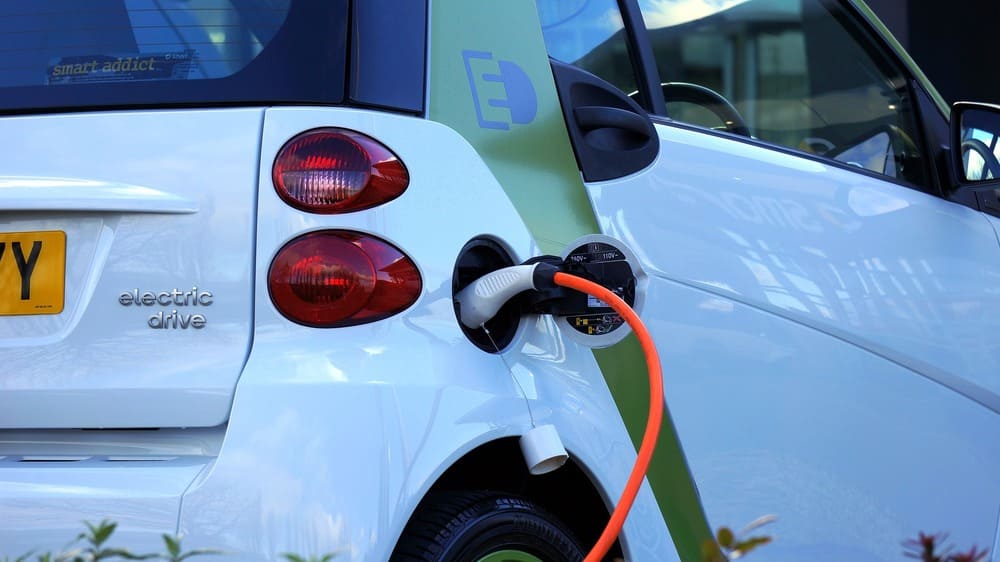 It is the topic of long-distance travel and the uncertainty that in our sometimes tricky routes, we will not be able to find an outlet, or will stand in queues for an extremely long time in non-central regions or on highways, that determined our choice in 2021 in favor of a fuel-efficient car.
Speaking of lines, it's worth noting that while fuel prices have dropped significantly, we've also seen large lines at fuel stations.
Suppose you want to take a can of fuel with you, just in case. Keep in mind that in Portugal, it is forbidden to transport more than 10 liters of fuel (and only in a special container), as well as to store it in a residential building. An individual can, at best, receive a fine of up to €2,500 and, at worst, negative storage consequences. On the website of the IMT (Institute for Mobility and Transport), you can explore in more detail the lists of substances that are prohibited or have significant restrictions on transportation.
In the case of an electric car, in theory, you can ask people to plug into their regular outlet (cable usually comes with it) if you're stuck somewhere and almost run out of battery.
A philosophical question is how often you might have these situations within the EU.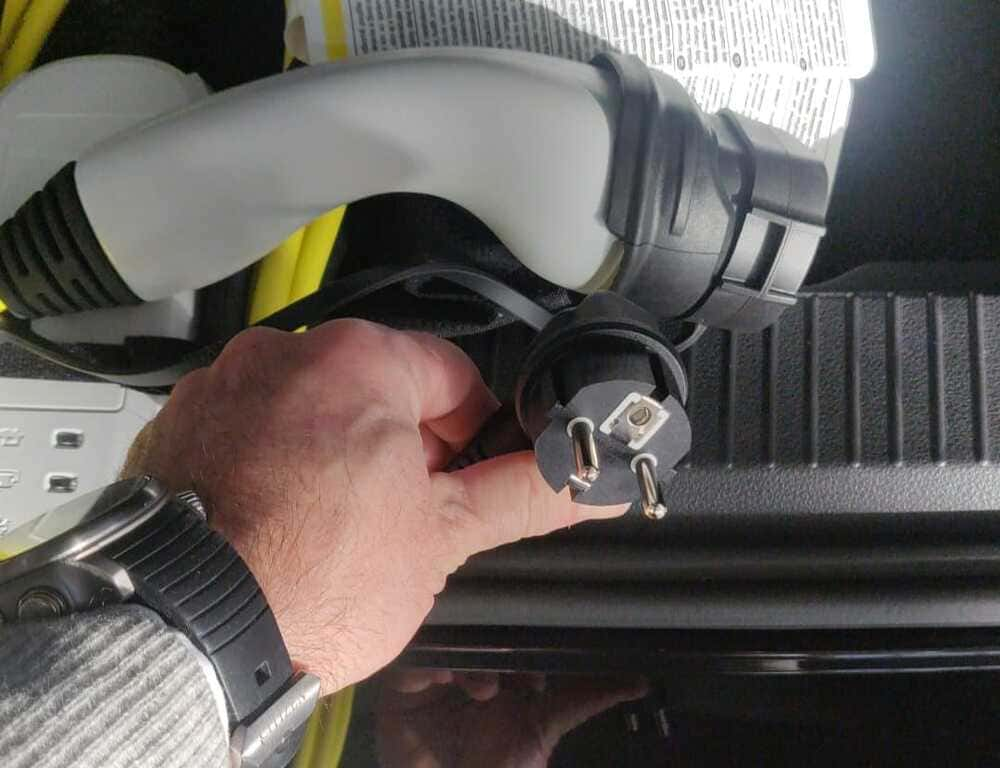 When planning to travel to other cities, you can choose an EV charging station filter on Booking or Airbnb to help filter out places to stay with electric vehicle charging. Admittedly, the filter is pretty tough at the moment and cuts off what feels like 98% of all options.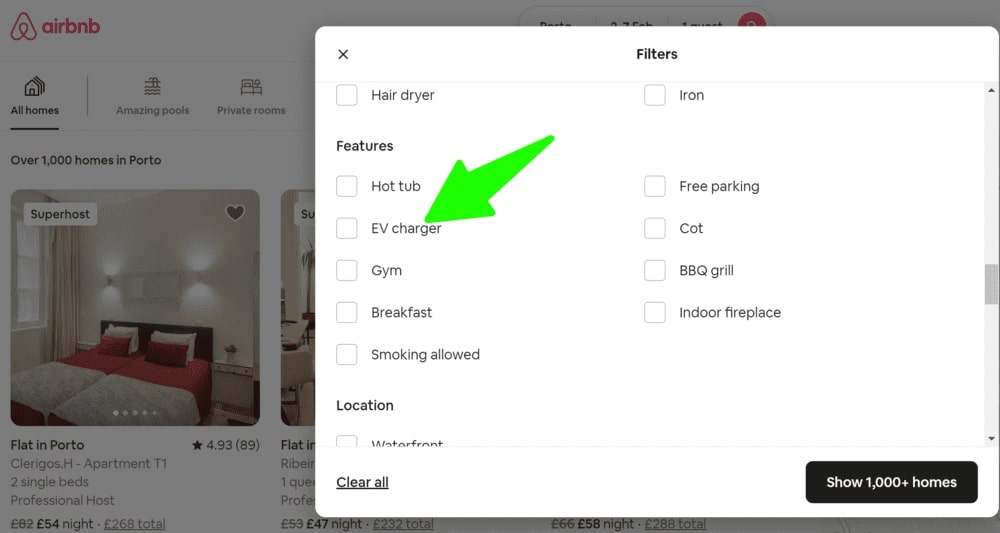 The difficulty of having your own electronic outlet in an apartment building (Condominium)
This point applies only to electric cars.
The mere possibility of personal "fill up" is striking.
However, the main problems, as noted by many reviews and eco-activists, begin when you try to install an outlet for your electric car not in private but in an apartment building.
One Volkswagen showroom manager says that in Portugal, owners of electric cars are legally protected, and problems can only arise if the participants are not aware of the local law. You can read more in the law Decreto Lei n.º 90/2014, de 11 de junho. The technical guide, the minimum technical requirements, and other helpful information are collected on the website of UVE, the Association of Electric Vehicles Users.
In short, there is no need to bring the issue to the annual meeting of tenants, it is enough to notify the administration of the apartment building, and then you should be offered options to solve the problem, or you look for it yourself and apply to companies for the installation of equipment.
Variety of models and cost
In general, it is striking how the number of electric and hybrid options on the websites of famous car brands has increased dramatically, which could not be found before. But no one is going to forget about fuel cars yet, either.
A car in Portugal is more expensive than its counterparts in other European countries. At the time of searching for car prices, alas, we were not pleased. Suppose you want to drive an automatic car, which is usual for many people. In that case, you will have to pay extra money, on average from €3-5 thousand, compared to the mechanical version of the car of the same brand.
If your choice leans toward the electric car, you will have to count on an even larger budget. For example, the cost of a Volkswagen electric car starts at €43,000, Nissan at €29,000, Volvo at €50,000, Lexus at €54,000, Tesla at €48,000, etc. You can also find mini electric cars that will be cheaper, such as the Mercedes smart EQ fortwo from €23,000. We found the list of the most affordable electric vehicles in Portugal for 2022 here. You can also get acquainted with the new electric car brands at ECAR Show Show which will be held from May 12 to 14, 2023, in Lisbon.
Part of the money from the purchase of an electric car can be returned, namely from €3,000 to €4,000. Such an initiative was created in 2017 by Fundo Ambiental (Environmental Foundation) and is still in effect. You can find out more on their website and apply online.
Some users write that it is not easy to get the deduction because you have to have time to apply because of the limited budget allocated to this initiative. The organization specifies that they will be on a waiting list even if users don't make it to this year's refund. By the way, refunds are also available for the purchase of electric bikes, e-bikes, e-motorcycles, e-cargo e-bikes, and e-mopeds.
If a new car is not in your plans right now, and you need to drive, there are other options: buy a used car, lease or rent one. You can buy a used car from €1,000 to several thousand €, usually fossil fuel cars, with a manual transmission and the risks that any used car has. There are used electric cars, but they are more expensive than their fuel-powered counterparts. And that's where another fear comes in: the limited battery life and the cost of replacing it. We'll look at this point in the next section.
The cost of maintenance
With fuel cars in general, everything is clear: service in the first 2 years, and/or after 30,000 km, and/or if the on-board computer of the car itself asks. It is the same with electric vehicles, but without the limit in kilometers.
The difference lies in the potential for problems.
According to the UVE website, electric cars have no more than 1% of the moving parts compared to an internal combustion passenger car and no oil, filters, belts, plugs, or coolant, which means no potential problems or regular replacement of components and fluids.
Compared to fuel cars, the Achilles' heel of electric ones is the battery. There are reviews on the Internet about the high cost of replacing the power units, which make up the bulk of the cost of the car. The likelihood of the battery failing exists. In response to past problems, car brands have begun to expand warranties, including on batteries. The most well-known brands have a battery warranty of 8 years or 160,000 km on their website. It generally closes this issue for new cars and partially for used vehicles still under warranty. We can assume there are risks in buying an electric car close to the warranty expiration date. We can also assume that prices for electric vehicles fall more significantly after the warranty than for those with fuel tanks. Now, gradually emerging companies can supply you with a non-new or non-branded battery and save you a budget. Some companies will help adapt non-car batteries for your home needs, where you can get by with less performance.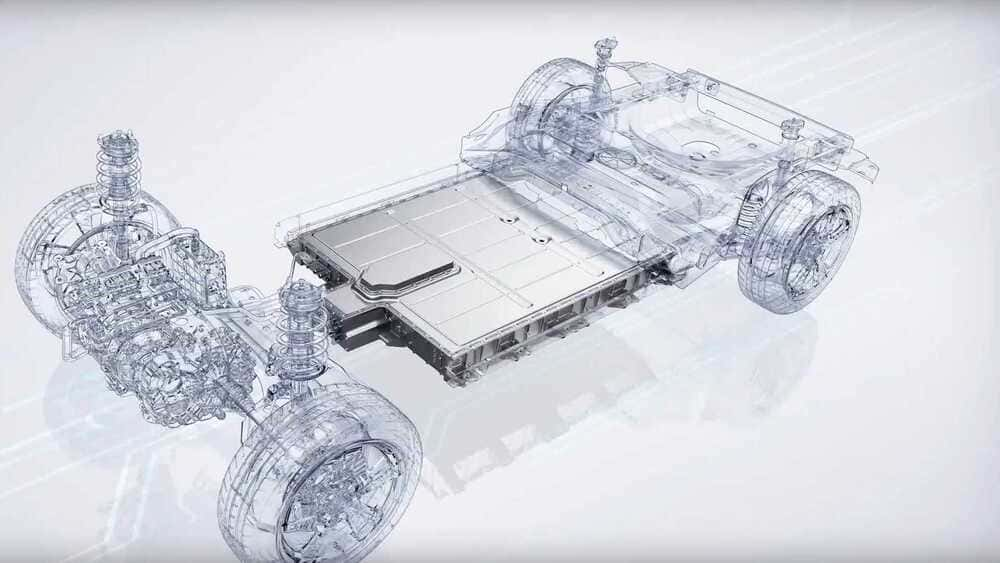 As salon managers explain to me, many negative feedbacks about batteries most often comes from cab drivers who use electric cars for their professional activities. They are forced to charge several times a day from fast chargers. Car batteries are simply not adapted to this frequency of rapid charging and exhaust their resources relatively quickly.
If we abstract from the battery issue, the cost of annual maintenance is estimated by the UVE for a fuel car at €180 and the electric vehicle at €50 (not including possible breakdowns).
The cost of car insurance
To understand the prices, we can say that the insurance for the 2023 Volkswagen T-Cross 1.0 TSI fuel car was €628.
Referring to the agent of the Fidelidelade insurance company, the insurance cost depends on many factors: age, driving experience, place of residence, car model, and engine power. It is impossible to compare the insurance cost for electric and fuel cars.
By the way, the insurance company Fidelidade, for example, has an app called Drive, which allows you to get points for driving according to the speed limit and other traffic rules. Points can be used to buy vouchers for purchases at partner stores (grocery stores, gas stations, etc.).
Extra privileges, bonuses, and cashback
As they say, the cherry on the cake is the extra benefits we can get.
We've already discussed loyalty and partnership programs like Galp+Continente for fuel stations and government cashback for electric car purchases.
It seems that electric cars would have significant advantages at this point.
For example, owners of these cars can get a special sticker that will allow them to park for free in various central locations of Portuguese municipalities. In the Portuguese capital, Lisbon, for example, you can order a special green parking disc for €12 per year, which will allow you to park for free in all limited parking spaces, in paid areas, without spending a parking fee and without time limit, including in the city center.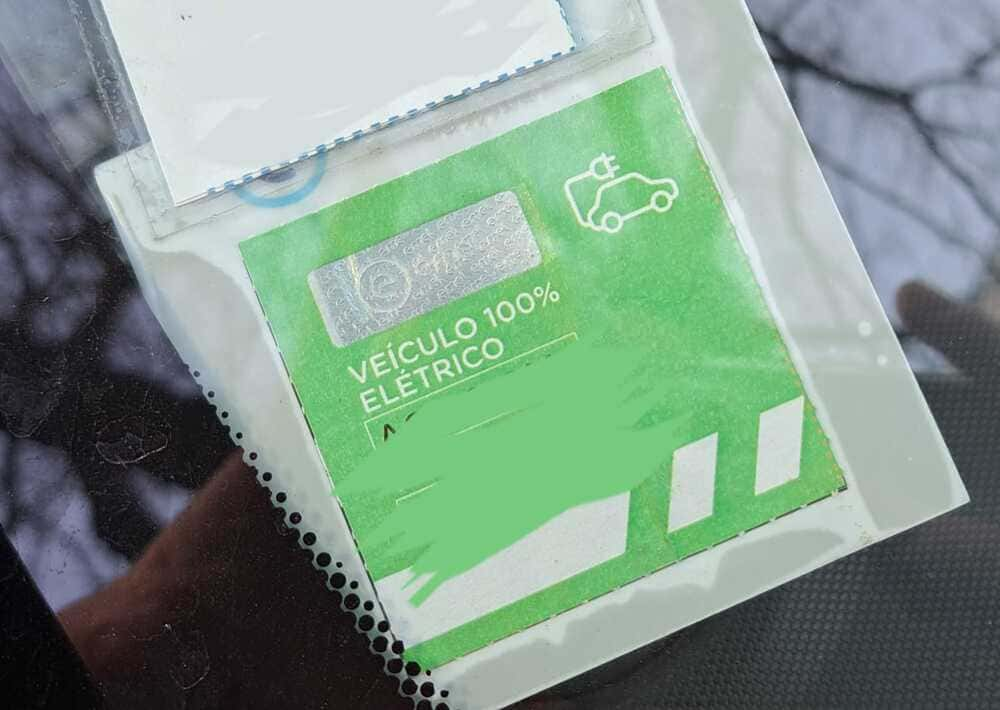 Electric cars are also exempt from the single turnover tax (IUC - Imposto Unico de Circulacao) and transport tax (ISV - Imposto Sobre Veículos). For example, the IUC we paid in January 2023 was €144. Two factors are considered when calculating the ISV: the volume of the engine and the level of CO2 emissions of the car. Therefore, owners of electric vehicles are exempt from it. This tax is paid when buying a new/used car or transporting your own vehicle to Portugal and obtaining Portuguese license plates.
There is information that it is planned to create a ZER- Low Emissions Zone in the historic center of Lisbon (Avenida da Liberdade, Avenida Almirante Reis, and Baixa-Chiado). They plan to minimize harmful emissions from transport and businesses in this zone. And, of course, electric cars will be the vehicles that can drive and park in this zone in the future. At the time of writing, we could not obtain information on this project's stage.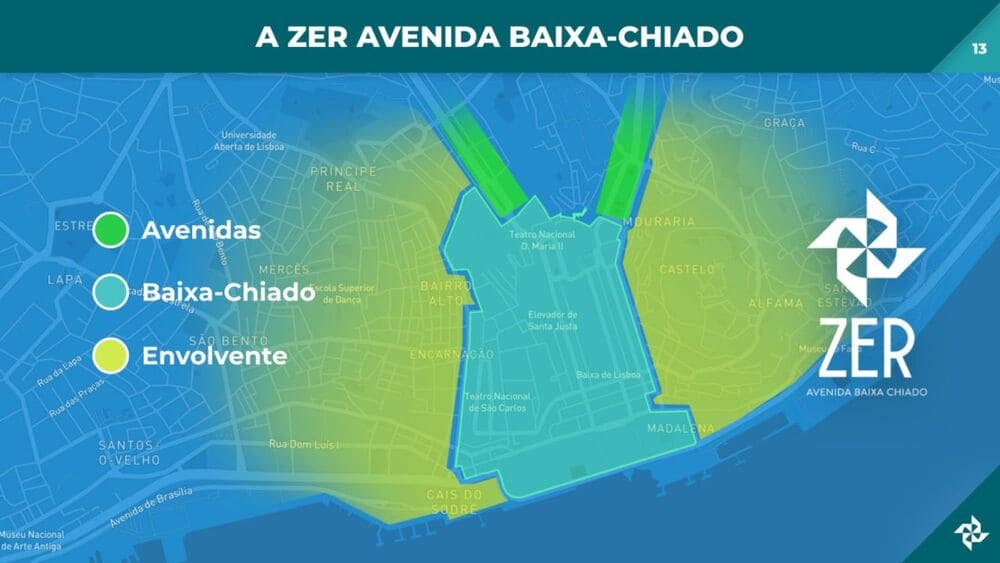 Ecology

Having a whole plan for carbon neutrality from the Portuguese government already impresses our unsophisticated imaginations.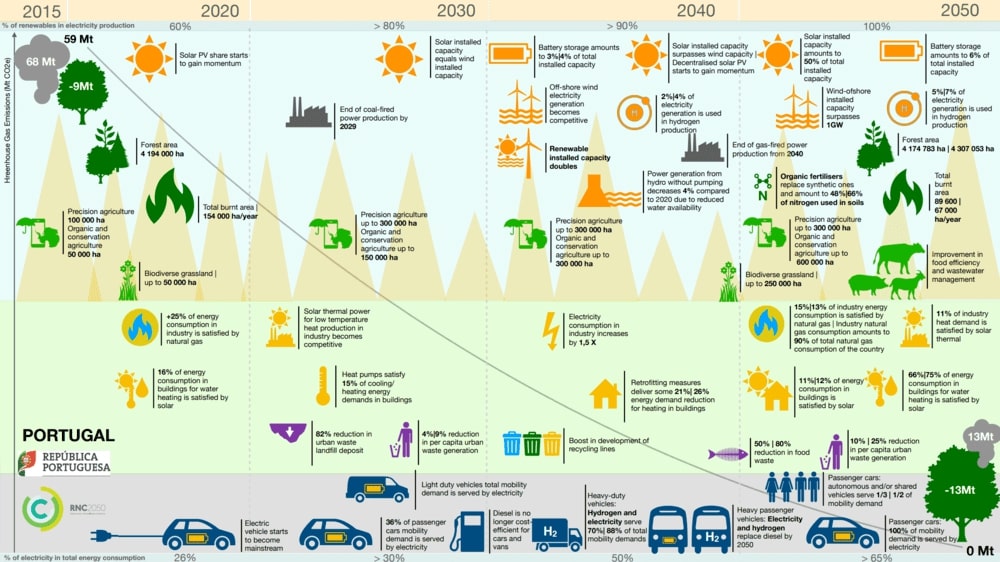 The image is taken from the Roadmap for carbon neutrality by 2050.
So many initiatives catch your eye as soon as you enter the country. From trash sorting, volunteer initiatives to clean up the oceans, forests, and beaches, and gratuitous donations, to initiatives that are not so visible, such as teaching respect for animals and nature at schools, public events, etc.
And, of course, your car of choice gets on this eco-friendly map with a plus or a minus sign, depending on the type of car. As many eco advocates say – we don't have a second planet.
We recommend watching the video where the influence of different types of transport on ecology is revealed more widely, and several myths are debunked.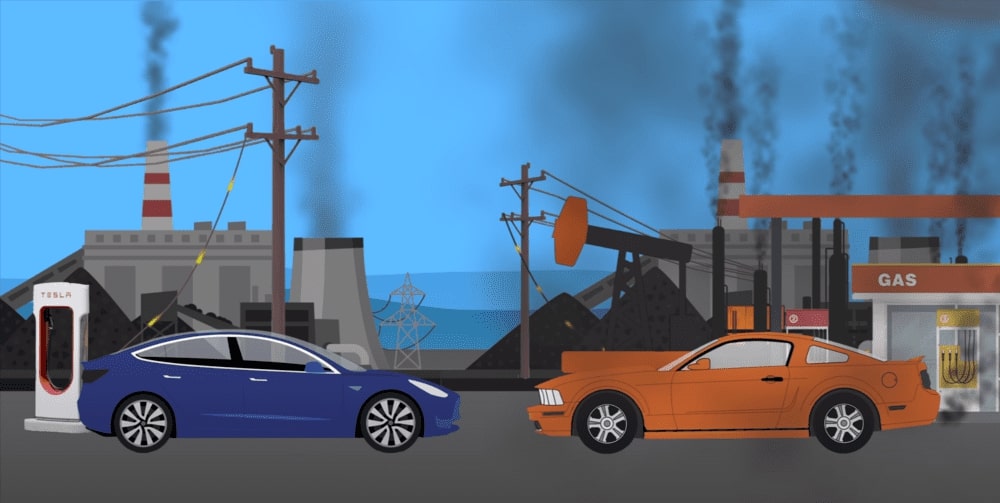 The conclusion from the information provided in the video is that, despite the statements of some people about the "non-greenness" of electric cars and energy from renewable sources, electric vehicles are much less harmful to the environment and humanity, including you and me.
In 2020, Lisbon was recognized as the green capital of Europe. And the Portuguese government and residents themselves are not going to stop there. So far, everything points to the desire to depend less on fossil fuels, to breathe clean air, to make the traffic on the streets quieter, the life in cities more comfortable, and the population healthier.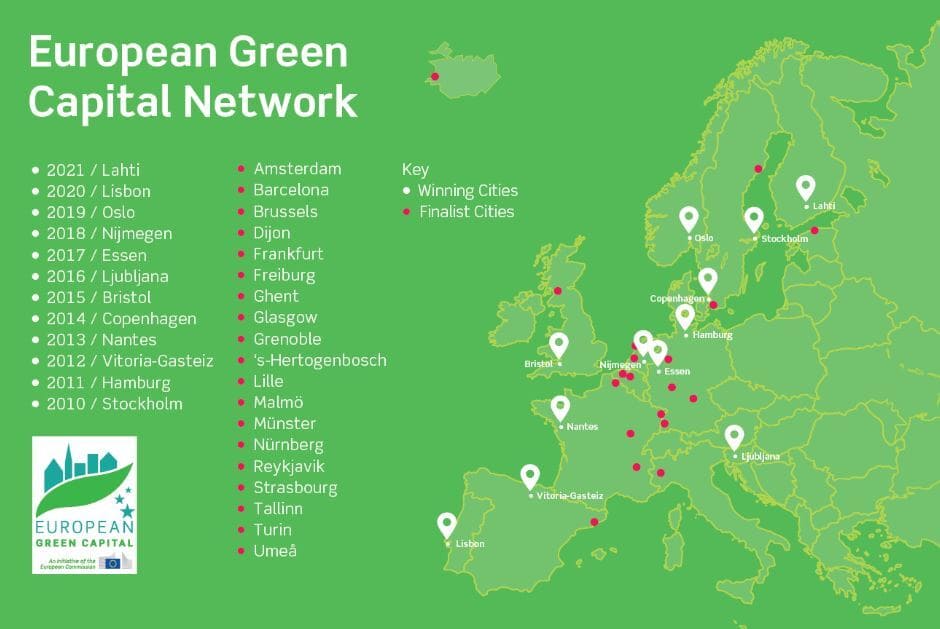 Let's finalize by saying that when choosing a car, everyone will be guided by arguments that are important to them. We hope that in this article, we answered the key questions or even motivated you to new searches.
Additionally, we want to give some classification of cars so that you can imagine the variety of options depending on the energy source because there are not only fuel and electric cars but also options in between.
Fuel cars:
Gasoline-powered vehicles: vehicles with internal combustion engines that use gasoline as fuel.

Diesel cars: cars with internal combustion engines with diesel as fuel. According to subjective estimates, such vehicles are quite common in Portugal, and diesel is cheaper than gasoline.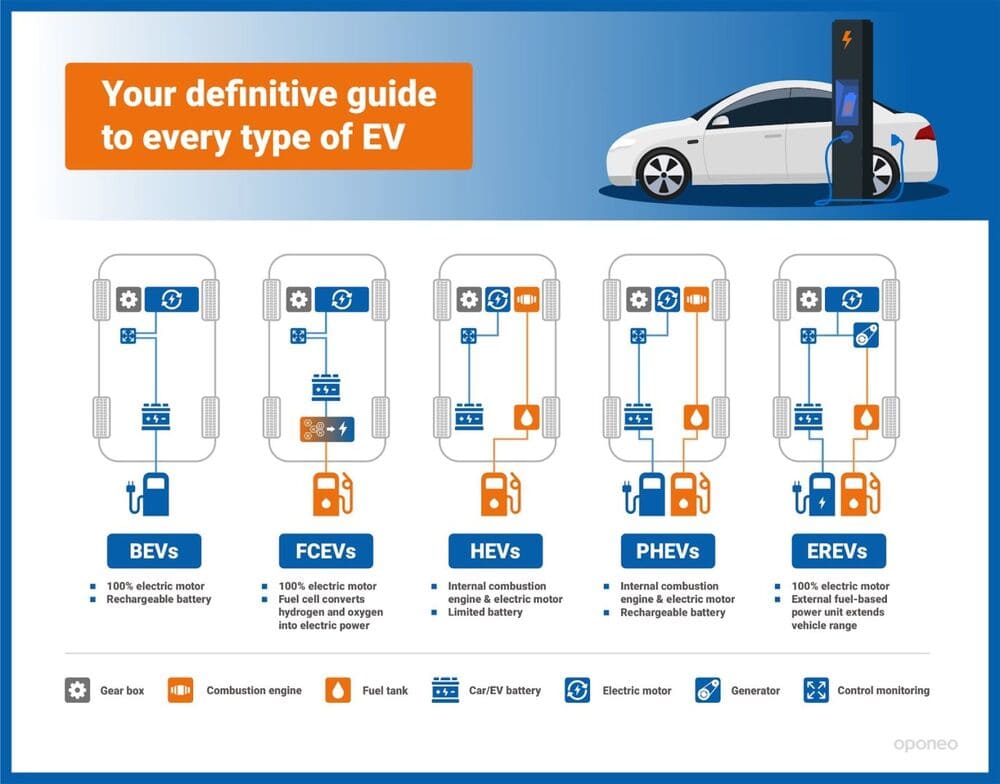 EVs:
100% Electric, BEV (Battery Electric Vehicle), or Pure Electric Vehicle. It is a vehicle that, as an exceptional means of propulsion, has one or two electric motors powered by batteries charged through a connection to the electric grid.
Combinations:
Fuel Cell Vehicle or FCEV. This vehicle has a 100% electric motor but gets its energy from fuel. This vehicle is fueled and not plugged into a wall outlet.

Hybrid Vehicle or HEV. It is a car that uses a fuel-powered engine to drive but uses an electric motor for light-duty applications, such as driving at low speeds around town. The vehicle is not charged from an electrical outlet like a PHEV but only fueled.

Plug-In Hybrid Electric Vehicle, PHEV, or parallel hybrid. It is a vehicle that, in addition to using an electric motor to drive, also uses a second fuel-powered engine. However, the batteries can be charged from the mains.

Extended Range Electric Vehicle or EREV. It is identical to the 100% Electric Vehicle but includes an extra engine with a different fuel that serves as a generator to charge the vehicle's batteries while driving. These vehicles use only the electric motor as the means of propulsion. You can charge the batteries through a mains connection.
You might also want to read this short article explaining the terminology of electric cars.