When people think about immigration to Portugal, they often look at the city of Lisbon first. And this is not surprising because the Portuguese capital has a lot of advantages. Developed infrastructure, the highest quality of life, and many opportunities for work, study, and development - in this regard, Lisbon has no equal in all of Portugal. Therefore, it would seem that there are some advantages, but real estate prices in the city are growing from year to year, and this growth is so noticeable that even many Portuguese cannot stand living in such an expensive city and gradually move to the vicinity of Lisbon or other regions.
Suppose you have already decided that you want to live in Lisbon, but understand that your budget does not allow you to rent or buy housing directly within the city. In that case, we suggest that you consider some great alternatives, namely the 5 best cities close to Lisbon, where life can be as comfortable as possible and not as expensive as it is in the capital of Portugal.
Odivelas
First of all, we recommend that you pay attention to the city of Odivelas (port. Odivelas), which is a part of the "Greater Lisbon" (cities located near the capital). Odivelas became an autonomous municipality about 20 years ago. According to the 2021 census, the number of inhabitants of this municipality is 144 thousand people.
The most significant advantage of this city is that it is connected to the Portuguese capital by the yellow metro line, so if you intend to visit the center of Lisbon often, then this city will be an ideal option for you, because traveling by metro in Lisbon is much faster and more convenient than by private transport or by buses, which are often stuck in traffic jams.
Odivelas is located about 11 kilometers from the center of Lisbon, and if you want to travel to the capital by bus, then such a bus trip will take about 16 minutes (if there are no traffic jams, which is very rare for the city). But as we wrote above, you can travel both by metro and by private car, so you will have a lot of options to get from Odivelas to Lisbon. For example, if you desire to travel by taxi, an Uber ride from Lisbon's Marquês de Pombal Square to Odivelas will cost around 16 euros.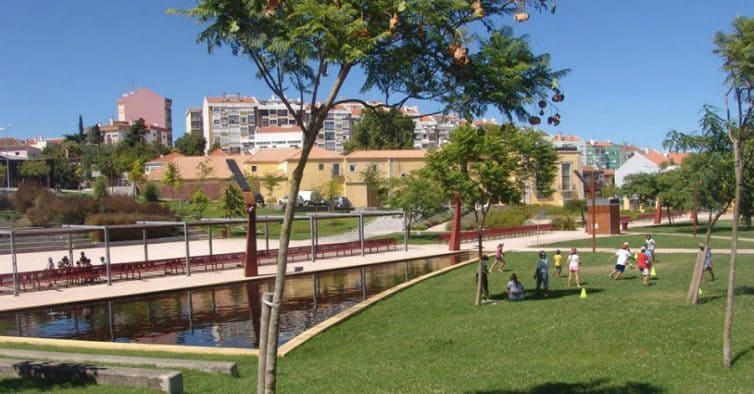 Living in the city of Odivelas can be an excellent choice for those looking for a good quality of life but still want to be close to Lisbon. Within the municipality and the city, you will find a lot of shops, restaurants, cafes, supermarkets, public health facilities, private clinics and hospitals, cinemas, and cultural centers. There is even a full-fledged shopping center in the city, known for its discounts, Strada Outlet Shopping, and people often go to this outlet from Lisbon, so everything is definitely good concerning infrastructure in Odivelas, and you will not need anything more.
Concerning safety, the city is also relatively calm. Although it has certain "social areas" that are better to be avoided, there are such places in absolutely every city in Portugal.
Well, let's view the cost of apartments for rent in Odivelas, given that the high housing prices in Lisbon were the main factor that motivated us to look for options around the capital. To do this, we use the well-known real estate portal Imovirtual.
So, when searching on this portal, we can find that even for 350 euros, you can rent a small studio within the municipality. Apartments with 1 bedroom and 1 hall can be found in the range of 450-500 euros, and if you want to live close to the metro station, then the prices for such apartments start from 600 euros, as we can see in the picture below.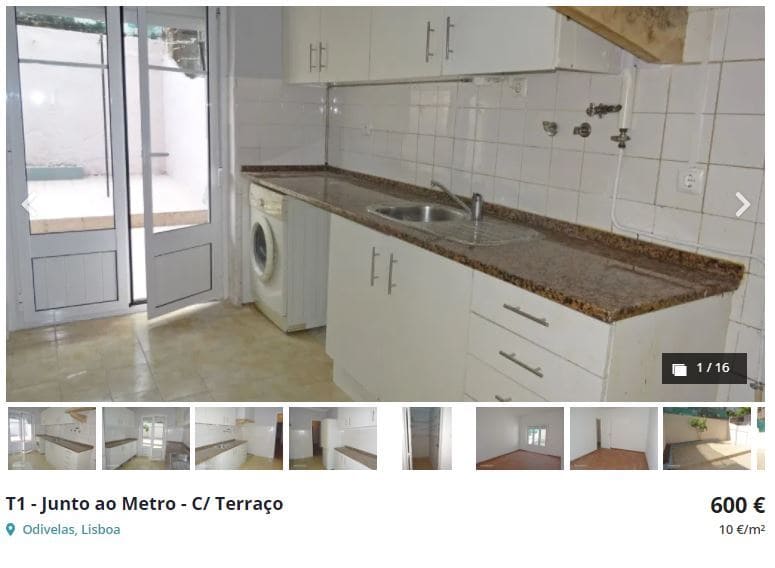 Well, the prices in Odivelas cannot be considered as inexpensive, but they are definitely much lower than in Lisbon.
Loures
The next city on our list is Loures (port. Loures), which, like Odivelas, is part of the "Greater Lisbon". About 27 thousand people live straight in the city, and within the municipality of the same name, the population is 200,000 people.
The city of Loures is a well-known uptown as it has long been inhabited by workers and students who travel to Lisbon every day to work or study. Unfortunately, there is still no metro line that connects Loures to Lisbon. However, a project to create a light surface metro is planned to be implemented in 2025.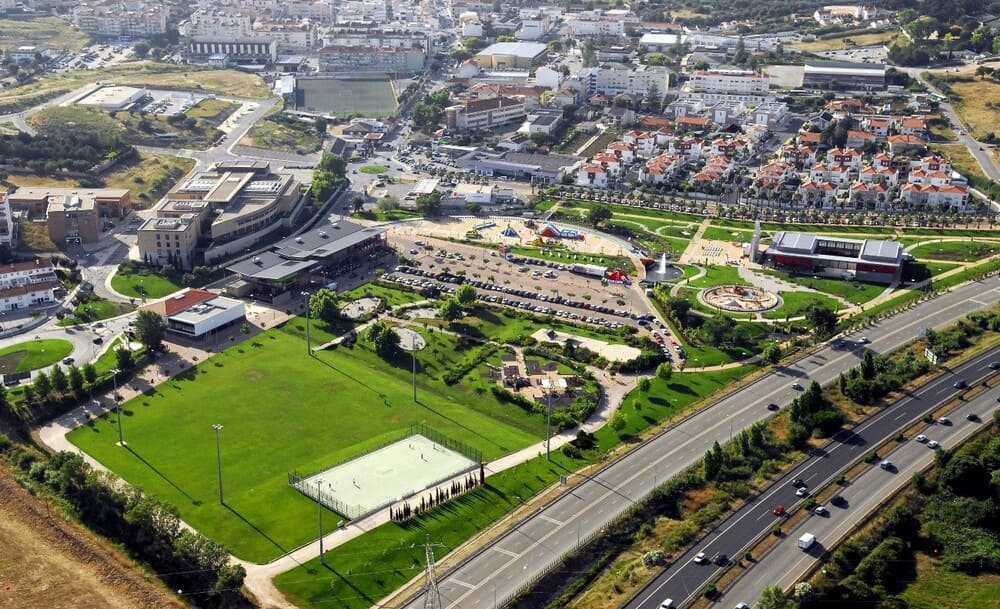 Although this can be a problem, especially if you want to travel to Lisbon every day during rush hour, there are currently many bus routes in the city that run to Lisbon, and there are also many highways that you can use in case you have your own car in Portugal.
The distance from Loures to the Marquis de Pombal Square in Lisbon is approximately 16 kilometers, and this journey can be made from 20 minutes to an hour or more, depending on what time you will be traveling and whether you can avoid traffic jams. If you're going to order an Uber, get ready to spend about 16 euros for the trip.
As a high-density uptown community, Loures will provide you with the best infrastructure available, from medical centers to public and private schools, restaurants, shops, parks, and shopping centers. The municipality also has many museums and even palaces, so you don't have to go to Lisbon for cultural life.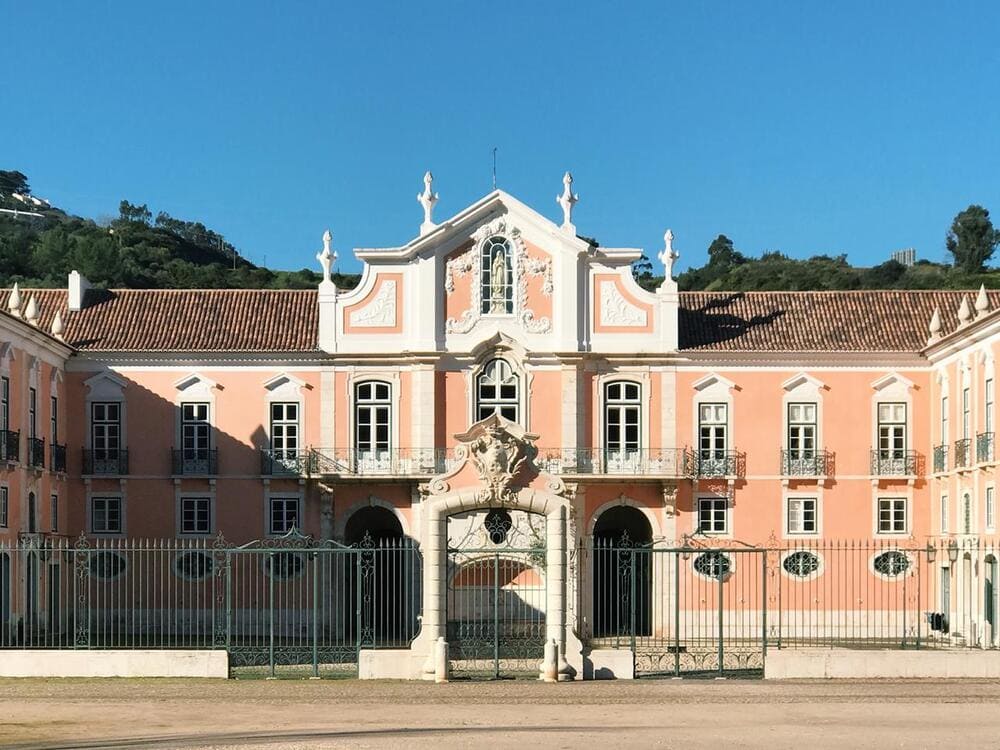 Well, let's check how much you can rent an apartment in this city. On the property search portal, you can already see that you can find small apartments or studios for 300-400 euros within a given municipality. More spacious apartments can be rented starting from 500 euros, so in the picture below you can see an example of an apartment with 2 bedrooms and one hall for 550 euros. And if you want to live directly in the center of the city of Loures, then apartment prices start from 600-700 euros per month.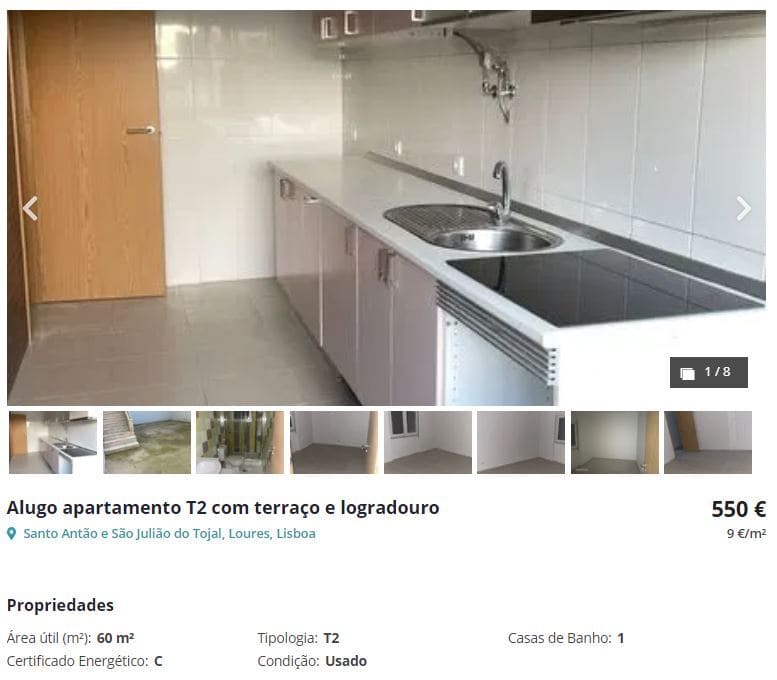 Oeiras
Oeiras (port. Oeiras) is a city located on the coast of the Atlantic Ocean, 16 km west of the center of Lisbon. Like the previous cities from the list, it is also a part of the "Greater Lisbon", but unlike the other two cities, which can be attributed more to uptown areas, the location of the town of Oeiras makes it as attractive as possible for those who want to live on the ocean.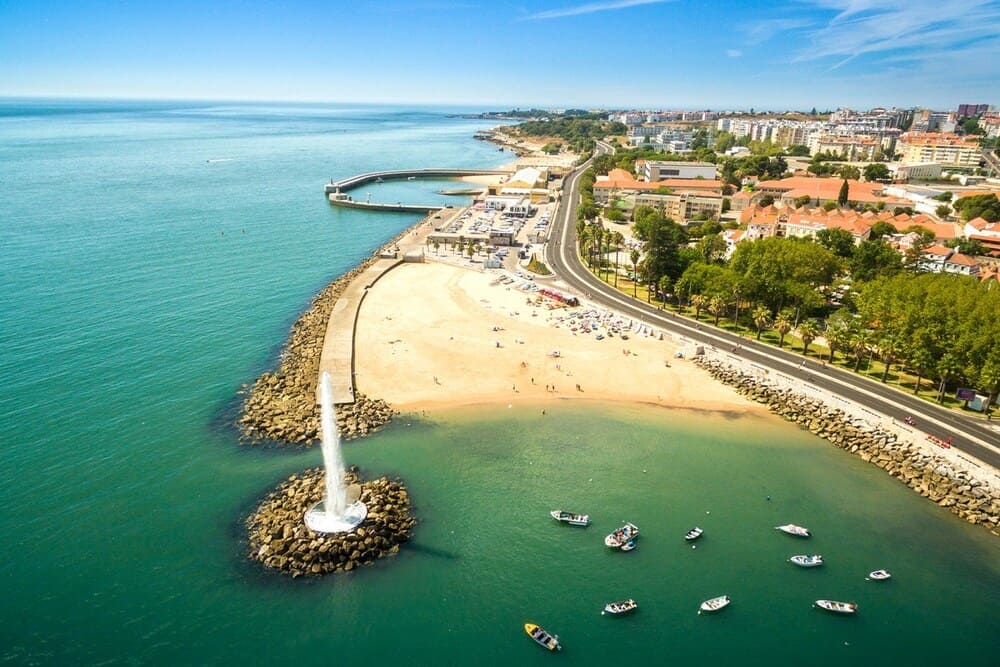 Oeiras is considered one of the best municipalities in Portugal to live in and is known as one of the regions near Lisbon with the highest income per person in Portugal. This is no coincidence because it is here that the population with the highest level of education is concentrated. Due to the concentration of technology companies, this municipality is often referred to as Portugal's Silicon Valley. There are a lot of business centers in the area, where there are Portuguese offices of such international companies as Nestlé, McDonald's, P&G, Cisco, HP, Dell, Epson, Samsung, LG, Philips, Intel, General Electric, Colgate-Palmoline, Johnson & Johnson, BP, L'Oréal, Oracle and many more.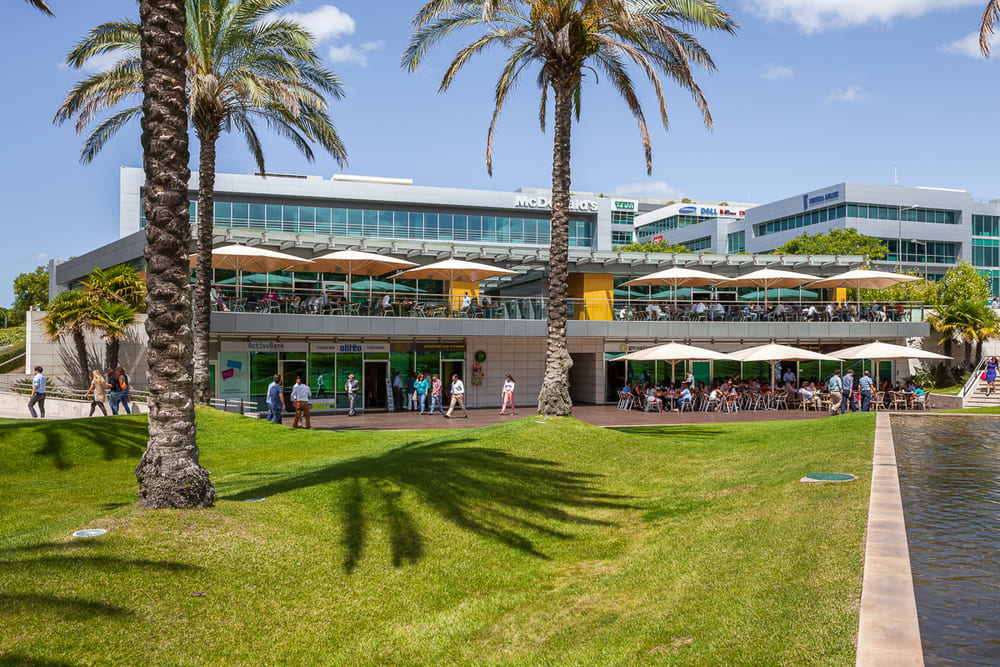 The distance from Marquis de Pombal Square in Lisbon to Oeiras is 17 kilometers. If you travel by private car, such a trip can take from 20 to 60 minutes, depending on the time of day and traffic jams. Also from Oeiras you can get to Lisbon (Cais do Sodre station) by city train without transfers, in about 20 minutes (about 8 stops). This is very convenient, mainly because there is still no metro in the city. An Uber taxi ride from Oeiras to Lisbon can cost around 21 euros.
As Oeiras is located on the coast of the Atlantic Ocean, its main advantage is the availability and accessibility of beaches, of which there are as many as 12 within the district. In addition to the beaches, there is also an ocean pool with a capacity of about 1,000 people. Furthermore, the city has a fairly long promenade, which is excellent for hiking, jogging, cycling, etc.
Also, in the district, there are many parks, sports complexes, a palace, and an aquarium (Vasco da Gama Aquarium). In addition, the region has a massive number of restaurants, shops, and shopping centers, the most famous of which is Oeiras Parque. In general, concerning infrastructure, Oeiras can even compete with Lisbon because it has everything that may be needed for a comfortable life.
For the readers of this article, it may seem strange that we do not mention either Cascais, Sintra, or Carcavelos within the framework of this material, but we remind you that the purpose of this article is to find better and cheaper alternatives for living than in Lisbon. The zone of Cascais and the cities located in the coastal area is quite a premium place, respectively, real estate prices there are also very, very high. Let's check the cost of renting apartments in Oeiras in the winter of 2022.
Starting from 500 euros, various options for small studios appear on the property search website, and starting from 600 euros you can find many options for apartments with 1 bedroom and 1 hall. You can see an example of such an apartment in the picture below.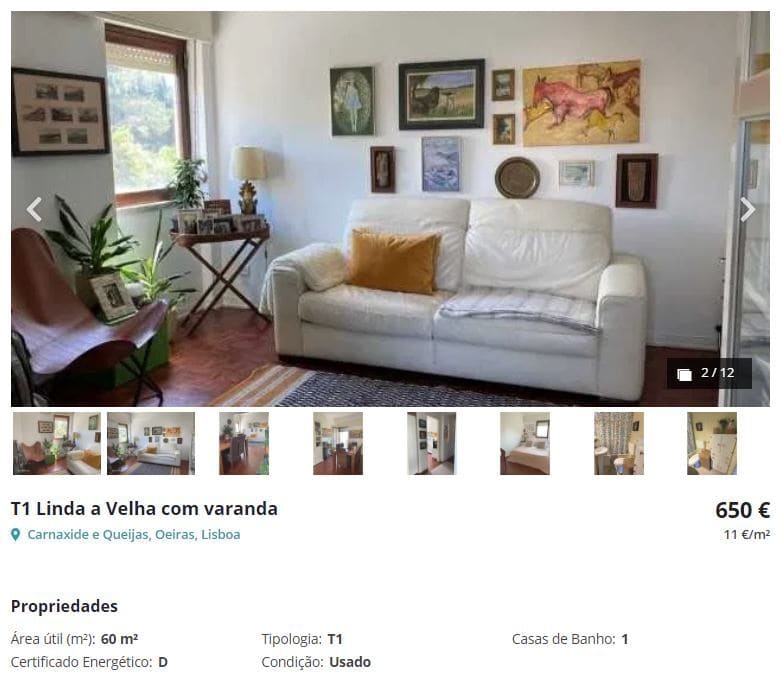 Well, the prices here are much more affordable than they are in Lisbon or Cascais, and the proximity to the beach and excellent infrastructure make Oeiras a great place to live near the capital of Portugal.
Amadora
Amadora (port. Amadora) is a city that is a part of the "Greater Lisbon", with a population of 175,135 inhabitants within the municipality of the same name.
This city is usually chosen by those who want to save on housing, with much cheaper rent and purchase.
To get to Lisbon from Amadora, you can use the metro, train, or bus, and a private car or taxi.
The city is located just 15 kilometers from Lisbon, and this distance can be covered by car without traffic jams in about 20 minutes. The bus ride also usually takes about 20 minutes, and the S-Bahn to Sete Rios station will take about 10 minutes. And the metro (which has the advantage that it runs more often than the city trains) will take the same time.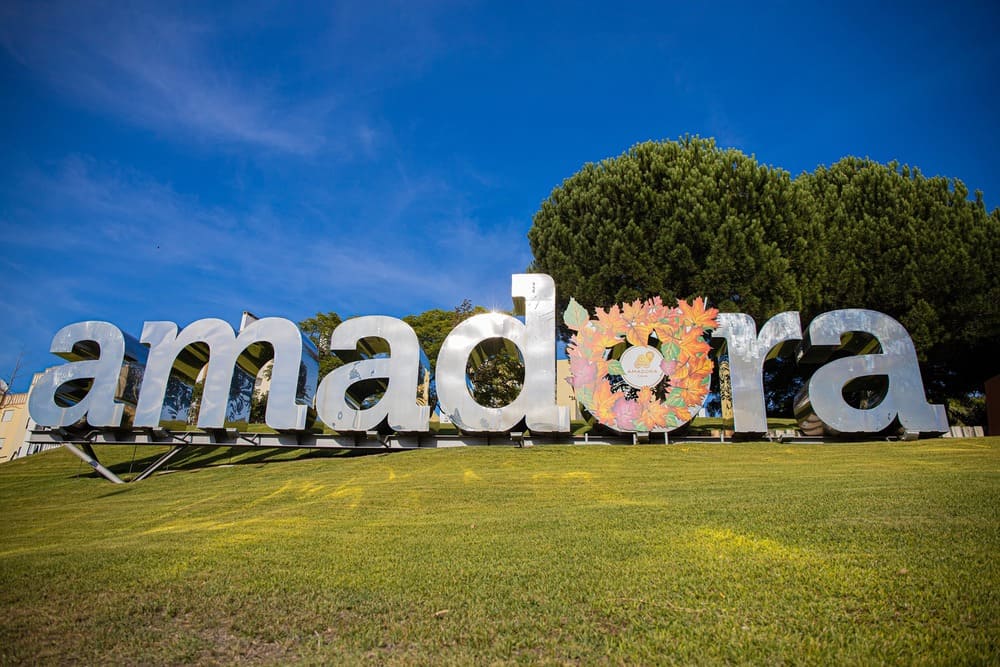 In general, Amadora is relatively safe, except for some specific places in the area known for their social problems and drug trafficking, but as we wrote above, there are such places in all cities of Portugal. We recommend avoiding problem areas, including 6 de Maio, Cova da Moura, and Bairro Casal da Mira. It is essential to constantly monitor the dynamics in this area because social areas can grow or change their location, so it is important to know and avoid them. If you cannot assess the degree of safety of the area on your own, we recommend that you use the services of real estate agents in Portugal who can help you choose a safe and comfortable place to live.
The region has many schools (public and private), medical centers, many shops, restaurants, parks, and the Ubbo shopping center is one of the largest shopping centers in Portugal. So concerning infrastructure, the city is very developed, and you will not feel a lack of certain goods or services there.
Amadora is relatively low compared to Lisbon when it comes to housing prices. Starting from 500 euros within the municipality, you can find studios, and for around 600 euros you can choose from many different options with one bedroom and one hall, often newly renovated. So, for example, in the image below you can see an example of an apartment with a new renovation for 575 euros.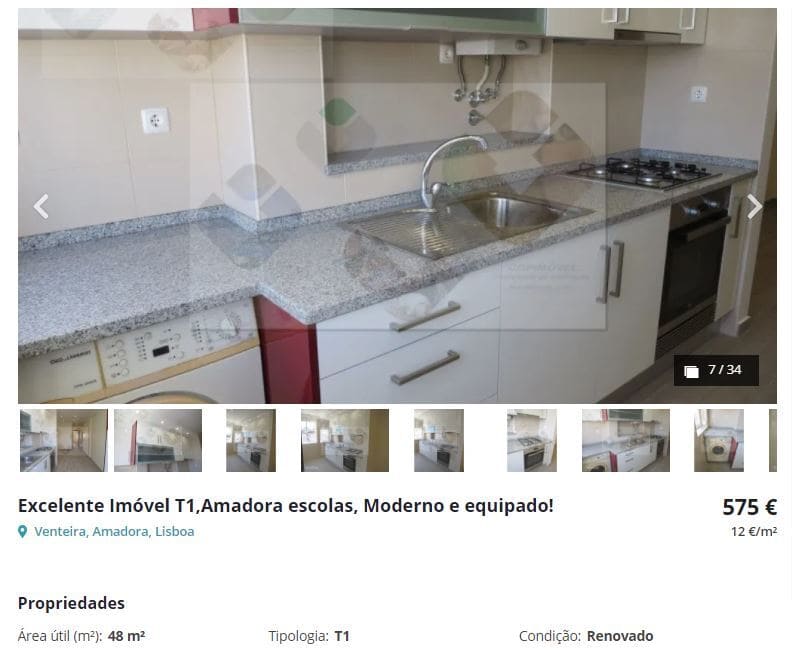 It is noteworthy that if you are looking for a multi-room apartment, you can find excellent options for only 800 euros in the city of Amadora. So, in the picture below you can see an example of an apartment with 3 bedrooms and 1 hall, freshly renovated for only 850 euros.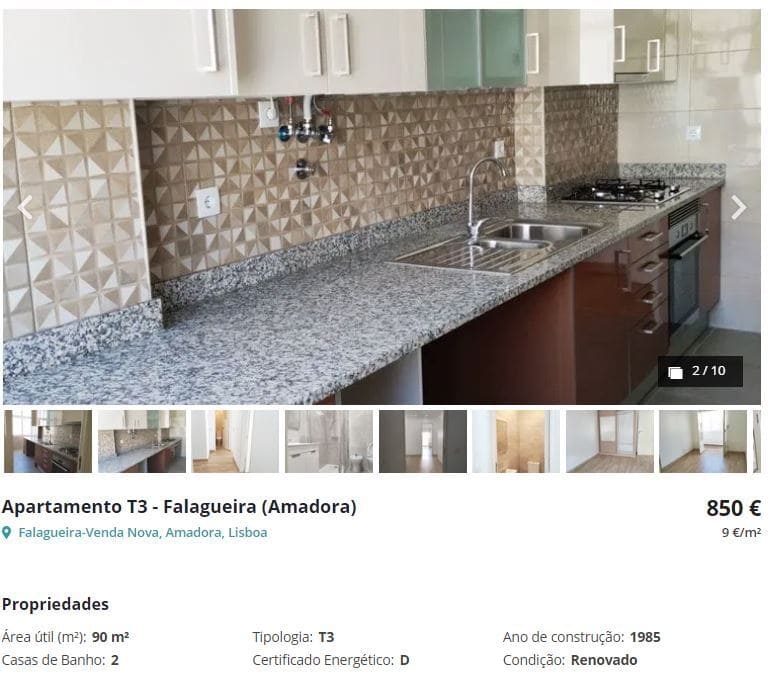 You will definitely not find such prices in Lisbon, which means that Amadora has confirmed its status as a city where you can rent a house at relatively affordable prices.
Almada
Almada (port. Almada) is a city that is located on the other side of the Tagus River and which is part of the "Greater Lisbon" like the other 4 cities on our list.
Almada is located on the south bank of the Tagus, and this region began to develop especially strongly after constructing a bridge across the river in 1966, which facilitated transport links with Lisbon.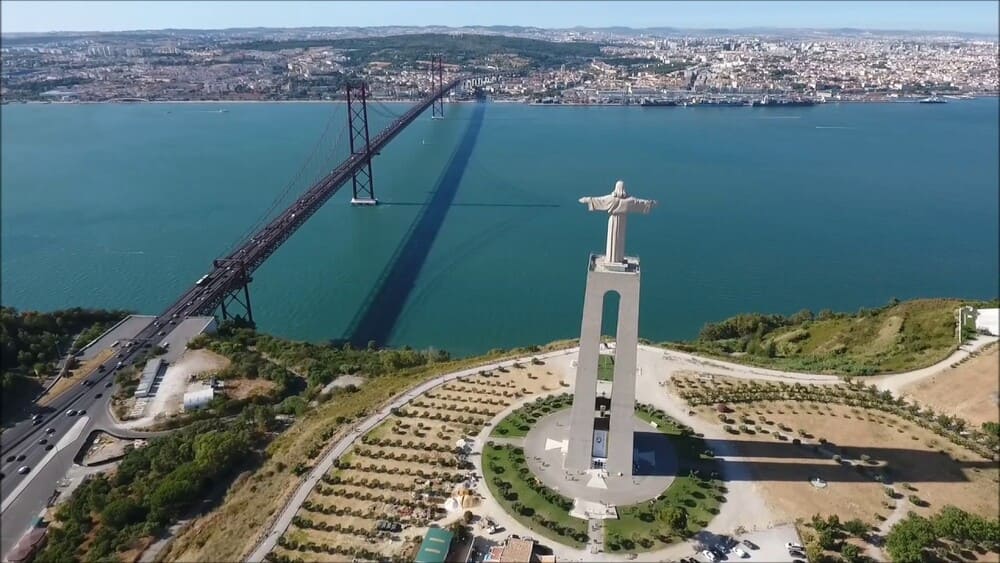 Living in Almada can be an excellent option for those who want to save money on property rentals and live close to Lisbon.
Costa da Caparica is an area on the Atlantic coast with many beaches in this municipality. Costa da Caparica is very popular among both tourists and residents of Lisbon, especially in summer, when many kilometers of traffic jams line up on the bridge in the direction of Almada. However, if you need to live close to the beach, Almada can be a great option.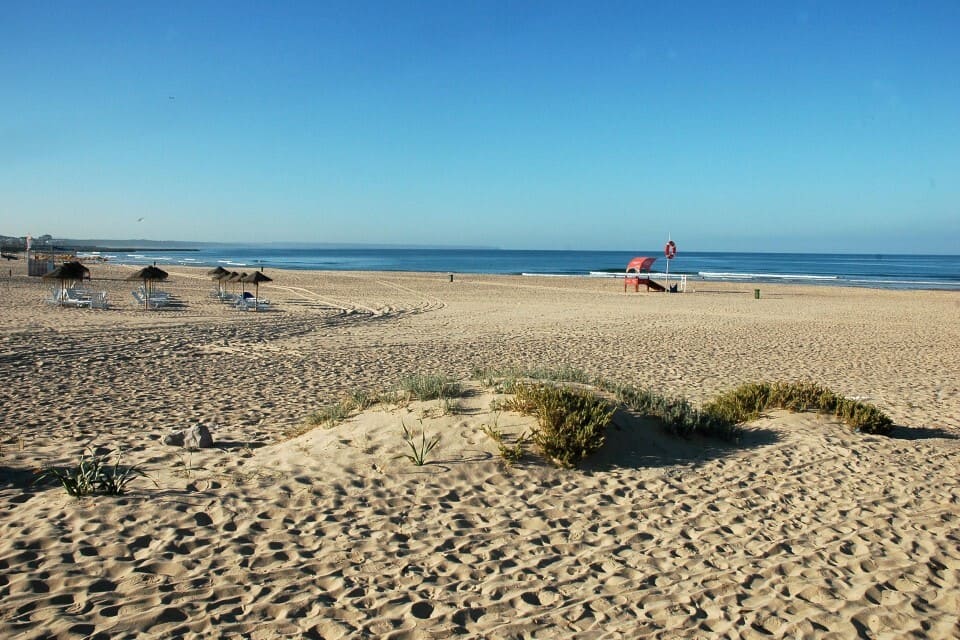 You can get from Almada to Lisbon by bus, car, train or ferry.
You can drive 11 kilometers in about 15 minutes by car without traffic jams, and at rush hour, crossing the bridge can take an hour or even more. On the other hand, those who choose to take the city train and cross the Tagus across the bridge on April 25 will spend from 35 to 70 minutes. Also, many people who live in Almada and work in Lisbon use the ferry, which is a relatively convenient mode of transport, but the trip may depend on weather conditions because if there is heavy rain or wind, the route may be closed for safety reasons.
Concerning safety, as in the case of Amadora, it is also very important to know the area well in Almada, avoiding some areas with a bad reputation, such as Bairro Amarelo or Bairro Branco.
Almada has a highly developed infrastructure. The city has many public and private schools, hospitals, clinics, a massive number of cafes, restaurants, shops, and a large shopping center Forum Almada.
As for real estate prices, starting from 500-600 euros in Almada, you can find many options for apartments with 1 bedroom and 1 hall. You can see an example of such an apartment in the picture below.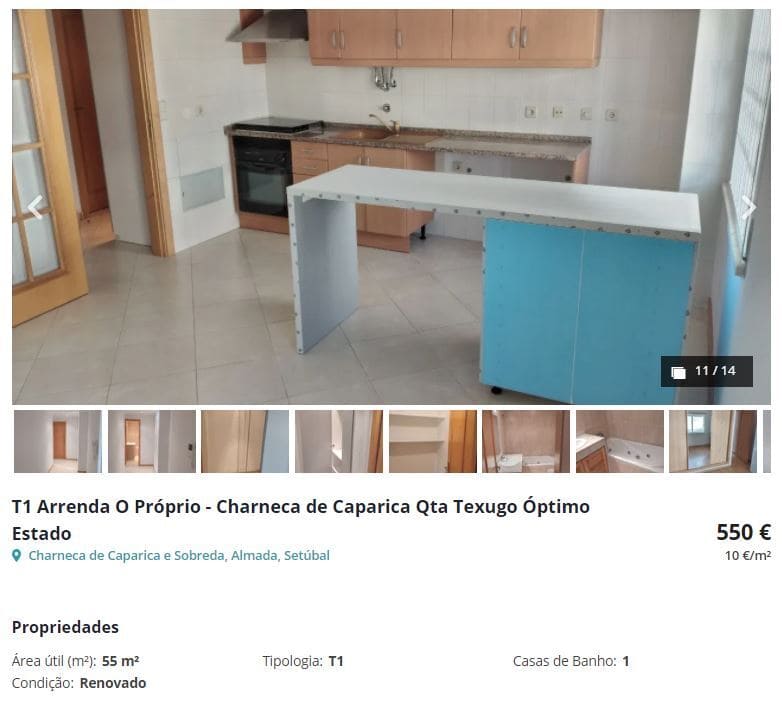 It is interesting that starting from 650 euros in Almada, you can find apartments in excellent condition with 3 bedrooms and 1 hall. You can see an example of such an apartment in the picture below.
It's even cheaper than in Amadora, so it's not surprising that so many Portuguese and immigrants choose to live on the opposite side of the Tagus in Almada. You will be able to save significant amounts on rental housing.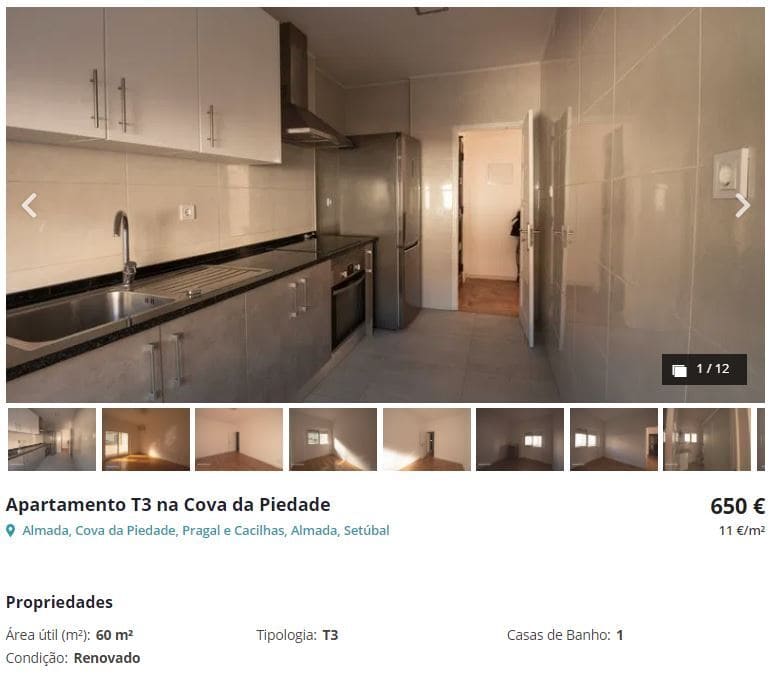 Is it worth living directly in Lisbon or its suburbs?
The answer to this question will depend on your particular case. If you like to be in the center of events, if you constantly go to restaurants, bars, and clubs, you most likely should look for accommodation directly within the boundaries of Lisbon. Yes, you will pay impressive amounts for renting an apartment or a room, but you will not spend a lot of time and money on getting to places and events that interest you.
If you are going to immigrate to Portugal with children or animals, if you are a freelancer and work from home, then it hardly makes sense for you to look for accommodation in the center of Lisbon. Instead, you can pay attention to one of the cities that we wrote about in this article, because there you can rent a vast and comfortable apartment for the amount for which you can find only a tiny studio or room in the capital of Portugal. Thus, you will be able to save a lot and provide yourself with a decent standard of living, away from the hustle and bustle of the center of the capital. And if you have a desire to visit Lisbon, then you can always do it because all the cities listed in this article are close to the Portuguese capital. Of course, which city you choose is up to you, but we hope this article will help you make the right decision.