If you are arranging immigration to Portugal, given the ever-increasing housing prices and the increasingly stringent terms of rental contracts, renting a room on arrival can be an excellent idea, with several significant advantages. The first of these is flexibility. You can rent a room, live for a few months, and if suddenly you don't like the area or the neighbors, you can always move out and find a new room. Doing the same with the same ease is unlikely to succeed with an apartment. The second advantage is, of course, the price. Few people now can afford to rent an apartment in the center of Lisbon or Porto. But renting a room in the city center is quite possible because prices do not bite as much as the case of apartment prices. And the third, in my opinion, perhaps the most significant advantage is the ability to communicate with your roommates.
This is especially true if you came to Portugal on your own and did not have family or acquaintances in the new country. If you are lucky with your neighbors, they can be good companions, but they can also help you learn the language. In this regard, I would advise you to look for apartments where the Portuguese live. Thus you will always have the opportunity to practice Portuguese with your neighbors. Of course, renting rooms in Portugal has its drawbacks and pitfalls in addition to the advantages. We will talk about them and how to avoid them in this article. This way, you will always have the opportunity to practice Portuguese with your neighbors. Of course, renting rooms in Portugal has its drawbacks and pitfalls in addition to the advantages. We will talk about them and how to avoid them in this article.
Where to look for rooms in Portugal
A very effective way to find a room in Portugal (especially if you are looking for a room before you move to the country) can be through ex-pat groups on Facebook. If you are lucky, there will immediately be a person in the city you need, and he will speak with you in English or even your native language so that you can calmly discuss all the details and agree on renting an apartment. However, if the search in such groups did not yield results, then I suggest using the following sites:
How much does it cost to rent a room in Portugal?
As with apartment prices, rental prices in Portugal have skyrocketed in recent years. The answer to how much it costs to rent a room in Portugal will primarily depend on the city and region. In some cities and regions, you can rent a room for 150-200 euros, but, for example, in Lisbon, you can easily see ads for renting rooms for 500 euros and more. So I would say that the budget for renting rooms can be absolutely any, ranging from 100 to 1000 euros. If we take the arithmetic average for all cities and regions, then I would say that you need to lay down about 350 euros per month as the average price for renting a room in Portugal.
Let's check out the analysis table prepared by the Idealista portal mentioned above.
The table shows the main significant cities in Portugal and the average prices for renting a room in 2021.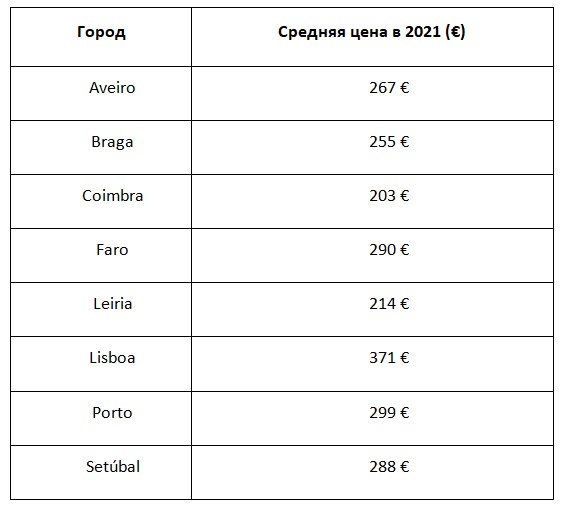 I recommend using the websites listed above to understand the city's current rental prices that interest you. Correspondingly, you can always enter the phrase "quartos para arrendar + city name" in the Google search bar, and in this way, you can also find rooms in the place you are interested in and check the current prices for them.
Pitfalls while renting a room in Portugal
At the beginning of this article, we listed several advantages of renting a room in Portugal, but this option also has disadvantages. After moving to Portugal, I rented rooms for a while before I started renting an apartment, and I had several not very good situations that can be avoided if you pay attention to the following points when choosing a room:
Meet your future neighbors. I would say that the duration of your stay in a particular apartment will depend on how good your neighbors will come across. I am already silent about the general level of happiness and tranquility. Try to schedule a viewing time for the apartment in the evening, when the neighbors from other rooms are likely to be at home and get to know them. Or directly tell the apartment owner that you want to get to know the neighbors and that this is important to you. It is better to see the people with whom you will have to live under the same roof and share space before rather than after you move in. Talk to them, ask what they do, assess their level of adequacy, and tell them about yourself. For example, in my first rented room, my neighbor was shocked and furious that I got up at 6 am to go to work. I will never forget his phrase, "nobody gets up so early in this building!". In another apartment, my neighbors didn't like that I cooked in the kitchen almost every day (none of them ever did). It may seem strange, but such neighbors will turn your life into hell is a fact. My mistake was that I rented a room just after talking with the owner. If I had met my neighbors as well, I could have avoided a lot of unpleasant moments, so learn from my mistakes and don't repeat them. By the way, renting a room in which the apartment owner lives directly is also not the best option.
Specify what is specifically included in the price and what the deposit is. When choosing a room to rent, it is crucial to understand what is included in the price. For example, it may already include all utilities and sometimes even cleaning by a housekeeper. And sometimes the price does not include anything other than renting the premises, and you will have to pay a significant amount on top. At the same time, you are unlikely to have access to electricity, gas, and water bills, and conflicts with neighbors may also arise over who takes a shower for how many minutes and who spends how much electricity. Therefore, I recommend renting only those rooms where all utilities are already included in the price.
In addition, you may be asked for a deposit for the room. The deposit can be the amount of the monthly fee multiplied by 1 to X number of times. That is, it may be that the room itself costs 300 euros, but the landlord will tell you that he wants a 300 euro deposit for damage to the property, plus, for example, a deposit for the last 3 months. It is 1200 euros of deposit + 300 more euros that you will have to pay for the first month. Unfortunately, many owners of apartments and rooms in recent years have begun to ask for astronomical amounts of deposits, taking advantage of the fact that market prices have risen and demand has increased. If suddenly they ask you for many months of a warranty, I would say goodbye and look at other options and rooms. They are definitely enough for everyone. If you are only asked for a deposit for 1-2 months, this is okay. It's just that when you leave, you will need to warn the owner about this 1-2 months in advance and, accordingly, do not pay for them.
Great demand and fast response. When I rented rooms 3-5 years ago, the demand was such that I called the ad posted precisely 10 minutes ago on the website, and the owner of the room answered me that someone had already booked the room and it was no longer available. That was highly true for Lisbon. If in 2022 the demand for rooms will be as active, then the main thing is not to give up! Call for ads as soon as they appear, and be proactive and polite. Ask your friends, colleagues, and people in Facebook groups, and it may be that even your contacts will find the fitting room for you.
Pay close attention to the documents and agreements in writing.This is probably the biggest pitfall you may face when renting a room. The fact is that according to the law, whether you rent a room, an apartment, or something else, you must have an official agreement. This contract can serve as the primary confirmation of your official address in Portugal. If the room owner is ready to make such an agreement for you, then feel free to agree. This is really a good option! But the problem is that most people who rent rooms try to hide from taxes and therefore do not make any contracts. At the same time, they even want to receive money in their hands (and not on a bank card) so that there is no evidence that they are renting rooms or apartments. If you were a resident with a Portuguese passport, this option would most likely suit you. But if you are an immigrant, this is a hazardous option, and when you need to bring documents confirming your address to the SEF to obtain a residence, and you will not have anything, this is an entirely unacceptable option for you. In addition, if there are any problems with the landlord, it is important to have at least some confirmation that you live there and pay money for it. Therefore, at least try to insist on transferring the monthly fee to a bank card. But what to do with the contract, or instead with its absence? And how to confirm your address and residence in SEF if there is no contract? You will find the answer below!
How to verify your address if you are renting a room in Portugal
Imagine this situation - you have found the room of your dreams, the price suits you, you met the neighbors, and they are lovely people, but the landlord said he would not conclude an agreement. What are the options? The most common way out of this situation, which immigrants in Portugal widely use, is a certificate from Junta de Freguesia. By analogy with other countries, Junta is something like a city or village council. They may issue a certificate stating that you live at a certain address, and this certificate is sufficient for the SEF authorities to issue or extend your residence. The problem is that you cannot get it on your own, and you will need the landlord's help (or any other people) for this. I have already received such a certificate several times in four Portuguese cities, and each time they demanded different documents from me to obtain it. It feels like every city council has its own made-up rules about this, but here's what you're most likely to be asked to get this kind of help:
Confirmation from two witnesses living in the area that you really live at a certain address;

Confirmation from the owner of the apartment that you really live at a certain address;

In some councils, instead of witnesses, seals from shops in your area may be accepted as proof that you really live at a certain address.
The last time I tried to get such a certificate was in September 2020, and in addition to the witnesses, Junta de Freguesia also asked me for confirmation that I was signed up in SEF and really going to update the address on my residence card. This was probably the strangest demand from Junta during the time that I have lived in Portugal.
That is why, if suddenly the owner of the room tells you that he is not going to conclude a contract, then say to him that you are a foreigner and you will not be able to get documents and residence without a certificate from Junta. Ask him to help you get this certificate, explaining that this does not oblige him to pay taxes in any way, but a simple formality that is important to you as a foreigner. Of course, many people will immediately refuse this, but in my opinion, it is not even worth wasting time in such cases. This certificate is essential for you to obtain documents. And if you already pay a lot of money for housing, then the apartment owner, at least in this matter, should meet you. If this does not happen, then look for another option.
A little hack: upon arrival in Portugal, I bought a USB flash drive with the Internet because it is convenient for me to have unlimited Internet both on my phone and on my laptop when I work away from home. And I asked the Internet provider to send me invoices in paper form to my postal address (which I have already changed 5 times during my life in Portugal). Imagine my surprise when at SEF, when renewing the residence, this paper invoice for mobile Internet was enough to confirm the address (although I had an agreement for renting an apartment). So this can also be a last resort option because SEF often asks for utility bills as proof of your address. As it turned out, even a bill for mobile Internet can be accepted.
Conclusion
Renting a room in Portugal is not as difficult as it might seem at first glance. Even if you do it remotely, even before your arrival. It may not be suitable for everyone to live in a room and share an apartment with 2-5 more people, but at the moment this is the cheapest and best option for students or those who have just arrived and want to get comfortable, while not binding themselves with severe conditions that are usually found in rental contracts. We hope that this article will be a helpful step-by-step guide and you will not have any problems renting a room for yourself before or after immigrating to Portugal.
We wish you good luck!